Analysis
Texas Rangers Offseason Outlook
The Texas Rangers were one of the biggest surprise spenders of the 2022 offseason. Will they double down on free agency again this year?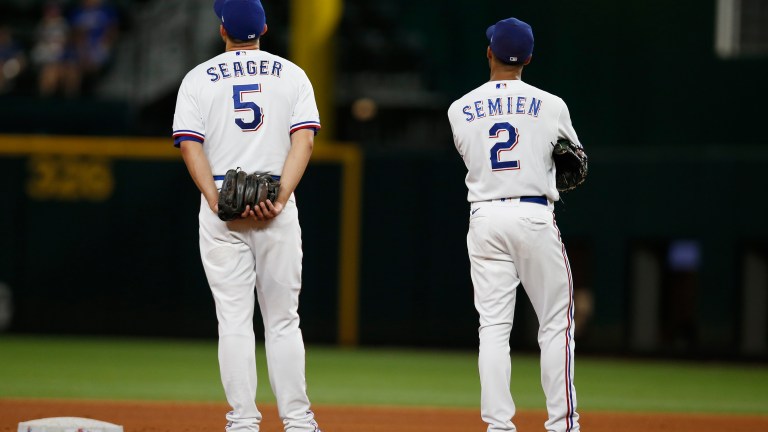 For a team that had no clear direction, the Texas Rangers took the baseball world by storm the last offseason when they signed Corey Seager, Marcus Semien, and Jon Gray to multi-year contracts that exceeded half a billion dollars. Not only were they active in free agency, but they also went out and acquired Mitch Garver from the Twins in what, at the time, looked to be the move to solidify the position for the ball club going forward.
There were a slew of things that happened last season that Ranger fans were not expecting. Perhaps they were understanding that, while they look financially committed to building a winner, this might not have been the year for them. However, the firing of Chris Woodward seemingly came out of nowhere. Rangers ownership also decided to move on from President of Baseball Operations, Jon Daniels, and make former MLB pitcher Chris Young the head of Baseball Operations.
This upcoming season looks to be a big year in determining whether committing so much, financially, would have been worth it. There are still a few holes on this roster that need to be filled. The question remains, is there a chance they continue their spending spree?
Who is Going to Manage This Ballclub?
Chris Young was recently interviewed and was asked about the current interim manager, Tony Beasley, and his chances of having the interim tag removed. While he was hesitant to commit, Young said that he would be one of the candidates he will be interviewing to man the helm.
Young mentioned their consideration for managers with previous managing experience, as well as the possibility of a first-time manager being hired for the role.
While there are many managerial candidates already being interviewed for some of the available roles around the league, I think the Rangers will be one of the first teams to make their decision.
If they go the first-time route, current Houston Astros bench coach Joe Espada is a name that has been mentioned a lot. However, I believe former Cardinals manager Mike Shildt might be the best fit for a ballclub looking for a leader. We are only a year removed from a year in which the Shildt-led Cardinals went on a 17-game win streak and made the postseason.
Help Wanted: Outfielders
If there is a spot, or two, on the field that are in need of a serious upgrade, it's the Texas Rangers outfield. For now, Adolis Garcia looks to be the only staple for them out there. For a team looking to take that next step, that is not going to be enough.
The prospects in this organization could be ready to make an impact for the big league team and fill that void, but you never know exactly what you will get from young talent on a given year. However, Josh Jung's ability to hold his own after missing the majority of the past two seasons with injuries and Dustin Harris' strong 2022 campaign leave hope that they could make an impact sooner rather than later.
The Rangers could look to sign a veteran player looking to prove themself on a one year deal to bridge the gap to their young prospects. Michael Conforto could be an ideal fit, after taking a year off to fully recover from his shoulder injury.
As far as the designated hitter spot, that looks to be Mitch Garver's based on the emergence of Jonah Heim and his extensive injury history from being behind the plate. Should they want to go elsewhere, maybe J.D. Martinez wants to go back to the great state of Texas and sign a one-year deal with the Rangers.
Other than that, this Rangers infield looks to be locked up for years to come. The expensive double-play combo up the middle look to be playing alongside Nathaniel Lowe and Josh Jung for the foreseeable future.
Is There a Rotation?
Other than Jon Gray, there isn't another pitcher that is locked into a role for the 2023 season. Dane Dunning was brought over in the Lance Lynn trade back in December 2020. Martin Perez was a revelation for this team last season and, unless the Rangers decide to bring him back on the multi-year deal, they will have to look for someone else to replace him.
Other internal options would be Glenn Otto, Cole Ragans, Spencer Howard, and pitching prospect Owen White. Jack Leiter will likely make his debut in 2023 but, after the struggles he went through in the minors this year, it is a long shot for him to make the Opening Day rotation.
With the Rangers not having much money locked up in the short-term, can they make a play for one of the big fish out on the pitching market this offseason?
While Jacob deGrom would be a great fit for them, as he would for the 29 other teams in the league, I do not believe he will sign here. To me, Carlos Rodon looks to be the perfect pitcher for the Rangers.
A top-of-the-rotation arm, that will surely benefit from the spacious ballpark, can bring his high-powered arsenal to a rotation that is in dire need of an ace. Pair him with someone like a Michael Wacha, or a Mike Clevinger-type to lengthen the rotation a bit and you have a complete roster from top-to-bottom, ready to compete for a playoff spot.
Who Are You Calling on to Close?
The ability to shorten a game with a strong bullpen is what every Major League team is looking to do. With that being said, the Rangers might be one of those teams that lead the league in the length of games due to the inability to get consistent production from the back-end of their bullpen.
After returning from injury, Jose Leclerc was a capable arm for them. With prior closing experience, he is a good option to have. Other than that, there wasn't anyone else that earned a guaranteed spot for next season.
The Rangers will likely enter a bidding war for the available relievers this offseason, with the number of teams looking to sure up the bullpen. With the ability to go out and sign a few players, a relief pitcher with a big-time closing pedigree like Kenley Jansen seems like a great fit for them.
Another one-year deal might be in the cards for Jansen and a team like the Rangers makes a ton of sense. Matt Strahm, Anthony Bass, and Michael Fulmer might be other pitchers to consider bringing in as well.
2023 Outlook
The Texas Rangers are finding themselves in a great spot regarding building a winner. They have two stars locked up long-term, budding big-time prospects ready to make an impact for them and a Front Office that is willing to go out and spend the money necessary to put together a contender.
Putting the proper guy in charge of this team is going to play a big role but I believe this is one of the more attractive managerial openings right now. Although they are in a division with two other strong contenders, the Rangers are going to make sure their presence is felt through the whole season from here on out.