Analysis
Teoscar Hernández To Hit Free Agency After Frustrating Season
It's hard to guess if the Mariners will extend Teoscar Hernández a qualifying offer, and it's equally hard to say if he would accept.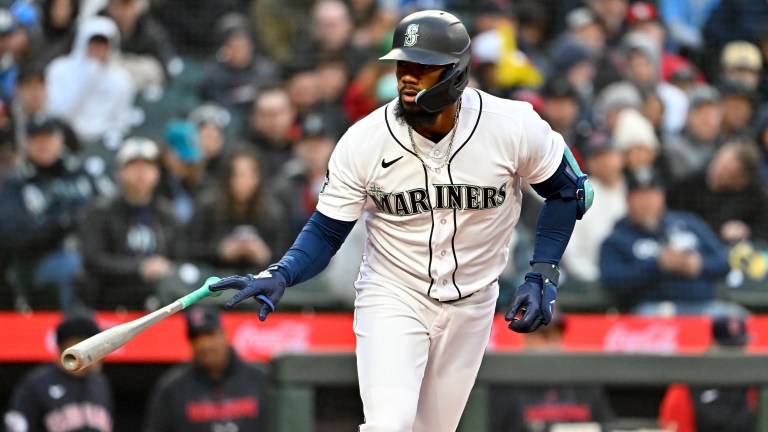 Teoscar Hernández was on an absolute tear at the plate for three consecutive seasons. From 2020-22, he was one of the best hitters in the game against southpaws (averaging an OPS well over .900 during that stretch, including a 1.151 mark in 2021) and overall one of baseball's deadliest power threats with the Blue Jays. 
Between back-to-back 25+ home run campaigns (and 16 in 50 games during the shortened 2020), an average wRC+ over 130, and a batted ball profile that went toe-to-toe with anyone across the sport, Hernández entered 2023 with a legitimate chance to be the second best bat on the upcoming free agent market, only behind the obvious in Shohei Ohtani.
But between a trade to Seattle, dealing with the unfriendly offensive confines of T-Mobile Park and the inability to put together an elongated stretch of production, Hernández had far from an ideal walk year. He slashed .258/.305/.435/.740 with a 105 wRC+.
The Mariners' Qualifying Offer
One thing is clear: the Mariners have already made their decision on whether they will offer Hernández the $20.5 million qualifying offer this offseason. President of baseball operations Jerry Dipoto made that remark in his end-of-season press conference.
Which way they will opt to go, they did not make clear. At least not to the public.
There are good reasons for Seattle to extend him the qualifying offer. Draft pick aside, if he declines, the Mariners desperately need outfield bats this winter. And the free agent class of said group is not lavish. 
Despite the down year from Hernández, his hard-hit rates were nearly as gaudy as always; he ranked in the 90th percentile in Barrel% and the 88th percentile in HardHit% (per Baseball Savant). He does not at all have a concerning resume on quality of contact, which could suggest he's in store for some bounce-back in 2024.
But there are reasons for the Mariners to be cautious.
Hernández is a player whose success is dependent on power and power alone. He doesn't work counts. He is a free swinger. He is nothing more than a slightly above-average defender at best. And his baserunning leaves much to be desired, as he is constantly getting thrown out trying to stretch hits for extra bases.
Despite never walking much in his career, Hernández set a career-low BB% in 2023, drawing free passes at just a 5.6% clip. Meanwhile, his K% jumped up. After sitting between a manageable 25-28% in 2021 and 2022, Hernández climbed up to a 31.1% mark this past season, nearly matching his full-season career high from 2018 (31.2%).
Even if you were to just go by WAR, they say one win on the free agent market is worth roughly about $8 million. Given Hernández's 1.8 fWAR in 2023, that wouldn't warrant the record-high AAV of this year's qualifying offer. 
$20.5 million is a lot of money. To give that out to a player, a team better be fully confident in his abilities. And given that the Mariners nearly traded Hernández at the deadline in August, it is hard to believe that the organization fits that description in this case.
Teams Looking For a Corner Outfielder/Designated Hitter
Just because the Mariners may not hand Hernández the qualifying offer, doesn't mean there won't be teams interested in his services.
In fact, the Mariners themselves may still be interested in inking him to a new deal, just not for a $20.5 million AAV.
And Hernández did enjoy his season in Seattle, as he clearly stated.
But if one way or another he cannot come to terms with the Mariners, there are a lot of suitors that would make logical sense.
The Reds are a team that could be an ideal fit. After putting themselves in the playoff race for nearly the entirety of the 2023 season, thanks in large part to a young core that is now collectively at the big league level, their next step is to bring in pieces from the outside.
Not to mention that Great American Ballpark is extremely hitter-friendly.
The Reds have room in their outfield to add and could use some proven veteran bats in the lineup. Stuart Fairchild played 96 games for Cincinnati last season while posting just a .710 OPS and an 89 wRC+. Additionally, Christian Encarnacion-Strand will likely start to see a significant bump in playing time at the corner infield spots come 2024, potentially freeing up a DH spot as well.
Not only would Hernández join a team that is now a contender both in the NL Central and the NL Wild Card, but his hard-hit profile would transition seamlessly. After all, he still hit 26 bombs with the Mariners in 2023 (12 at home) despite the rocky season. Imagine what he could do with the short-distanced wall in left field in Cincinnati.
If it is not the Mariners or Reds, other teams that may be interested include the San Diego Padres, Milwaukee Brewers, Arizona Diamondbacks, or even a possible reunion in Toronto.
What To Expect for Hernández in Free Agency
The Teoscar Hernández from 2020-22 would warrant a large payday. But after 2023, his market is more clouded. Ultimately, there is a wide range of possibilities for Hernández's next contract.
Including the one where he doesn't even reach free agency at all, should the Mariners roll out the qualifying offer and he accepts.
But if Hernández rejects the qualifying offer, there is no doubt that plenty of teams will pick up the phone and inquire about his services for the foreseeable future. The years and the AAV of the contract are what is much more up in the air heading into November.