Analysis
Teoscar Hernandez Trade Is Finally Paying Off For The Mariners
The Mariners decided to keep Teoscar Hernandez at the deadline and have watched him fulfill all the promise of the initial trade to Seattle.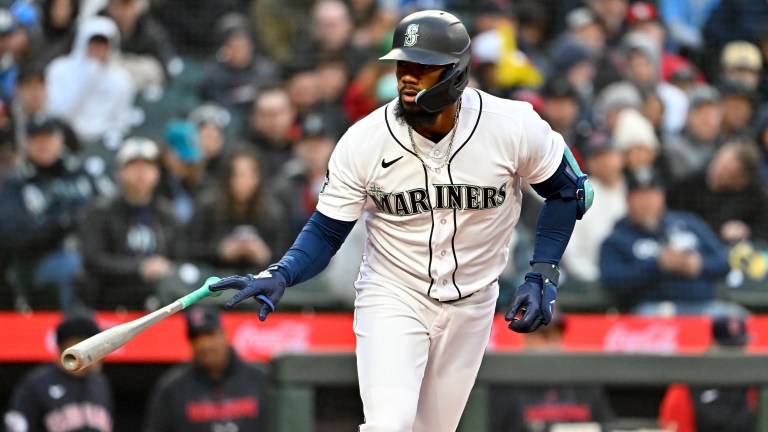 The Teoscar Hernandez trade was far and away the headline move of the Mariners off-season.
It was the acquisition that was expected to put them over the top offensively and strike fear into the eyes of opposing pitchers by beefing up the middle of their lineup along with Julio Rodriguez and Eugenio Suarez.
Unfortunately, that was not always the case for Hernandez in his early tenure with the Mariners. Three of Hernandez's first four months with the Mariners were a disappointment. His July was disastrous. And the Mariners almost dealt him away at the deadline amid some heavy rumors that they were looking to ship him off.
Thank goodness for Seattle's sake that they didn't.
From August and on Hernandez has fully hit his stride, with the Mariners finally seeing their November trade paying dividends at the most opportune time of the year.
He is hitting .331 over that stretch with a .932 OPS and a 156 WRC+. He has swatted nine home runs in that time to go along with 20 extra-base hits. And he has looked every bit the part of a true thumper and power threat that the Mariners need.
When Hernandez gets hot, he appears to be unstoppable. When he put up a 159 WRC+ in June, it was the first time he showed that ability to turn it loose in a Seattle uniform. Sure, his month of July was a very forgetful one, but since the turn of the calendar month to August, he caught fire and hasn't looked back.
This month and a half turnaround has been anchored by a pretty remarkable 189 WRC+ in August, which ranked fifth in all of baseball for the month (his teammate Julio Rodriguez sat ahead of him in second place with a 231 WRC+).
One of the many reasons for Hernadez's turnaround is that he has slashed his strikeout rate since the beginning of August. Hernandez has always been prone to swing and miss. His K% for the year sits above 30%. But over his last month and a half it has dropped down to 26%, a clip that is much easier to live with when you possess the ability to do damage the way that Hernandez does.
As a result, he has put more balls in play which has led to 54 hits since the curtains closed on the trade deadline.
Additionally, when Hernandez began to tee off on fastballs is when he started to see the results that he is accustomed to. In May, that wasn't happening. Not only did he hit just a lone bomb off opposing heaters for the month, he hit just .208 and slugged .313 against the pitch.
When Hernandez had his torrid month of June and posted a .698 slugging percentage against the offering, it appeared that he had found his footing. Even in July when his overall production slipped, there was plenty of reason for optimism that the slump would not last. He slugged .391 against good old No.1 for the month, but his xSLG sat at .615, suggesting that he was a product of some poor luck.
Considering that he slugged an alarming .727 against fastballs in August and is now holding a .464 slugging percentage against fastballs in September, the results have swung right back into his favor in the midst of this month and a half stretch where he has been one of the deadliest bats in all of baseball.
Think that's an exaggeration? It isn't.
Hernandez sits in the top 20 in both WRC+ (156) and slugging percentage (.564), ranking 19th and tied for 17th, respectively. He also ranks top 30 in the game in fWAR over that time (1.5) which would put him on pace for about a six-win season over the course of a full 162.
And while he is best recognized for his game-changing pop and thunderous hard hit rates, he has also played some above-average defense in right field for the Mariners. He has recorded two DRS and one OAA (ranking in the 71st percentile per Baseball Savant). Meanwhile UZR really likes Hernandez in the field, grading him at a 5.6 which is well above the league average.
He has also proven to have a reliable outfield arm (85th percentile in Arm Value and 78th percentile in Arm Strength) and can run well (81st percentile in Sprint Speed).
Mitch Haniger served as a long time fan favorite and left some disappointed after his departure. But Hernandez hasn't skipped a beat. In fact, he has been an upgrade. There has been a significant uptick on the defensive side of the ball and since June he has provided much more offensive value than Haniger did towards the end of his Seattle tenure.
There is a plethora of credit to go around in the Mariners offensive turnaround since August. And sure, Rodriguez's name likely is the first one brought to the table. But Hernandez is not far behind, if not establishing himself as second fiddle. Seattle is not in the spot they are in without the resurgence of Hernandez.
So let's say it again: good thing they held onto him. Would that A-ball bat have really been worth it? In retrospect,