List
Telling Baseball's Story Through Kentucky Derby Horses
In honor of the start of the Kentucky Derby, let's take a look back at MLB history through some of the horse names who have been featured in the past.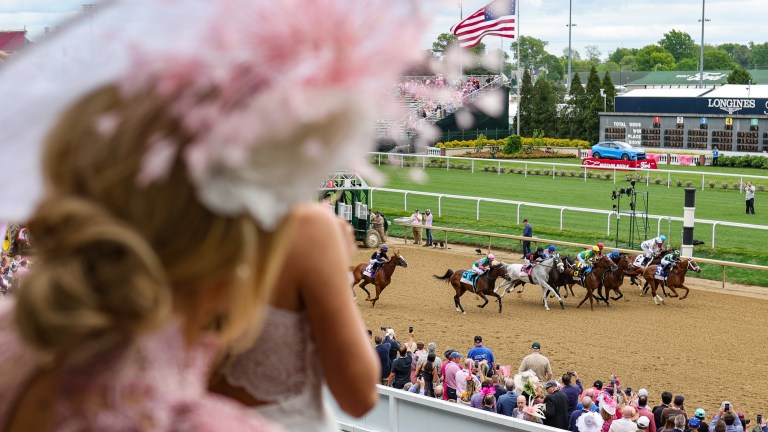 The Kentucky Derby is a tradition dating back to 1875, when Aristides won the first "Run for the Roses". The annual mile-and-a-quarter race takes place the first Saturday of May at Churchill Downs in Louisville, Kentucky. As you may know, horses have unique names, each with their own unique backstory.
For some reason, I felt the need to relate baseball to names of horses that have participated in the Kentucky Derby to help tell the story of America's pastime.
2019: Game Winner
Carlton Fisk waving the ball fair, Kirk Gibson limping around the bases, Kirby Puckett pumping his fist, and Aaron Boone spreading his arms. You likely can picture all of these moments. We could spend all day describing our favorite walk-off home runs and celebrations.
2019: Improbable
The 2019 Washington Nationals were the definition of improbable. A team that once sat at 19-31, the Nationals went on to win the World Series. They never spent a day in first place and won eight in a row to finish the season, sneaking into the Wild Card game before eventually beating the Houston Astros in a seven-game World Series.
2017: McCracken
Quinton McCracken had a great name, but an average career. The 0.3 WAR player spent 12 years in the league, playing for six teams.  
2014: General A Rod
Alex Rodriguez is a a lot of things, including one of the best players to ever play the game. Breaking in at 18 years old, Rodriguez would go on to lead the league in home runs five times. A World Series Champ, three-time MVP, and a 14-time All-Star, it's hard to imagine what could possibly be keeping him from Hall of Fame induction. Hmmm.
2013: Giant Finish
In 2014, the Giants were looking to win their third World Series in five years. San Francisco won in 2010, 2012, and snuck into the playoffs in 2014. Entering as a Wild Card team, the Giants beat the Pirates to advance. They upset the Nationals and Cardinals before reaching the World Series, where they won in seven games against the Royals. A giant finish to a magical run.
2009: Flying Private
Deion Sanders was mostly known as a football player, but was a very underrated baseball player. On October 11, 1992 Sanders attempted to play in an NFL football game and MLB playoff game in the same day. After playing in a 1:00 p.m. football game, Sanders boards a jet to Pittsburgh to make it in time for Game Five of the NLCS. Sanders arrived minutes before first pitch, but did not make it into the lineup.
2004: Action of the Day
With baseball action happening every single day, it can be tough to keep up with it all. Well, we have you covered. Each morning Just Baseball puts out the Highlight Reel, recapping each game and showing you the biggest moments.
1999: Desert Hero
Flashback to 2001, Game Seven of the World Series. The Powerhouse Yankees against the Arizona Diamondbacks, who were an expansion team that was formed just two years prior. Hall-of-Famer Mariano Rivera was on the mound when Diamondbacks Luis Gonzalez muscled a blooper over the shortstop for a walk-off win.
1996: Blow Out
A blow out is fun for one team and absolutely embarrassing for the other. The largest blow out in modern MLB history was in 2007, when the Texas Rangers defeated the Baltimore Orioles 30-3. Six Rangers had three or more hits. Baltimore used four pitchers, each giving up six or more runs.
1991: Forty Something
Playing into your 40's is become more and more rare. We all remember Julio Franco and Jamie Moyer playing until they were 49. In 2022, five active players made Opening Days rosters at 40 or older: Albert Pujols (42), Rich Hill (41), Nelson Cruz (41), Oliver Perez (40), and Adam Wainwright (40).
1991: Quintana
Jose Quintana has strung together a great career. A reliable, 200-inning pitcher early in his career, he's possibly most known now for being traded to the cross-town rival Cubs for Dylan Cease and Eloy Jimenez.
1974: Rube the Great
Rube Walberg was certainly great for a period of time. Playing mostly for Boston and Philadelphia, Walberg put up a respectable 4.16 ERA across 15 years. He lead the league in innings pitched in 1931 at the age of 34, throwing 291 innings.
1971: Jim French
Jim French was your classic back up catcher. Good Glove who couldn't put the bat on the ball. French spent parts of seven years in the league with Washington.
1969: Majestic Prince
Prince Fielder, standing at 5'11" and 275 pounds (generous) was absolutely majestic. So was his swing. The six-time All-Star lead the league in home runs in 2007. Nine times he played in 158 games or more proving his stature did not mean he was not in shape.
1946: Bob Murphy
Bob Murphy, born December 26, 1866 in Dutchess County, New York, Played one season (1890) in the MLB. The crazy part is, he pitched for three teams, earning a win for each. Murphy nearly completed the impossible by also hitting a home runs for each, but fell one team short.
1936: Grand Slam
Perhaps the most obvious connection on the list, a Grand Slam is one of the most exciting moments in baseball. Alex Rodriguez has the most Grand Slams with 25, while Travis Hafner and Don Mattingly share the record for most in a season with six. On August 25, 2011, the New York Yankees became the only team to hit three in a single game powered by Robinson Cano, Russell Martin, and Curtis Granderson.
1935: Omaha
While Omaha, Nebraska is rarely a destination for most, for a small faction of the baseball world it is the holy mecca. Since 1967, Omaha has been the location of the College World Series drawing people from around the country for the June tournament.
1931: Twenty Grand
On May 21, 2021 the MLB welcomed the 20,000th player to ever play in the MLB. Seattle Mariners back up catcher entered the game as a substitution and went 0-1. The Mariners fell 16-1 despite this historic moment.
1929: Windy City
The Windy City, better known as Chicago, is the home of two MLB teams. The White Sox and Cubs have won three World Series titles. The Cubs most recent came in 2016, ending a drought dating back to 1908.
1926: Pompey
Dalton Pompey is a pretty random name that most likely remember. Pompey spent parts of four season with the Toronto Blue Jays.
1925: Kentucky Cardinal
He's not the most famous "hefty lefty" to play at the University of Kentucky, but Zack Thompson sure did make a name for himself. After three successful season, Thompson was drafted in the first round of the 2019 draft by the St. Louis Cardinals.
1922: My Play
There's very few plays in baseball that are individual. The most impossible play one can claim their own is an unassisted triple play. Three outs by one player in one play has only happened 15 times in MLB history, most recently by Eric Bruntlett in 2009. Bruntlett can say "My Play" and everyone will know what he's talking about.
1920: Upset
Everyone loves a good underdog story. The 1906 World Series was a matchup between the two Chicago teams. The White Sox had won 93 games while the Cubs won 116. The South Side Sox went on to win, and the Cubs curse continued.
1919: Billy Kelly
Billy Kelly was a right-handed catcher who played for St. Louis and Pittsburgh from 1910-1913. Of his 65 MLB hits, only one left the yard.
1916: George Smith
Three different "George Smith's" have played in the MLB. George Smith (1926-1930) just happened to be from Louisville, Kentucky. A pitcher for Detroit and Boston, Smith finished his career with a 5.28 ERA. Smith also hit two home runs in 1927.
1912: Duval
Another Kentucky connection. Adam Duvall was born in Louisville, played baseball at the University of Louisville, and also played for the team closest to Louisville, the Cincinnati Reds where he made an All-Star team in 2016.
1912: Worth
Before 1976, Major League players played for the team they were drafted by or the team they were traded to. Contracts were difficult to negotiate and players could not test the open market. In 1976, that changed with the start of free agency where players can accept bids and earn their worth.
1911: Round the World
In 1951, the New York Giants hit a game-winning home run to knock off the Brooklyn Dodgers and win the National League. The game attracted millions of viewers across America and was heard by those serving our country around the world via radio coining the name "The Shot Heard 'Round the World".
1910: Gallant Pirate
Roberto Clemente is a Hall of Famer, 15-time All-Star, MVP, and one of the best baseball players of all-time. He was also one of the most generous and loving people. He dedicated his life to charity, and passed away in 1972 during a plane crash on his way to aid victims of an earthquake in Nicaragua. Gallant is the perfect word to describe this Pirate great.
1908: Frank Bird
Frank Robinson needs no introduction. Robinson played 21 years in the majors, starting with the Cincinnati Reds. The Reds traded Robinson to the Baltimore Orioles in 1966, a trade they will forever regret. The Hall of Famer and 14-time All-Star would lead the league in home runs for the Birds in 1966.
1889: Spokane
Twelve different players from Spokane, Washington have played in the MLB including current Tampa Bay Ray Andrew Kittredge.
1883: Pike's Pride
Let's really tie in Kentucky here. Mark Reynolds, from Pikeville, KY, played in the MLB for eight teams across 13 years. While he brought home run power to the lineup, he was also known for striking out, leading the league four straight years in that category.