Analysis
Predicting the Home Run Derby Winner
Why max exit velocity and age are solid predictors of Home Run Derby success.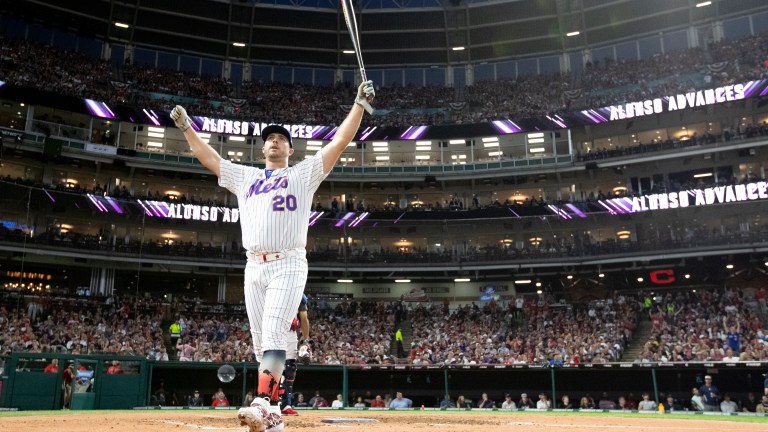 Home runs will be flying out of the altitude-assisted Coors Field on Monday night as the annual MLB Home Run Derby commences. Players will have five minutes per round to hit as many bombs as they can. An extra 30 seconds of bonus time is given for hitting at least two balls over 420 feet and another extra 30 seconds is added for a home run over 475 feet.
There have been two home runs over 475 feet at Coors this season, so you can expect some bonus time, and don't be surprised if you see one hit over 500 feet. Giancarlo Stanton crushed a 504 foot home run into left-center of Coors in 2016, which is only one of two 500 foot home runs in the Statcast era.
Predicting the Home Run Derby winner is a difficult task due to an overwhelming amount of noise resulting from the round-based system. A player can hit 20 home runs in the first round and still lose, so it is a difficult task to predict the entire bracket, but using the help of baseball savant data gives a much clearer picture of the players with the best chance to win the derby. There are two traits that winners of the modern derby have in common: elite max exit velocity and stamina.
Max Exit Velocity
As exit velocity increases, potential home run distance also increases, which gives hitters a better chance to hit home runs even on slight mishits. Below are the winners of the HR Derby since 2015 and their max exit velocity from that season.
| | |
| --- | --- |
| Player | Max Exit Velo (MPH) |
| Pete Alonso 2019 | 118.3 |
| Bryce Harper 2018 | 115.1 |
| Aaron Judge 2017 | 121.1 |
| Giancarlo Stanton 2016 | 120.1 |
| Todd Frazier 2015 | 110.5 |
The trend is clear: all winners outside of Todd Frazier in 2015 were among the hardest hitters in the game with top percentile max exit velocities. Even second-place finishers Joc Pederson, Miguel Sano, Kyle Schwarber and Vlad Guerrero Jr. all had max exit velocities over 114 MPH. Using a linear regression with Home Run Derby data from 2015-2019 showed that max exit velocity was statistically significant at a 1% level with total HR derby home runs as the dependent variable. In layman's terms, the impact that max exit velocity has on total home runs in the derby is not random. The hardest hitters fare the best in the derby.
The Youngins Take the Cake
The addition of a time limit instead of the traditional outs system increased the pace of the Home Run Derby. Players have five minutes with one time-out throughout the round, which creates a rapid-fire scenario. It's easy to get burnt out in the first and second rounds and not have enough gas in the tank to finish strong and win. It is hard to quantify stamina, but the basic assumption is that the younger players have fresher bodies and longer stamina.
| | |
| --- | --- |
| Player | Age |
| Pete Alonso 2019 | 24 |
| Bryce Harper 2018 | 25 |
| Aaron Judge 2017 | 25 |
| Giancarlo Stanton 2016 | 26 |
| Todd Frazier 2015 | 29 |
Four out of the last five winners have been 26-years-old or younger, and Todd Frazier was only 29 in 2015. Players with a mix of strength and endurance, in the form of max exit velocity and young age, have the greatest chance to win the HR derby.
Assessing 2021 HR Derby Lineup
| | | | |
| --- | --- | --- | --- |
| Player | Max Exit Velocity (MPH) | Age | Betting Odds |
| Shohei Ohtani | 119 | 27 | +300 |
| Pete Alonso | 117.1 | 26 | +450 |
| Trevor Story | 110.2 | 28 | +600 |
| Trey Mancini | 113.9 | 29 | +1000 |
| Salvador Perez | 114.2 | 31 | +1000 |
| Matt Olson | 115.3 | 27 | +750 |
| Juan Soto | 115.3 | 22 | +500 |
| Joey Gallo | 115.1 | 27 | +350 |
Home Run Derby Odds via Points Bet
The 2021 field is filled with heavy hitters as we've never seen before. Seven out of eight players have max exit velocities over 113.9 MPH, which is the top 30 in the league. Five out of eight players in the field are 27-years-old and younger, so much of the field fits the mold for a Derby winner.
Prop of the Day: Longest Home Run Over 503.5 feet
Giancarlo Stanton has gone 504 feet at Coors Field. Trevor Story hit on 508 feet earlier in his career. The weather report indicates the wind should be blowing between 5-10 MPH out to right field. Combine the elevation with the insane crop of players in this derby, we are going way over.
Colby's Pick: Pete Alonso +450
The reigning champion knows what it takes to win a derby. He has top-tier Exit Velo and youth on his side. Alonso uses strength from his legs and hips to drive balls deep and at +450 I believe the value on Alonso is great.
Peter's Pick: Juan Soto +500
The youth, the power, the hit tool, the hunger to win his first derby, and everything in between makes me lean Juan Soto. Nobody is talking about the best hitter in the entire crop of players winning this thing, but I am. I like Juan Soto to take the crown. All he has to do is defeat the favorite in Ohtani, a tough task, but doable.
Colby's Value Pick: Matt Olson +750
I see a lot of similarities between Olson and Ohtani and for more than double the value of Ohtani at +300, Olson seems like the perfect value selection.
Peter's Value Pick: Matt Olson +750
I agree with Colby, Olson has the best value in the derby. He would be my pick if it weren't for Soto. Matt Olson is going to make it rain and might end up winning the entire thing.
Colby's Stay Away: Trevor Story +600
The hometown fan favorite has experience hitting in altitude, which could present an advantage, but his age at 29 is equal to Frazier and his max exit velocity leaves a lot to be desired. The value at +600 is not there.
Peter's Stay Away: Salvador Perez +1000
I know the value seems so juicy, but a catcher has never won the home run derby. It's not a terrible bet to tail the Royals backstop, I just think the other guys are too strong for Salvy to come out with a win. I'd stay away.
Special Offer!
People of Colorado, we have a treat for you. We teamed up with PointsBet to give you some free $$ to bet with. All you have to do is deposit at least $50 using the code "JBASEBALL" and PointsBet will match every penny in free play up to $300. You must bet responsibly, but free money to bet with is always a plus. Click this link to get started!