Rankings
Tampa Bay Rays Top Prospects For 2023
An organization that has arguably been the gold standard of development over the last decade has a loaded farm system once again.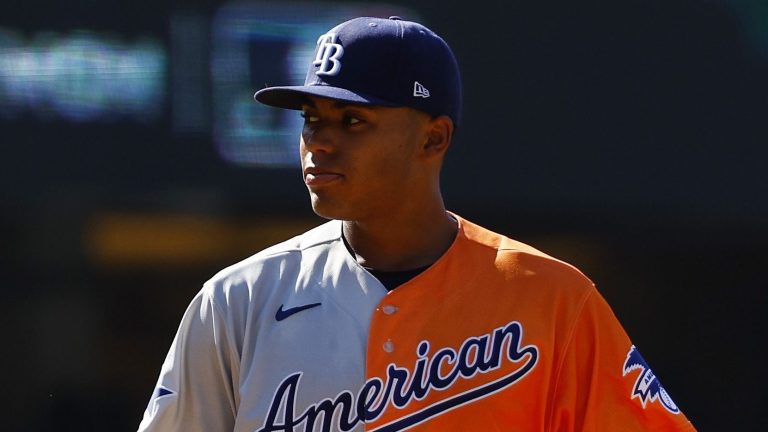 The Tampa Bay Rays have arguably been the gold standard in organizational success over the last decade. From consistent trips to the Postseason at the Major League level to several league championships across the affiliates, the Rays have been winning with both talent and development.
Consistently in the bottom third of the league in team payroll, the Rays rely on both homegrown talent and "damaged goods" that have yet to be fully unlocked. The likes of Wander Franco, Shane McClanahan, and Brandon Lowe came up through Tampa's system, while players like Yandy Diaz, Pete Fairbanks, Tyler Glasnow, and Jeffrey Springs have all been snatched up for next to nothing.
Poised for more success in 2023, the Rays have a plethora of talent waiting in the wings for when their number is called.
1. Curtis Mead – INF – (Triple-A)
Age: 22 | Height/Weight: 6'2, 170 | Bat/Throw: R/R | IFA: $200K – 2018 (PHI) | ETA: 2023
| | | | | | |
| --- | --- | --- | --- | --- | --- |
| HIT | RAW POWER | GAME POWER | RUN | FIELD | FV |
| 55/60 | 55/60 | 40/50 | 40/40 | 40/50 | 60 |
An under-the-radar international free agent out of Australia, Mead broke out in a big way in 2021 and has continued to mash in the upper levels in 2022.
Offense
Formerly starting from an extremely upright and setup, Mead is still relatively tall in his stance but is more bent at the knees. Mead has Always featured an extremely advanced swing for his age with proper sequencing that allows his lower half to work extremely well.
The result is a barrel path that essentially lives in the zone and allows him to drive balls to all parts of the zone with relative ease. Mead has already flashed plus exit velocities, with a 90th percentile exit velocity of 107 mph, one of the better marks in the organization.
A doubles machine due to his all-fields approach and swing that is geared for hard line drives, Mead has racked up 75 doubles along with 28 homers since the start of last season (180 games). Mead's body control and bat-to-ball skills combined with his plus raw power could make him a hitting machine in the future even if he isn't launching 30 homers per season.
Defense/Speed
While not especially flashy or athletic, Mead's hands and instincts should make him an average defender at either third or second base. Mead's average arm and speed will keep him on the dirt with second base being the position he profiles best at.
The 21-year-old's footwork looks strong enough to accommodate a move to second, but his arm is decent enough to play an average third base. Mead made the majority of his starts at the hot corner this season, but still saw action in 20 games at second.
Outlook
Mead's advanced approach and swing give him a chance at becoming a plus hitter at the highest level with 20+ homers and plenty of doubles.
Though he has the offensive skill-set of an above-average regular, the right-handed hitter has dismantled lefties over the last two minor league seasons to the tune of a .365/.413/.620 line making him a viable platoon bat with the ability to play three infield spots for the Rays as soon as Opening Day in 2023.
2. Taj Bradley – RHP – (Triple-A)
Age: 21 | Height/Weight: 6'2, 190 | Bat/Throw: R/R | 5th round (150), 2018 (TB) | ETA: 2023
| | | | | |
| --- | --- | --- | --- | --- |
| FASTBALL | SLIDER | CHANGEUP | COMMAND | FV |
| 65/70 | 60/60 | 40/50 | 45/55 | 55+ |
An elite athlete on the mound already with two big league pitches, the development of Bradley's changeup is what is stands between Triple-A Durham and the middle of the Rays rotation.
Arsenal
The Rays took Bradley in the fifth round in 2018 and gave him twice the slot value, tantalized by his upside. At 17 years old on draft day, Bradley was one of the youngest players in the entire class. Bradley spent two years in Rookie Ball, as the Rays slowly paced his development and entered the 2021 geared up for his first full-season. The hard-throwing right-hander's maturation was immediately visible (1.83 ERA across 22 Low-A and High-A starts).
He followed up his strong 2021 with another ridiculous season this year. In 133.1 innings between Double-A and Triple-A, Bradley pitched to a 2.57 ERA with 141 strikeouts and just 33 walks as one of the youngest pitchers in the upper levels.
Bradley's plus fastball is his best pitch. At 94-97 miles-per-hour with a ton of life, Bradley is able to get a ton of swings and misses when he elevates the heater, but also freezes hitters weary of his slider with four-seamers at the knees. The pitch averages more than 19 inches of induced vertical break.
Bradley's 86-88 mph slider gives him a second plus pitch and it gets better each time I've seen Bradley throw. The 21-year-old's split changeup is lagging behind as a third offering, but he has improved his feel for it this season landing it for a strike 15% more frequently than last year.
Outlook
Great stuff and premium athleticism give Bradley frontline upside. As he improves the feel for his changeup and his east/west command of his heater, Bradley could be a major problem for big league hitters. Bradley's progress with his changeup this season is encouraging and he should have a chance to break camp with the Rays next season. The Rays very likely have another exciting homegrown pitcher on their hands.
3. Kyle Manzardo – 1B – (Double-A)
Age: 22 | Height/Weight: 6'1, 205 | Bat/Throw: L/R | 2nd Round (62), 2021 (TB) | ETA: 2023
| | | | | | |
| --- | --- | --- | --- | --- | --- |
| HIT | RAW POWER | GAME POWER | RUN | FIELD | FV |
| 60/70 | 50/50 | 45/50 | 45/45 | 45/55 | 55 |
Yet another breakout offensive prospect in the Rays system, Manzardo offers one of the safest offensive profiles you'll see.
Offense
Manzardo starts with his hands relaxed on his shoulder, using a toe tap for timing. It's impressive how he is able to generate the rotational power and whippy bat speed he does with such little effort. Manzardo's bat lives in the zone and he seems to barrel everything. The blend of whippy bat speed while living in the zone for so long helps Manzardo post an impressive 86% zone contact rate while driving the ball with authority.
The left-handed hitter has above average power to his pull side and easily backspins the baseball to all fields. Manzardo has a patient approach, rarely chasing and leverages his hitter's counts well. He drew 59 walks this season while only striking out 65 times.
A plus hit tool with above average power that Manzardo is able to tap into every ounce of thanks to his swing and approach, the 22-year-old is one of the safest bats in the minors.
Defense/Speed
An average runner, Manzardo will not provide a ton of value with his legs or glove but he should be an average defender or better at first base.
Outlook
After tearing up High-A, Manzardo was promoted to Double-A and picked up right where he left off. A 1.049 OPS in his first season with as many walks as strikeouts as a 22-year-old is hard to argue against. The way Manzardo controls his at bats and is already able to get into his power with potentially some more in the tank is exciting. He find the barrel as much as any hitter in the minors and should quickly climb to the big leagues.
Manzardo has 20-25 home run juice with a 70 grade hit tool. His consistent splits left-on-left further solidify just how safe his bat is. The Rays have plenty of options at first base moving forward, but Manzardo might be the best of the bunch.
4. Carson Williams – SS – (Low-A)
Age: 19 | Height/Weight: 6'2, 180 | Bat/Throw: R/R | 1st Round (28), 2021 (TB) | ETA: 2026
| | | | | | |
| --- | --- | --- | --- | --- | --- |
| HIT | RAW POWER | GAME POWER | RUN | FIELD | FV |
| 35/50 | 50/60 | 40/55 | 55/55 | 50/60 | 55 |
Williams put his big tools on display in his first pro season, giving Rays fans plenty to look forward to. He will need to cut down in the whiffs to reach his All-Star ceiling, though.
Offense
Still with a wiry frame and room to fill out, Williams has already produced eye-opening power numbers for an 18-year-old in his first year of pro ball. The 6-foot-2, 180 pound Williams has long levers and generates easy bat speed even though his swing can be very upper half centric.
Already reaching exit velocities of 110 MPH while smacking 51 extra-base hits in his first season, Williams has plenty more pop in the tank. Williams starts with an upright stance and relies on his natural bat speed and athleticism to produce thump, but the lack of lower-half involvement leaves power on the table for him. You'll see Williams often finish even his swing more upright than he started, which is a bit of a tell.
The fact that Williams was able to consistently produce the way he did even with the swing deficiencies is a testament his twitchiness and natural athleticism. His lack of base, caused him to struggle with off speed stuff, but Williams crushed fastballs to an OPS over 1.000.
With more room to fill out on top of the room to improve with his base, there is easy plus power to dream on with Williams. He already has a decent approach and feel for the barrel.
Defense/Speed
Williams is an above average runner with an easy plus arm. His actions are smooth and his feet are quick. He has the tendency to sit back on balls at times and rely on his arm strength, but he has plenty of range and a good internal clock. Williams has the goods to not only stick at short, but also be a plus defender there.
While he is not a burner, Williams is fast enough to be a factor on the base paths. He stole 28 bases on 38 tries this season. He is more likely a 10-15 stolen base guy as he climbs.
Outlook
The Rays have gone with athletic, projectable shortstop is the first round of two of their last four drafts selecting Greg Jones and Carson Williams. Though the 32% strikeout rate was high for Williams, he showed a pretty mature approach and an ability to hit velocity. He will need to improve with recognizing spin, but he was just an 18-year-old in full season ball this year.
Williams has plus power potential with staying power at shortstop and decent speed. All eyes will be on the hit-tool for the teenager and I believe he will make strides in that regard next season.
5. Junior Caminero – 3B – (Low-A)
Age: 19 | Height/Weight: 6'2, 215 | Bat/Throw: R/R | IFA: 2019 (CLE) | ETA: 2026
| | | | | | |
| --- | --- | --- | --- | --- | --- |
| HIT | RAW POWER | GAME POWER | RUN | FIELD | FV |
| 40/50 | 55/65 | 45/55 | 50/50 | 45/55 | 55 |
Acquired for Tobias Myers as the Rays fought a roster crunch ahead of the 40-man deadline, the Rays identified Caminero before he had even recorded an at bat outside of the complex. Caminero has matured quickly, looking like a big time power prospect with the ability to stick at third.
Offense
Caminero uses a big leg kick and barrel tip in his load but his athleticism in the box and elite bat speed help him be on time despite the louder moves. A physical build for a 19-year-old, Caminero is already putting up plus exit velocities with a 90th percentile exit velocity of 106 mph and max exit velocity of 113 mph.
His whippy bat speed and decent feel for the barrel help Caminero limit the whiff (85% zone contact last season) and with better swing decisions he could be an average or better hitter. His swing is violent, but it's more controlled violence than you see from young hitters with his kind of power. There's a chance that Caminero's pre-swing moves will be more difficult to time up against more advanced pitching, but so far it has not looked like an issue.
As Caminero continues to mature both physically and in the box, there is a chance for plus raw power or better with a good enough feel to hit. Though it's a small sample size, Caminero's 16% strikeout rate in 62 games between the complex and Low-A is an encouraging sign. Like many young hitters, he'll need to cut down his high chase rate, but there's a chance for big power and enough hit.
Defense/Speed
At least an average runner who moves his feet pretty well at the hot corner, Caminero offers some value on the bases and has a good chance to stick at third. Caminero's plus arm and decent range at third give him a chance to be an above average defender at the position. His actions are already pretty good for his limited reps.
Outlook
It's easy to see the power hitting third base profile for Caminero and his solid defensive outlook at the position helps. While free-swinging power hitting teenagers are extremely risky by nature, Caminero's surprisingly solid zone contact rates (admittedly a small sample) and likelihood of sticking at the hot corner hedge some risk.
If he can cut down on his chase rates and prove that his noisy pre-swing moves can work against upper-level competition, Caminero has 30+ home run upside as an everyday third baseman.
6. Mason Auer – OF – (High-A)
Age: 22 | Height/Weight: 6'1, 210 | Bat/Throw: R/R | 5th Round (161), 2021 (TB) | ETA: 2025
| | | | | | |
| --- | --- | --- | --- | --- | --- |
| HIT | RAW POWER | GAME POWER | RUN | FIELD | FV |
| 40/50 | 55/55 | 45/55 | 60/60 | 50/60 | 50 |
A premium athlete who is built like a linebacker, Auer has a skillset a bit reminiscent of Tyler O'Neil and dominated low-level competition in his first full pro season out of San Jacinto CC.
Offense
A JuCo product and two sport athlete in high school, Auer slid to the fifth round due to his perceived raw hitting profile. Auer shortened his swing which is geared for line drive contact and reaped the rewards in 2022. His 22% strikeout rate and 10% walk rate between Low-A and High-A was better than expected and he still slugged.
Auer's flatter approach angle may result in more doubles than homers, but it also helps him reach high spin fastballs at the top of the zone and produce a solid 81% zone contact rate. The soon-to-be 22-year-old produced above average exit velocities last season (111 mph max EV/104 mph 90th percentile EV) and projects to have at least above average power.
With such a simple swing and repeatable moves, Auer uses his strength to his advantage by minimizing any unnecessary movement and still impacting the baseball with authority. He uses the whole field well and with his high-end speed and impressive hard hit rate, he should routinely be a high BABIP hitter.
Even with a lower average launch angle, Auer hits the ball hard enough to produce 15-20 homers and a ton of doubles and triples. If he can keep the strikeout rate down against Double-A pitching next season–his swing provides little reason to think he can't–Auer could profile nicely as a modern day leadoff type with his extra base hit ability and speed.
Defense/Speed
Easy plus speed gives Auer the ability to stick in centerfield, but his plus plus arm would profile well in a corner as well. Auer easily has the strongest outfield arm in the Rays system, giving him the fallback of plus defense in a corner, but he could be an above average defender in centerfield with he speed and continuously improving reads.
A former football player, Auer gets to his top speed quickly, helping him get good jumps in the outfield and on the base paths. He stole 48 bags on 55 tries in 105 games last season.
Outlook
Auer's big season has him looking like a potential steal in the 5th round of the 2021 Draft. With continued success against Double-A pitching this season, Auer could force his way onto top 100 prospect lists sooner rather than later given his extremely exciting skill set. There's five-tool potential here if he can hit enough and the early results are very encouraging.
7. Cole Wilcox – RHP – (Low-A)
Age: 23 | Height/Weight: 6'5, 230 | Bat/Throw: R/R | 3rd round (80), 2020 (SD) | ETA: 2025
| | | | | |
| --- | --- | --- | --- | --- |
| FASTBALL | SLIDER | CHANGEUP | COMMAND | FV |
| 50/55 | 60/60 | 40/50 | 45/55 | 50 |
A big bodied power pitcher, Wilcox made his return to the mound from Tommy John surgery at the end of last season and reminded us of the guy who flashed brilliance during his pro debut in 2021.
Arsenal
Wilcox started his collegiate career as a stuff-over-command guy and finished by walking just two batters over his final 23 innings at Georgia. It was more of the same for Wilcox in his first taste of pro ball, striking out 52 while walking just five in 44 1/3 Low-A innings.
The big right-hander is still working to regain his velocity as he builds his workload back up from Tommy John surgery, but his fastball has typically sat 93-96 mph with the ability to touch upper 90s. The above average heater has heavy sink and induces plenty of ground balls. Because the fastball is so difficult to lift or do damage with, Wilcox is confident attacking the zone which is a big reason why his walk numbers have remained so low.
His best pitch is his plus slider in the mid 80s with two plane break. His ability to command the pitch east and west helps him confidently use it against left-handed hitters as well. Wilcox's split-change is lagging behind as third pitch but has flashed average. He didn't have to throw the pitch much in college and has not had much time to develop the pitch between 2020's cancellation and his Tommy John surgery. The pitch has decent arm side fade and could develop into an above average third offering.
Outlook
Wilcox has sporadically been on the mound over the last couple years due to unlucky circumstances, but when we have seen him toe the rubber, he has been impressive. Combining his heavy sinker with his big body and solid command, Wilcox has the goods to be an innings eater at the highest level. His plus slider and signs of a viable changeup give him a chance to blossom into a middle rotation starter and the 23-year-old should make up for lost time next season thanks to his relatively impressive polish given how few innings he has thrown over the last few years.
8. Mason Montgomery – LHP – (Double-A)
Age: 22 | Height/Weight: 6'2, 190 | Bat/Throw: R/R | 6th round (191), 2021 (TB) | ETA: 2024
| | | | | |
| --- | --- | --- | --- | --- |
| FASTBALL | SLIDER | CHANGEUP | COMMAND | FV |
| 50/55 | 55/55 | 40/50 | 40/50 | 50 |
A 6th round selection out of Texas Tech in 2021, Montgomery hit the ground running in pro ball, simply overpowering High-A hitters while showing more finesse and pitchability after his promotion to Double-A.
Arsenal
Montgomery works quickly from the stretch even when there's nobody on. He comes set closed off with his front foot about six inches towards first base. He stays closed late into his delivery, which combined with his extremely short arm action, helps him hide the baseball for as long as possible.
The unique release from Montgomery helps his fastball play up with good ride from a low attack angle. Though his fastball only sits around 91-93 mph, it averages more than 18 inches of induced vertical break with even more perceived ride.
The 22-year-old pairs a mid-80s slider with his fastball and the two are extremely difficult to differentiate for hitters. While the slider may not blow people away movement wise, it's an above average pitch that plays up thanks to impressive tunneling and deception. Opponents slashed just .144/.172/.153 against the pitch last season.
The third pitch for Montgomery is a low 80s changeup which he threw more as the season went on. The pitch is still a work in progress and he only threw it against righties last season, but it could play up similarly to the slider if he can find more consistency with the pitch.
Outlook
Montgomery's deception over stuff profile limits his ceiling but with two viable big league offerings and a chance for a third, the 22-year-old is on the right path in proving that he can stay in the rotation. His average build and extremely short arm action make an uptick in stuff a bit more difficult to envision but not impossible. With continued strides in command and development of his changeup, Montgomery should miss enough bats to round out a decent big league rotation.
9. Osleivis Basabe – INF – (Double-A)
Age: 22 | Height/Weight: 6'0, 170 | Bat/Throw: R/R | IFA: $550K – 2017 (TEX) | ETA: 2024
| | | | | | |
| --- | --- | --- | --- | --- | --- |
| HIT | RAW POWER | GAME POWER | RUN | FIELD | FV |
| 60/70 | 40/40 | 30/35 | 55/55 | 45/55 | 50 |
The best-bat to-ball prospect in the Rays system, Basabe walked as much as he struck out in Double-A while playing all over the infield.
Offense
Short levers and a quick, flat swing help Basabe seemingly make contact with everything. His 9.7% strikeout rate was the third lowest in Double-A among hitters with 200 plate appearances and he walked nearly as much. Even when he can't get his "A" swing off, Basabe is able to throw his hands at tough pitches to put a ball in play in a way that is a bit similar to David Fletcher but with more doubles power.
Basabe's flat swing and contact-oriented approach results in a high ground ball rate (58%), but he hits the ball harder than his frame may suggest. A 101 mph 90th percentile exit velocity is right around average and the 22-year-old even reached exit velocities as high as 108 mph last season. His 90% zone contact rate is one of the best in the minors and his 26 extra base hits in 57 Double-A games was by the most of any stretch of Basabe's career.
While he will probably never hit more than a few homers per season, Basabe's gap to gap power is enough to hit a fair amount of doubles; however he'll need to cut down his near 60% ground ball rate.
Defense/Speed
Capable of sticking at shortstop, Basabe played all over the infield making 52 starts at the hot corner, 26 at second base and 25 more at shortstop. He has a plus arm, solid range and decent actions that continue to get better. A fringe-plus runner, Basabe went 14 for 14 on stolen bases in Double-A and has good instincts on the bases.
Outlook
Though his ceiling is limited, Basabe is a high probability big leaguer with enough athleticism to be an above average regular. He'll have to consistently hit, but he shows little reason to be concerned in that department as a double plus hit tool is within with reach if he matures with his approach. I could see Basabe blossoming into a Joey Wendle type with slightly less power and whiff.
10. Carlos Colmenarez – SS – (CPX)
Age: 19 | Height/Weight: 6'1, 210 | Bat/Throw: L/R | IFA: $3M – 2021 (TB) | ETA: 2026
| | | | | | |
| --- | --- | --- | --- | --- | --- |
| HIT | RAW POWER | GAME POWER | RUN | FIELD | FV |
| 30/50 | 40/55 | 20/50 | 55/55 | 40/55 | 50 |
The crown jewel of the Rays 2021 IFA class with a whopping $3 million signing bonus, Colmenarez's introduction to pro ball has been slowed due to a hamate injury. Colmenarez has not wowed in his 267 plate appearances in rookie ball, but hamate injuries take time and the teenager has lost out on a lot of reps. He is among the favorite breakout candidates for 2023 within the Rays org.
Offense
Colmenarez has a smooth and sweet left-handed swing that is easy to fall in love with when everything is on time. He uses a slow leg kick that he struggles to repeat consistently. Sometimes his foot gets down late and he looks rushed and other times he can find himself out on his front foot on off speed stuff.
Hamate injuries can take a long time to fully recover from even when a player is back on the field so it is tough to peg his power grades, but he has shown flashes of above average power potential–especially to his pull side. When he gets his "A" swing off, Colmenarez's barrel lives in the zone for a long time helping him drive the ball to all fields.
Looks and info have just been too limited with Colmenarez thus far, but with room for projection in his frame and already flashes of some impact, above average pop seems attainable. He has the goods to be an above average hitter as well.
Defense/Speed
Colmenarez looks like a natural at short with smooth actions and good footwork. Add in his plus arm and it's easy to see why the Rays are confident in his ability to stick at shortstop. An above average runner, Colmenarez is an added value on the base paths as well.
Outlook
Still extremely raw, Colmenarez has as much upside as any prospect in this system, but his slow start and lack of reps make it hard to push him higher in the Rays organizational hierarchy. The 19-year-old should be a popular breakout candidate among the industry and has a chance to offer above average tools across the board as a left-handed hitting shortstop.
The Next Five Prospects
Willy Vazquez – 3B – (Low-A): Another young infield prospect with big power potential, Vasquez boasted a 90th percentile exit velocity of 106 mph last season, but is still trying to figure out how to consistently get into his juice in games (10 HR in 113 games). Vasquez has long levers which helps him produce impressive batted ball data, but his swing path needs work. The 21-year-old has room to add more strength, giving him a chance to hit for plus power or better.
Ronny Simon – INF – (Double-A): Acquired from the Diamondbacks for Jordan Luplow during the 2021 offseason, Simon was perceived as expendable due to the raw nature of his game and limited physical projection (he is listed at 5-foot-9, 160 pounds). Simon is a switch hitter, but his left-handed swing is more advanced. An aggressive hitter, Simon packs a punch for his small frame, launching 22 homers last season between High-A and Double-A. With plus speed and the athleticism to play all over the infield, Simon projects as an intriguing super-utility type.
Kameron Misner – OF – (Double-A): Plus power and speed give Misner exciting potential, but he struggles to consistently make contact. He hedges his swing and miss concerns with a patient approach (17% walk rate in 2022) and game power that he really started to unlock last year. The 25-year-old finished his season strong, posting an OPS of .844 over his final 50 games while cutting his strikeout rate to 26% (was 30.4% for the season). Misner is capable of sticking in centerfield but profiles nicely in a corner as well.
Colby White – RHP – (Triple-A): After a dominant 2021 season that saw him climb four levels, White underwent Tommy John surgery and missed all of the 2022 campaign. White's mid 90s fastball is double-plus with exceptional ride (20 inches of IVB). His mid 80s slider gives him a second viable offering and he will mix in a splitter that flashes above average. White has the goods to be a high leverage bullpen arm at the highest level in 2023. He was added to the Rays 40-man roster last November.
Greg Jones – SS – (Double-A): One of the best athletes in the organization, Jones is a borderline 80-grade runner with above average power potential. The challenge for Jones has been the hit tool. The switch-hitter has struggled to consistently make contact from both sides of the plate, severely limiting the impact his elite speed can have. Despite his .318 OBP, Jones was able to swipe 37 bags on 42 tries and has too much to offer tools wise to give up on.
Other Names to Watch
Heirberto Hernandez – OF/1B – (High-A): Swing and miss issues and a lack of a defensive home limit Hernandez's prospect shine some, but his big power is too impressive to ignore. The 23-year-old launched 24 homers in 119 games, but is much too pull-happy. Hernandez crushes lefties and could be a power platoon option.
Xavier Isaac – 1B – (CPX): An under the radar draft prospect in last year's class, the Rays surprised many by selecting Isaac 29th overall. At 6-foot-4, 240 pounds Isaac projects as a 1B masher with exciting power. He's raw with limited looks, but the Rays were attracted by Isaac's potential for a blend of an above average hit tool and plus power.
Brock Jones – OF – (Low-A): After a streaky draft year at Stanford, Jones fell out of the first round, but the Rays bet on power and speed combination in the second round of the 2022 Draft. There's a lot of swing and miss and some stiffness to his swing but with the ability to stick in center and plus raw power, Jones could be an exciting prospect if he hits enough.
Cooper Kinney – INF – (CPX): A torn labrum eliminated Kinney's 2022 season before it really started, but the 34th overall selection in the 2021 Draft has already showed some exciting things on the Rays backfields. Kinney is already physical for a newly-turned 20-year-old but has room for more strength in his frame. His good swing decisions and feel for the barrel point towards a potentially above average hit tool with the power grade not too far behind.
Ian Seymour – LHP – (Triple-A): Still working to regain his form after Tommy John surgery, Seymour is a funky lefty who makes for an uncomfortable at bat. He has flashed an above average changeup and slider and still has a chance to stick in a rotation if he can build himself back up to his 2021 form. His tough delivery and good stuff give him the floor of a difficult reliever.
Ryan Cermak – OF – (CPX): The 71st overall selection in the 2022 Draft, Cermak absolutely flies and offers average power potential. He will tend to try to hard to get into his power to his pull side, but his speed and defensive ability provide plenty of intrigue as a depth piece if the bat doesn't develop.
Dominic Keegan – C – (Low-A): Big raw power and a hit tool that has progressively improved dating back to the beginning of his collegiate career at Vanderbilt, Keegan has worked hard to prove that he can stick behind the dish, but the bat is good enough to maintain his prospect relevancy if he moves to first base. Keegan could turn a lot of heads with his offensive ability in 2023.
Marcus Johnson – RHP – (Low-A): Initially drafted by the Marlins in the 4th round of the 2022 Draft, Johnson was traded over to the Rays in a larger deal that included Xavier Edwards and J.T. Chargios. Johnson struggled in limited pro action, but has an intriguing three pitch mix led by his above average slider and an improving changeup. With a 6-foot-6 frame and athleticism, Johnson is a projectable arm.
Evan Reifert – RHP – (Double-A): With a double-plus slider and mid 90s fastball, Reifert seems to be on a fast track to the illustrious Rays bullpen. He will need to improve his command a bit, but Reifert's slider is nasty enough to make All Star big leaguers look silly.
Tristan Peters – OF – (Double-A): Acquired in the Brett Wisely swap with the Giants ahead of the 40-man deadline, Peters offers an above average hit tool with a good approach. The power is fringy, but he does well generating carry to his pull side. An above average runner, Peters fits the mold of a fourth outfielder.
Shane Sasaki – OF – (Low-A): An absolute burner who swiped 47 bags in 89 games, Sasaki flashed some intrigue with the bat with fringy power and a decent feel to hit. Sasaki fits the fourth outfielder mold as well, but his elite speed and competence with the bat makes him worth following.