Analysis
AL Wild Card Series Playoff Preview: Guardians vs. Rays
The Cleveland Guardians welcome the Tampa Bay Rays to Progressive Field for what should be a hard-fought three-game Wild Card series.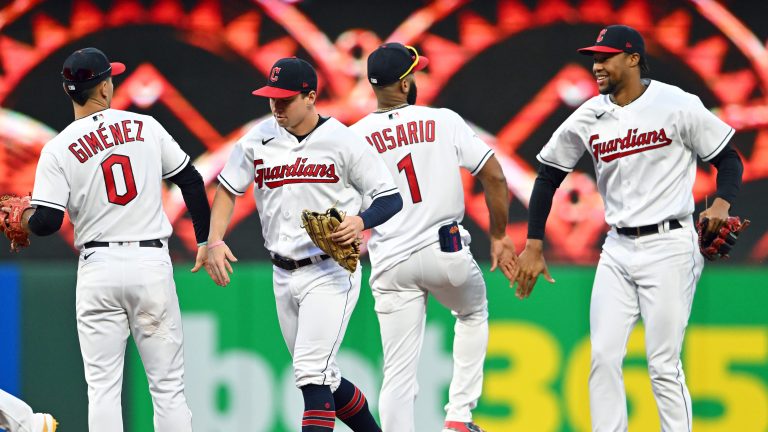 When the Guardians welcome the Rays to Cleveland this weekend, there won't be much fanfare. As fun and competitive as this series will be, it does not feature a team from one of the largest media markets in North America, nor does it have a particular narrative surrounding it that the media can latch onto. While both teams have plenty of talented young players, neither has as much star power as the Cardinals or the Padres or the Mets.
Neither the Rays nor the Guardians are ending a long-term postseason drought. Neither team has a serious MVP candidate in their lineup. Neither plays in New York.
It's understandable why this particular series would receive the least media attention. Yet it's also a shame. Because when you really think about it, this just might be the most interesting Wild Card series of them all.
Both teams are entering the weekend with a major chip on their shoulders. The Rays have to put their bad September in the rearview mirror and prove they are still one of the best teams in the American League.
The Guardians have to prove that they deserve their postseason spot, and they didn't just make their way here by winning games in a weak division. Neither team is going to go down without a fight.
Here's how they'll match up.
Pitching Matchups
Shane Bieber (13-8, 2.88 ERA) vs. Shane McClanahan (12-8, 2.54)
The first game of the series will feature what is sure to be an incredible duel between two of the best starting pitchers in the American League – who also happen to have the same name. While both are excellent pitchers having excellent seasons, the Guardians look to have the advantage in this matchup. McClanahan has not been quite so sharp lately (7.07 ERA in last three starts), and he was hit around quite badly in his last start against Cleveland (5 ER in 4.1 IP).
TBD vs. Tyler Glasnow (2 GS, 6.2 IP, 1 ER)
Tyler Glasnow is back. The Rays starter missed almost all of the 2022 season recovering from Tommy John surgery, but miraculously he is back just in time for the postseason. In two brief appearances at the end of the regular season, he certainly looked like his old self. He gave up just one run while striking out 10 in his 6.2 innings of work.
While the Guardians have yet to officially announce their starting pitcher for Game Two, there is no reason why it should not be Triston McKenzie. In 31 starts this season, McKenzie has 190 strikeouts and a 2.96 ERA. The former number one prospect has been everything Cleveland could have hoped for this season – and more.
It's hard to say which team has the advantage in this matchup. Glasnow is, perhaps, the more talented pitcher (although it's a close call), but he has also hardly pitched this season. Indeed, he has only thrown a handful of big league innings since June 2021. Is he really ready to start such a high-stakes postseason game? Only time will tell.
Cal Quantrill (15-5, 3.38 ERA) vs. TBD
Finally, pitching Game Three for Cleveland (if necessary) will be Cal Quantrill, a 27-year-old right-hander playing his first full season as a starting pitcher. Quantrill has been especially hard to hit lately, posting a 2.89 ERA since the start of September. In his penultimate start of the 2022 regular season, he held the Rays to just one run in six innings en route to a 2-1 Guardians win.
Presumably, the Rays will counter with either Jeffrey Springs or Drew Rasmussen to start Game Three, although with Tampa, you never know. Springs seems like the more likely choice, because the Guardians have really struggled to hit left-handed pitching this year. Then again, with the platoon advantage in mind, perhaps Kevin Cash would prefer to use Springs out of the bullpen. Springs was a reliever earlier this season and should be able to slide back into the role if needed.
Regardless of which pitcher Cash tabs to start a potential Game Three, the Rays will have the advantage. While Quantrill is having a good season, both Springs and Rasmussen have been better.
How the Lineups Stack Up
On the season as a whole, the Rays and Guardians have very similar offensive numbers. However, the Guardians offense has been far superior as of late. Since the start of September, the Guardians have a .719 OPS and 103 wRC+, while the Rays have a .655 OPS and 93 wRC+. This could be because Cleveland's offense has been feasting on weaker opponents in the AL Central, while the Rays have played the Astros, Yankees, and Blue Jays several times over the past month.
Yet even if that is the case, it does not erase the fact that the Guardians lineup has been hot, while the Rays lineup has been ice cold.
More specifically, both teams have gotten strong performances from their top hitters (your Steven Kwans and your Wander Francos, for example) but the Rays have gotten very little production from the bottom of their lineup.
Hopefully for Tampa, their hitters will snap out of their funk against Cleveland. But one should never discount the value of momentum in the postseason, especially in a series this short.
Prediction
The Rays looked like the better team heading into the season, and they looked like the better team for much of the season. Around the end, however, the Guardians pulled ahead. But are the Guardians really that much better than we thought they'd be?
Or have they merely benefitted from playing in the weakest division in baseball?
It's a difficult question, and there's no way to know for sure, but my money is one the second option. I don't really think the Guardians are quite as good as their record suggests, and, simply put, I believe the Rays are the better team. Anything can happen in a best-of-three series, but if I had to wager a guess, I'd have the Tampa Bay coming out on top two games to one.