Analysis
Swing Adjustments Made Jordan Walker's Rookie Season a Success
St. Louis' rookie slugger came back from Triple-A with a revamped swing and much-improved results.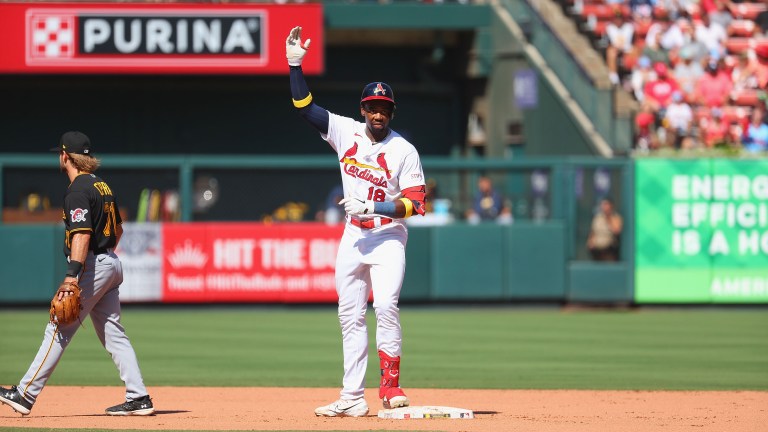 The Cardinals entered Spring Training prepared to give Jordan Walker an opportunity to make the Opening Day roster, but given the fact that he was only 20 years old and had not played above the Double-A level, it seemed as though it would require a special spring for the team's top prospect to break camp.
He got off the a torrid start to Spring Training, posting a .956 OPS through his first 16 games while flashing his big power potential with a multi-homer game. With the Cardinals in win-now mode, Walker showed enough to make them believe that he could help them do just that.
He opened his MLB career with a 12-game hitting streak, passing Ted Williams and tying Eddie Murphy's 111-year-old record for the longest hitting streak by a player 20 years or younger.
Though he picked up 20 hits in his first 20 games, Walker struggled to hit for much power or draw free passes. He posted just a .682 OPS in that span with shaky defense in the outfield, a position that he had just started to play in the second half of the 2022 season with Nolan Arenado in his way at third base.
After his first month-long taste of the big leagues, Cardinals opted to send Walker to Triple-A Memphis, the level he had skipped to make his MLB debut. It took the then 20-year-old some time to even get acclimated to Triple-A–especially while undergoing swing tweaks–but after a couple weeks at the level, he really settled in.
After a red-hot 10 game stretch to close out May (1.026 OPS), the Cardinals decided to give Walker another look.
From his second MLB audition onward, Walker received consistent playing time and continuously improved as he compiled at-bats and reps in the outfield.
Converting Raw Power to Game Power
During Walker's first 20 MLB games, he hit the ball hard, but only produced five extra base hits (.377 SLG). His 60% ground ball rate really sapped his power output, along with an aggressive approach that held him back from getting his A-swing off as frequently as he should.
During his time in Triple-A, Walker made some mechanical adjustments to drive the ball in the air more frequently, and once he became comfortable with his new set up and pre-swing moves, the Cardinals brought him right back up.
In the split video below, you can see adjustments to his setup and load, which may not seem major, but are extremely difficult to do with success mid-season. Let's dive into those changes.
Starting with the setup, Walker is now more narrow and open, helping him avoid the feeling of his hips and torso being too closed off at launch. Often times, hitters who feel closed off at launch will have the urge to pull off with their front side and hips to get the barrel out, but that can lead to the bat dragging and more ground balls.
It sounds somewhat counterintuitive to combat flying open by starting more open, but eliminating the feeling of needing to quickly rotate out of his launch position can in turn allow Walker to focus on staying in the zone longer with a load that now encourages that.
As for the load, Walker not only stays on the ball with his frontside longer, but he also gets his front foot off of the ground earlier. In the old video, you can see him start his load as the pitcher is coming towards home, but in the more recent clip, Walker's foot comes off of the ground right as the pitcher's hands break.
Starting his load sooner helps him see the ball earlier with a bit more rhythm to his pre-swing moves as well. Tying back to the idea of feeling rushed and/or needing to get the barrel out, seeing the ball earlier with a smoother load can also effectively combat the urge to spin out of the launch position.
From the open side view, not only is the narrower setup more clearly visible, but also how it helps him get into his back side and stay there a bit longer. Another subtle change is Walker's bat angle both at the start of the load and his slot.
There's no doubting that the changes have helped Walker find himself in his second stint at the big league level. Since rejoining the Cardinals, the 21-year-old has hit .272/.342/.462 (120 wRC+) with 14 home runs.
As the season has progressed, Walker has gained even more comfort with his newer moves. Over his last 30 games, he's slashing .308/.388/.548 (154 wRC+) with just a 21.5 K%. While it is not the largest of sample sizes, his batted ball data from his first 20 games and last 30 games starkly contrast.
| | | | | | |
| --- | --- | --- | --- | --- | --- |
| FIRST 20 GAMES | GB%: 60% | LA: 5° | CHASE%: 36% | XBH%: 9% | SWSTR%: 17% |
| LAST 30 GAMES | GB%: 36% | LA: 19° | CHASE%: 30% | XBH%: 15% | SWSTR%: 14% |
Again, the sample sizes are small, but Walker's batted ball data has steadily trended in a positive direction since making tangible adjustments leading into the most recent 30-game stretch which has been by far his best.
Not only is he driving the ball better, but he is seeing it extremely well, helping him make better swing decisions and walk at a consistently higher clip. Hitting the ball hard was never the issue, and now that Walker using his power more effectively along with better swing decisions, he is poised to ride his strong finish to his rookie season into a big sophomore year.
Has the Outlook Changed?
Heading into the 2023 season, Walker checked in as Just Baseball's No. 2 overall prospect behind only Elly De La Cruz. In my final writeup of Walker as a prospect, I said there was 35+ homers to dream on with an average hit tool, and his progress this season has only made me more optimistic in his ability to reach that ceiling.
Though he has been docked from an fWAR perspective due to his challenges in the outfield, he has the tools to be a solid defensive outfielder as he gains more comfort. An above average runner with a 70 grade arm, it's the jumps and reads that have challenged Walker, but that is to be expected from a player who had played only 52 professional games in the outfield plus Arizona Fall League reps.
On video, he seems to be settling in defensively with better jumps and more comfortable routes. From an Outs Above Average perspective, Walker is on track for his first positive month in the big leagues.
Regardless, the 6-foot-6, 245 pound slugger's success will be determined by his production with the bat, and by all indications, Walker should hold up his end of the bargain in that department.