Analysis
State of the Division: AL East
Baseball's most contentious division hasn't disappointed.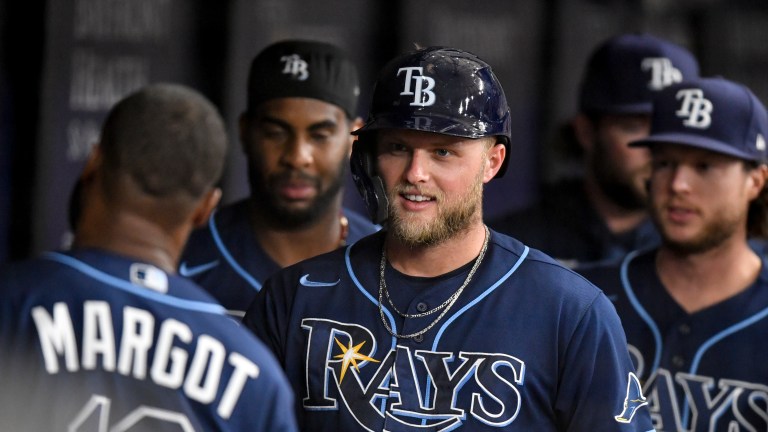 Expected to be one of the best divisions in baseball in 2021, it's safe to say the American League East has not disappointed early on this season. The AL East is the only division in MLB with four teams above .500, and both the Rays (39-24) and Red Sox (38-25) rank amongst the top five teams in the sport. The AL East should be a down-to-the-wire race over the next few months and could certainly send three teams to the playoffs.
Tampa Bay Rays (39-24) – First Place
Coming off an impressive run to the World Series last year, the Rays have followed it up with a stellar start to their 2021 campaign. Expectations were lowered coming into the year after Tampa dealt 2018 AL Cy Young award winner Blake Snell to the Padres in the offseason. However, in true Rays fashion, it appears Erik Neander and co. knew exactly what they were doing. So far, Snell has struggled to a 4.84 ERA over his first 59 innings in San Diego.
Meanwhile, 21-year-old pitching prospect Luis Patino, who was acquired in the Snell trade, has already flashed his sky-high potential. He owns a 3.60 ERA and has logged 19 strikeouts in his first 15 MLB innings this season.
Offensively, the Rays have found a way to get the job done as the league's 4th highest scoring offense (312 runs scored) despite a .228 team batting average that ranks 24th in baseball. Austin Meadows has led the way for Tampa so far with a team-leading 14 home runs and 138 wRC+ (100 is league average). After struggling to a .667 OPS in 2020, Meadows's bounceback this year has been crucial for the Rays.
The pitching has been excellent, per usual. Tyler Glasnow has looked to be every part of the ace Tampa needs him to be. He's produced a 2.57 ERA with 113 strikeouts in 84 frames so far. Additionally, 41-year-old Rich Hill is enjoying a renaissance year with a 3.05 ERA and 9.1 K/9, because of course he is.
Most impressively, Tampa owns the third best bullpen ERA in baseball (3.25) despite a laundry list of injuries to relievers. Nick Anderson, Pete Fairbanks, Diego Castillo and Oliver Drake have all missed portions of the season. In their place, Andrew Kittredge and Ryan Thompson have paced the Rays' relief unit. Each have thrown at least 28 innings and own sub-2.00 ERA's.
Boston Red Sox (38-25) – 1 GB
The second place Red Sox have easily been one of MLB's biggest surprises through the first 60+ games. After a 24-36 last place finish in 2020, and seemingly little done to improve a suspect pitching rotation in the offseason, Boston appeared poised to struggle once again in 2021. However, that has been far from the case up to this point. The offense has been strong and the pitching staff has been much better than expected.
While several members of the Red Sox lineup have impressed so far, the rebound from J.D. Martinez has been most important. After struggling to a career-worst .213 batting average with 7 home runs and 77 wRC+ last season, Martinez has already hit 13 home runs with a 152 wRC+ (fourth best of his career) this year. Notably, Martinez is striking out three percent less than he did last year and making a lot more hard contact. In addition to Martinez's success, Rafael Devers is tied for the MLB lead with 34 extra-base-hits; and Xander Bogaerts owns a .324 batting average and 151 wRC+, while also providing elite defensive value at shortstop.
On the mound, a couple of surprising arms have led the way. Martin Perez (3.88 ERA) and Nick Pivetta (3.78 ERA) have both been much better than their career averages. They've helped the Red Sox rank 13th in baseball with a more than acceptable 4.03 team ERA. It's safe to say that number is exceeding many people's expectations. There's room for improvement too. Nathan Eovaldi's 2.62 FIP suggests he's been unlucky to have a 4.11 ERA thus far.
Additionally, reinforcements should be coming to Boston's rotation sooner rather than later. Chris Sale is working to return from Tommy John surgery later this season, and there's certainly potential for a trade to bolster the rotation. The Red Sox bullpen has also been solid. Their 7th ranked relief group has been led by Matt Barnes (14 saves, 2.63 ERA) and Rule-5 rookie Garrett Whitlock (1.86 ERA in 29 innings).
New York Yankees (33-30) – 6 GB
While the Red Sox have pleasantly surprised thus far, their rivals in the Bronx have greatly disappointed. If you were told back in March that the Yankees would get off to a 33-30 start this season, you'd likely guess that pitching played a big role in their struggles. However, the pitching has been strong and instead it's the Yankees' offense that has been surprisingly well below league average.
You don't have to dig too deep to find reasons for the Yankees' offensive struggles. It starts at the top with DJ LeMahieu, who owns a .254 batting average this season after back-to-back dominant seasons in 2019 and 2020. The 32-year-old infielder has also hit for almost no power, with only three home runs and seven doubles. In addition to LeMahieu, Luke Voit, Gleyber Torres and Gary Sanchez have all either disappointed or missed time. Aaron Judge has been the only consistent force in the lineup, pacing the team with 15 home runs and 158 wRC+.
More than anything, the Yankees desperately need a competent left-handed bat or two to balance their lineup. When Rougned Odor is the best lefty in your lineup, you're doing something very wrong. All of this adds up to a Yankees offense that ranks an abysmal 26th in runs scored.
On the bright side, the starting pitching has been much better than anyone could've anticipated. The Yankees currently have MLB's 10th ranked starting pitching ERA at 3.63. They also rank fourth in team bullpen ERA at 3.30. One of the main concerns pre-season stemmed from 60% of New York's Opening Day rotation (Corey Kluber, Domingo German and Jameson Taillon) combining to pitch just one inning last season. However, everyone outside of Kluber has stayed healthy. Gerrit Cole has also been dominant once again with a 2.31 ERA and 113 strikeouts in 81.2 innings. Yet, New York is somehow only 7-6 in games he has started this year.
Out of the 'pen, Aroldis Chapman and Chad Green have remained strong back-end options, and Jonathan Loaisiga has emerged as a late-inning force.
The major remaining question is if the Yankees rotation can last the entire season considering the durability issues with many of their starters.
Toronto Blue Jays (31-29) – 6.5 GB
The promising, young Blue Jays haven't quite been able to take that next step through 60 games this season. Inconsistency from a questionable pitching staff, and a key injury to free agent splash George Springer, have prevented the Blue Jays from truly taking flight.
By far the most positive development for the Blue Jays this season has been Vladimir Guerrero Jr.'s rise to superstardom. After slightly underwhelming in his first two seasons, Guerrero has silenced any critics with a full-fledged breakout this season. His 18 home runs and 190 wRC+ both lead MLB, and he's walking nearly as much as he's striking out.
On top of Guerrero's elite production, the Blue Jays' 8th ranked scoring offense has been led by offseason acquisition Marcus Semien (13 home runs, 138 wRC+) and Bo Bichette (11 home runs, 114 wRC+). Once George Springer finally gets healthy, this lineup will be as good as any in baseball.
Coming into the season, starting pitching was expected to be the Jays' biggest flaw. Early on, it has been. The Blue Jays have the 18th ranked starters' ERA at 4.35. While Hyun Jin Ryu (3.34 ERA) has been solid as expected, and Robbie Ray has surprised with a very strong 3.36 ERA and 11.5 K/9, the rest of the rotation is littered with question marks. Promising prospect Alek Manoah debuted for Toronto recently and could be one of the answers to their remaining rotation holes. Fellow top 100 prospect Nate Pearson has a chance to be another if he gets back on track. Toronto also has a loaded farm system and could trade for virtually any available starter they want at the deadline.
Needless to say, this team is much more dangerous than their 31-29 record indicates.
Baltimore Orioles (22-39) – 16 GB
The only non-playoff contender in the AL East, the Orioles are currently in the middle of a multi-year rebuild. Baltimore's run differential of -59 is the worst in the American League. Moreover, their team ERA of 4.97 is second worst in baseball.
While a majority of the team has struggled, there have been three massive bright spots. Trey Mancini, Cedric Mullins and John Means have all been great for the O's. After missing last season due to colon cancer, Mancini has returned as baseball's best story with a team-high 11 home runs and a solid 131 wRC+.
Mullins has been a true post-hype breakout in his fourth MLB stint. The 26-year-old outfielder had never posted a wRC+ above 97 in his first three MLB seasons. This year he leads the Orioles with 157 wRC+ (tied for 10th best in baseball).
On the mound, John Means has gotten off to a great start with a 2.28 ERA and outstanding 4.9% walk rate in 71 innings. It will be interesting to see how he progresses moving forward. The positives pretty much end there, but at least those three players represent a few building blocks for the future or potential trade pieces to continue stockpiling prospects.
Speaking of prospects, the ascension of Just Baseball's top pitching prospect Grayson Rodriguez and stud lefty D.L. Hall in the Minor Leagues provide hope for the future in Baltimore. The Orioles went from having one of the worst farm systems in the sport a couple of years ago to owning a top 10 prospect pool according to most outlets. That should have Orioles fans feeling good about the days to come even if the present is hard to watch.