Analysis
Start Your Franchise CF: J-Rod, Michael Harris II or Corbin Carroll?
Which young center fielder in baseball would be the best to start your franchise with Julio Rodriguez, Michael Harris II or Corbin Carroll?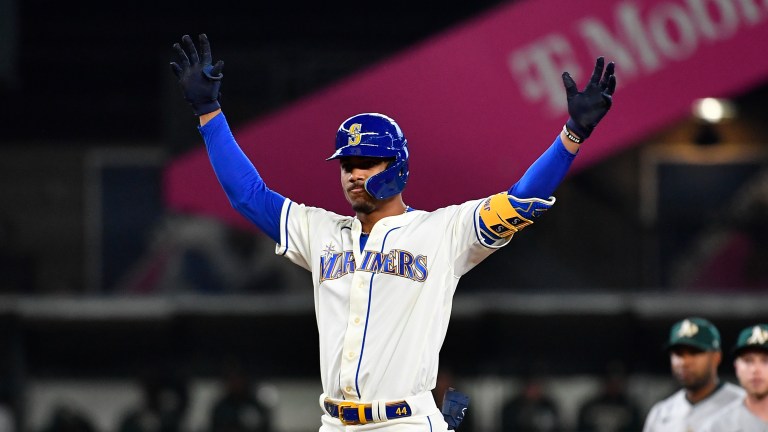 Last week, I was delighted to have Aram Leighton on my podcast 'Who's Better Baseball' to discuss which young shortstop we would pick to start our franchise with. Today, we move from shortstop to center field to examine which young star is set to be the best at the position for the next decade.
Finding all-around great center fielders is tough to come by in Major League Baseball. Yet the position is clearly on the rise when you look the recent list of our top 10 center fielders in baseball. Looking at the top, you will find Mike Trout, but what lies below him is far more interesting.
Julio Rodriguez and Michael Harris II have a lot in common. The two center fielders made their MLB debut last year and each signed long-term contract extensions before the end of their first season. The Mariners and Braves each knew what they had in these young studs, and were willing to commit to keeping them for the better part of the next decade at one of the game's most important positions.
Rodriguez and Harris each made the playoffs in their first year and went on to win the Rookie of the Year in their respective leagues. Moving forward, their careers will be intertwined as they will always be compared to each other and ranked among the top center fielders in the game.
Entering their age-22 seasons, J-Rod and Harris were ranked second and third behind Trout in our top 10. Further down the list at No. 9, you will find another 22-year-old center fielder, who just made his debut last September and has just over 100 plate appearances in his entire MLB career.
Despite the lack of MLB track record, we felt so strongly about the No. 1 overall prospect in our top 100, that we decided to put Corbin Carroll in the top 10 anyway. If he lives up to the hype, top five could be on the horizon real soon.
If the Angels move Trout over to left field in 2025, there is every chance Rodriguez, Harris and Carroll will widely be considered the best three center fielders in baseball. The question is, who will be on the top spot and who should you start your franchise with?
The Safest Bet: Julio Rodriguez
Julio Rodriguez's first season in the big leagues played out like a damn Disney movie.
First, the Mariners decide to not service time manipulate him and actually let him break camp with the time come Opening Day. He struggles at first, but then really figures it out in a big way and come All-Star break, he is hitting in the Home Run Derby and playing in the Midsummer Classic.
In August, Rodriguez signs an unprecedented contract extension, guaranteeing him $210 million before he even completes his first season, with the chance for the contract to max out at a whopping $469.6 million if every option is picked up on the back-end of the deal.
With his money in the bank, Rodriguez completes his Rookie of the Year campaign and helps lead the Mariners to their first playoff berth in over two decades. The Magic Carpet ride eventually ended, but not before the Mariners won their first playoff series, advancing past the Blue Jays to an ALDS matchup with the eventual champion Houston Astros.
Rodriguez was a consensus top-three overall prospect in baseball prior to his debut and he delivered in every way. After May 1st, Rodriguez hit .297/.355/.550, with 28 home runs and a 161 wRC+.
For context, Freddie Freeman hit .329 with an on-base percentage over .400 during that same span and his wRC+ was 160. From May on, only Aaron Judge, Paul Goldschmidt, Yordan Alvarez and Jose Altuve were better than Rodriguez among qualified hitters.
Rodriguez destroyed at every single level of the minor leagues, than did it in the show under the bright lights. The kid is a mega superstar, who has more potential to be the next Mike Trout than any player in the game. If he was No. 1 on our top 10 center fielders list next year, no one would bat an eye and no one would be shocked if he remained there for a decade (like Trout has).
There really is no question that he should be the top pick. But a compelling argument can be made between the underdog that keeps surprising and the top prospect who enters the league with nearly as much hype as J-Rod had.
Underdog Pick: Michael Harris II
Michael Harris II is not an underdog in most baseball circles when you consider that he was a third-round pick out of high school in 2019, played in the Future's Game in 2021 and headed into the 2022 campaign as a consensus top-100 prospect in the game.
Graded highly by scouts thanks to his incredible glove in center field, Harris began the 2022 season in Double-A, where he quickly proved that his 2021 breakout was no fluke. Harris hit .305/.372/.506, with a 130 wRC+ across 43 games played.
With the MLB team struggling out the gate with a 22-24 record, the Braves called Harris up straight from Double-A to provide a spark and at least shore up their outfield defense. What he provided was more than they could have ever anticipated.
Harris brought more than just his glove from Double-A. His bat traveled well too. The 21-year-old hit .297/.339/.514, with 19 home runs, 20 stolen bases and a 136 wRC+ across 114 games. He played Gold Glove caliber defense in center field, amassing 8 DRS and 7 OAA. Altogether, Harris' 4.8 fWAR finished in the top-five among all center fielders.
Even better, the team thrived with Harris in the lineup, going 89-37 after his debut, finishing the year as the NL East champions for the five-straight season.
Despite all of his success, few would chose Harris over Julio Rodriguez if they had to start their franchise with one center fielder tomorrow, but if we compare the numbers from their rookie season, they are remarkably similar.
If we throw out the first month of the season for Rodriguez, we can look at a 112-game sample starting May 1st which is right in line with the 114 games Harris played after his debut on May 28th. Here's how those numbers stack up.
| | | | | | | | | | | |
| --- | --- | --- | --- | --- | --- | --- | --- | --- | --- | --- |
| Rookie of the Year | PA | Slash Line | HR | SB | BB% | K% | wRC+ | OAA | DRS | fWAR |
| Julio Rodriguez | 479 | .297/.355/.550 | 28 | 16 | 6.9 | 24.0 | 161 | 6 | 3 | 5.2 |
| Michael Harris | 441 | .297/.339/.514 | 19 | 20 | 4.8 | 24.3 | 136 | 7 | 8 | 4.8 |
Rodriguez's stats taken starting March 1st, Harris March 28th.
There is no question that Rodriguez is the more impactful player thanks to his bat, but Harris held his own in year one. The league started to adjust to Harris a bit down the stretch and we saw his numbers tick down, but he is more than talented enough to figure that out.
Really though, Harris' glove gives him one of the highest floors in baseball, where he should be at least a four-win player every year because of it. If he taps into his 30-30 upside, Harris might just give J-Rod a run for his money at times throughout their careers.
The Top Prospect: Corbin Carroll
If I am a GM, starting my franchise with Julio Rodriguez is the easy decision. But if I am drafting second in this fictional scenario and I have to chose between Michael Harris II and Corbin Carroll, my choice gets a lot more difficult.
On one hand, Harris has become a proven commodity at the big league level. My floor is getting a Gold Glover at the position for a decade, with a bat capable of hitting .300, with over 20 home runs and 20 stolen bases any given season. If we include contracts, there might not be a player in baseball I like more than Harris on a eight-year, $72 million deal. Especially when you throw in the two club options for $15 and $20 million that could make it a 10-year, $97 million deal.
The Atlanta Braves don't have to worry about the center field position until 2031 at the earliest, which is an incredible luxury to have. With all of that said, Corbin Carroll has the ceiling to be better.
Carroll was our No. 1 overall prospect for a reason, because he posses legitimate five-tool potential of the highest level. After being drafted 16th overall out of high school in 2019, Carroll had no trouble at all adjusting to professional baseball. He hit .299/.409/.487, across 42 games played between Rookie Ball and Low-A, holding his own at just 18 years old.
He then missed all of the 2020 season due to the COVID shutdown and most of the 2021 season due to a shoulder injury that required season-ending surgery after just seven games played.
Carroll finally enjoyed his first full season of professional baseball in 2022 and was able to finish the year in the Major Leagues. Across 93 games played between Double-A and Triple-A, Carroll hit 24 home runs, stole 31 bags and posted an OPS over 1.000. He made his MLB debut on August 29th, quickly showcasing the skills to become one of the most exciting players in the game.
All told, Carroll hit .260/.330/.500, with a 130 wRC+ in his first 115 plate appearances of big league action. Despite retaining his rookie status, Carroll has already amassed 1.4 wins according to fWAR.
If Rodriguez's calling card is the power, and Harris' is the defense, Carroll's has to be the speed. There's not a player in baseball that will run the bases better than Carroll, capable of stealing 40 bases and able to score from first on any ball hit into the gap.
If Carroll hits his best possible outcome, he could even pass Rodriguez and become the best young center fielder in the game and the guy you most want to start your franchise with.
Carroll is certainly the boldest of these choices, based on his limited MLB experience, but he is a pretty safe bet to become a well above-average big leaguer. Which likely happens as soon as this season.
There really is no wrong answer when picking between Julio Rodriguez, Michael Harris II and Corbin Carroll. These guys really represent the future of the center field position, as any franchise would be thrilled to slot them into the lineup everyday for the next decade. We will just have to wait and see how all their careers pan out to understand who really was the best to start your franchise with.