Feature
Signature Moments of the Newest Hall of Famers
Today, both Fred McGriff and Scott Rolen enter the halls of Cooperstown. Here are some highlights from their careers that led them there.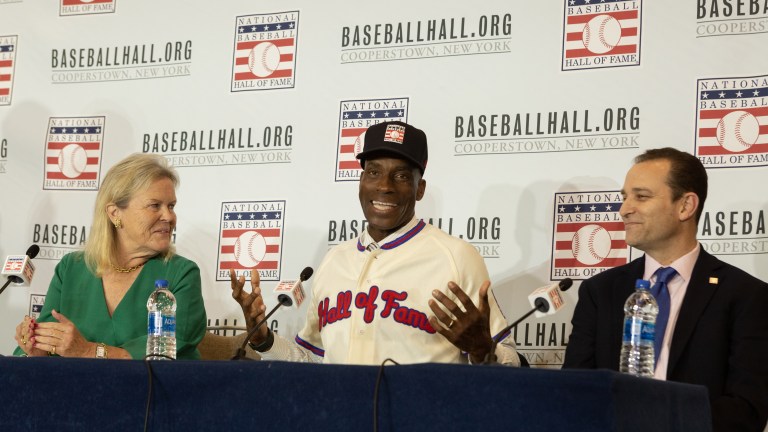 Whether or not you believe Scott Rolen and/or Fred McGriff belong in the Baseball Hall of Fame, they each represented a specific period of history. Each showed tremendous consistency whether it came to power or defense and each was a contributor to a World Series winner. Here are three main events that got each to Cooperstown.
Fred McGriff
The "Crime Dog's" calling card was consistency. Over 19 major-league seasons — beginning with Toronto, then with San Diego, Atlanta, and brief stops elsewhere before finishing in Tampa Bay — McGriff had 10 years of at least 30 home runs and never more than 40. From 1987 through 1994, he posted an OPS+ of 120 or better each season. There was the six-year stretch from '88 to '93 when McGriff topped 30 home runs each season, ending with three consecutive 100-RBI campaigns.
He was among the top 10 vote-getters for the Most Valuable Player on six occasions, but couldn't win enough appeal from the Hall of Fame writers. Unable to surpass the 75 percent threshold in his 10 years on the ballot, it took the Veteran's Committee to elect him this past December.
Sparking Hot-Lanta
By 1993, the Braves had won the last two National League pennants. They boasted a team good enough to claim a third, but winning the division was a challenge in itself. The San Francisco Giants, who got off to a scorching start, accelerated the Braves' need to upgrade (especially with only division winners advancing to the playoffs in a two-division league).
With McGriff still his steady self, but the San Diego Padres languishing, the Braves struck on July 18. Two days later, his debut at Fulton County Stadium was delayed by a fire in the press box and it symbolized as a metaphor for him and his new team from then on. In 68 games, McGriff had a 1.004 OPS and Atlanta went 51-17. The Giants ended up with 103 victories. The Braves had 104.
Brave New World Champion
For the first part of the 1990s, the Braves had done everything but win it all. For eight seasons, McGriff had yet to reach the World Series. Both droughts would end in 1995. The Braves went 90-54 in the strike-shortened year and took another division title.
The expanded playoffs gave McGriff additional time to bolster his postseason resume. He hit two home runs and drove in six runs in the four-game Division Series against Colorado, then slashed .438/.526/.688 in the LCS sweep of Cincinnati. In Atlanta's six-game World Series victory over Cleveland, McGriff went 6-for-23 (.261) with two more homers plus a .955 OPS.
Feelin' 400
Now sporting the colors of the Tampa Bay Devil Rays, and representing his hometown, McGriff reached a milestone power figure on June 2, 2000. The blast at Shea Stadium went to straightaway center field. It was a classic McGriff home run, accompanied by the follow-through that made his bat look like a helicopter propeller.
McGriff wound up seven homers short of 500 and tied with Lou Gehrig on the all-time list. The magic 500 is a number that without PED linkage is an automatic entrance. Is it an oversimplification to think a few more home runs (and without the strike in 1994 it surely would've happened), he'd be in already?
The Hall of Fame certainly still has some archaic self-made standards to eradicate. Thankfully, it's a moot point now.
Scott Rolen
There's plenty of similarity between McGriff and Rolen. Not necessarily in their skill set, but more in their steadiness. Rolen met his early hype to win Rookie of the Year as a Philadelphia Phillie in 1997. Proving the old adage that defense never slumps, Rolen was arguably the best of his era defensively at third base. He won eight Gold Gloves in addition to his seven All-Star appearances.
Rolen spent parts of seven seasons with Philly, before stopping in St. Louis, briefly in Toronto, and finishing up with the Reds. He didn't wait as long as McGriff for election but it did take six tries to narrowly get in with 76 percent of the vote.
Rookie of the Year
Rolen debuted in August 1996 and was actually one plate appearance shy of rookie qualification. The next year gave him the opportunity to show his varied skills over a full season. Rolen's '97 performance was an indication of what was to come: hitting .283/.377/.469 with 21 homers and 35 doubles, showing plate discipline more mature than most first-year players, and displaying a reliable glove at the hot corner.
Leading NL rookies in almost every major offensive category, Rolen became the first Phillie to earn Rookie of the Year since 1964 and was a unanimous choice, too — besting Liván Hernández and Matt Morris.
Game 7 Moment
He had seven seasons of at least 25 homers and an OPS+ of 120 or greater every year from 1997 through 2004. His offensive output in '04 might have been his best: slashing .314/.409/.598, knocking out 34 homers, driving in 124 runs, and scoring 109 runs times to help compile an impressive 9.2 WAR.
His year got only better in the postseason. The Cardinals faced Houston in an epic LCS and Rolen played an integral part in St. Louis' victory in Game 7.
Trailing in the sixth and up against Roger Clemens, the Cardinals managed to tie it at two before Rolen stepped to the plate with a runner on. Clemens challenged him with a first-pitch fastball and Rolen met the challenge. He sent it down the left-field line and over the wall. The Cards took a 4-2 lead they wouldn't relinquish and went on to claim their first pennant in 17 years.
World Series Winner
The Cardinals made an unexpected run through the 2006 postseason after accumulating just 82 regular-season victories. Much of the playoff success was in spite of Rolen, who struggled to the point of being out of the starting lineup for Game 2 of the NLCS. St. Louis upset the Mets for the pennant. And when the World Series arrived, so did Rolen.
He homered in Game 1 off Detroit rookie Justin Verlander for the Cards' first run. Then in the Game 5 clincher, his RBI single provided insurance to secure the franchise's 10th championship and first since 1982. For the Series, Rolen hit .421/.476/.737, with three doubles and five runs scored.