Podcast
Jeff Conine's World Series Takeaways, The 90's Braves, Big Contract Risk
After discussing this year's World Series, Jeff Conine and Aram Leighton look back at the dominance of the 1990s Atlanta Braves.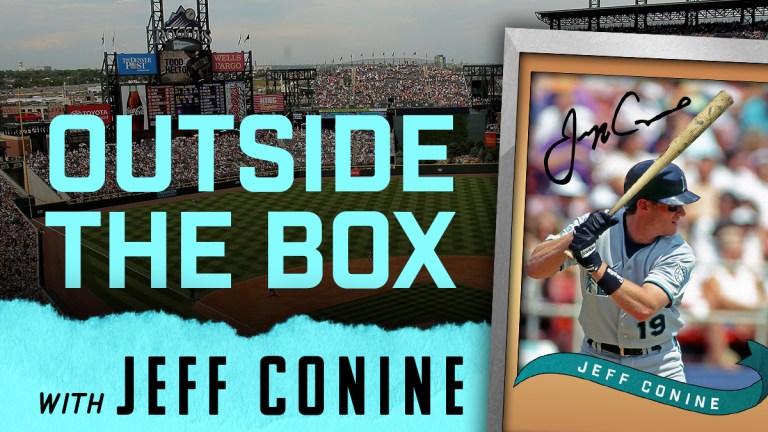 There was plenty to unpack in the latest episode of "Outside the Box with Jeff Conine" especially after he predicted that the Braves would win in six games. Niner talked about the key parts of the series that stuck out to him and why the team could be a force for years to come.
Naturally, I had to ask Jeff about the 1990's Braves which on paper has to be one of the most ridiculously talented teams we have seen. Imagine you have a three game series coming up and waiting for you is a trio of hall of famers: Greg Maddux, John Smoltz, and Tom Glavine.
That team was not just pitching though. Depending on which year you check in, the 90s Braves lineups included Fred McGriff, Chipper Jones, Andruw Jones, David Justice, Kenny Lofton and others. Despite all of the talent and 14 straight division titles, the Braves only won the World Series in 1995.
There's always a little luck involved in winning a World Series and no matter how you spin it, 14 division titles in a row is an incredible achievement.
"They laid the foundation with that pitching staff and Bobby Cox as the manager," Niner said. "John Schuerholz was the genius GM behind that whole team…He had a pedigree of constructing an organization and laying the groundwork for success for years to come."
The Marlins and Braves have always been division rivals, especially when the Marlins were competing for a World Series in 1997, but that did not stop Jeff from admiring the way longtime manager Bobby Cox went about his business. In fact, Jeff went on to say that if there were one manager he wished he had a chance to play for, it would be hall of famer Bobby Cox.
Big Contracts
With a loaded free agent class this offseason, it is probably safe to assume that we are going to see some big time contracts tossed around this Winter. If history has told us anything, it is that these long term contracts rarely age well for the team. Despite many teams finding themselves financially handcuffed by expensive long term deals, teams are still willing to delve them out.
I was excited to ask Jeff about this because he is of course going to be pro-player, BUT he also worked in the front office of a small market team for years. Having seen both sides of it, I asked him where he stands on the whole idea of these decade long deals.
David Wright's On and Off Field Greatness
Before wrapping up with some FIU baseball talk, I pulled off my most impressive jersey guess of the show so far, getting David Wright first try. I grew up idolizing Wright despite despising the villainous Mets team in the late 2000's.
Even though Jeff only played with Wright for a little over a month in New York, the third baseman made a positive impression on him on and off the field. From the way that Wright handled the team's historic collapse with the media to how he interacted with teammates and performed on the field, Wright embodied a true ballplayer.
Sadly, injuries cut Wright's career short as he very well may have been on his way to the hall of fame. Injuries derailed his career around age-31; at that point, Wright accumulated 1,700 hits, 230 homers, 375 doubles, 190 stolen bases, 7 All-Star appearances, 2 Gold Gloves. Wright gave it a go a couple times over the next few year, but his back just could not hold up. A spectacular career nonetheless.
Listen to the full episode on Apple Podcasts here