Analysis
MLB Hall Of Fame Case: Scott Rolen
As Scott Rolen's Hall of Fame case picks up steam, here is a look at his chances at landing a plaque in Cooperstown.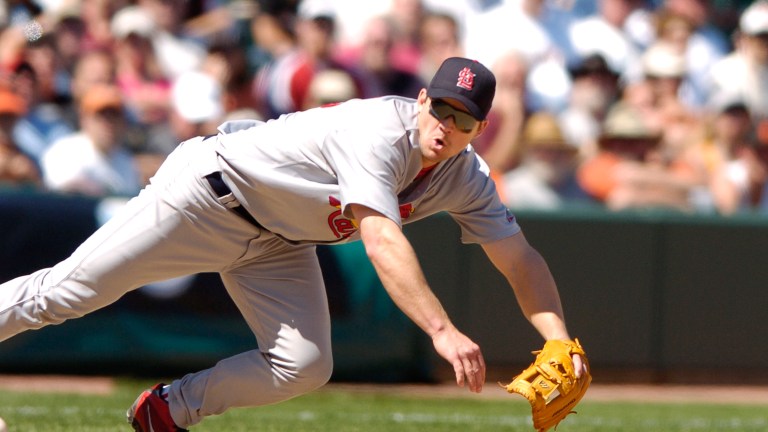 One of the best third baseman in the modern era, Scott Rolen quietly had an incredibly steady and productive career for 17 seasons. Frankly, I am pretty shocked that Rolen only garnered 52.9% of the vote in his fourth year on the ballot last time around, especially with the hesitancy from many writers to even consider voting for players with ties to PED's.
Accolades
8x Gold Glove, 7x All Star, 1x Silver Slugger, 2006 World Series Champion, 1997 Rookie of the Year, 70.1 bWAR/69.9 fWAR
Rolen meets the mark on many of the cumulative thresholds that have seemed to be set over the years. Rolen never brought home an MVP, but every third baseman who accrued 70 WAR has a plaque in Cooperstown with the exception of Adrian Beltre, whose plaque might as well be created already.
The same can be said in the Gold Glove department. Every player who has earned the defensive distinction at the hot corner more than seven times is in the hall, aside from the active Nolan Arenado who is running out of room in his trophy case with nine already.
Had Rolen brought home the MVP Award in 2004, he may have been a bit closer to the necessary 75% of the vote, but absurd years from Barry Bonds, Adrian Beltre, and Albert Pujols resulted in Rolen finishing fourth, though he did pick up a first place vote.
Personally, I think a singular MVP Award should not make a monumental difference in a player's Hall of Fame case. Winning multiple? Absolutely.
That's not to say that a singular MVP doesn't help someone's HOF case, but simply not winning one can just be the result of circumstance–especially when many of your prime years coincide with Barry Bonds.
Rolen matched or posted a higher bWAR in his 2004 season (9.2) than the subsequent NL MVP winner for 11 consecutive seasons after until Bryce Harper earned the Most Valuable Player designation with his 9.7 bWAR in 2015. Not to mention, legends like Tony Gwynn, Derek Jeter, Wade Boggs, Eddie Mathews, Mel Ott and others never tabbed with such recognition.
The Career Thresholds
Now, I think it is a bit silly that numerical thresholds can make or break a player and as much as writers will pretend they don't, voting history would prove otherwise. I mean, if Fred McGriff hits seven more homers and gets to 500, don't you think he would be in the Hall of Fame?
It seems kind of silly to let a handful of homers make or break a Hall of Fame case, but I firmly believe at 500 homers, McGriff would be immortalized.
This is a larger topic that I will get to in a later article about the entire voting process in general, however in an ever-changing game, antiquated statistical thresholds do not provide enough context. That's not to say ignore the numbers, but let's take a more holistic approach.
When surveying Rolen's career on Baseball Reference, nothing jumps off the page, though there is steady contribution across the board. There are plenty of players with 2,000 hits and 300 home runs in baseball history: 95 to be exact.
While that number is relative to the number of players in baseball history, it becomes microscopic when you sort by those who accumulated a defensive WAR or 20 or above; just six players to be exact.
Cal Ripken Jr. (HOF), Adrian Beltre (HOF), Gary Carter (HOF), Pudge Rodriguez (HOF), Graig Nettles, and Scott Rolen.
Though it sounds like an oddly specific stat, it is really just balancing offensive production with elite defense, something clearly few players can do. While we would all love to see 500+ home runs from Rolen, history proves that it is much harder to hit 300 while providing elite defense.
Verdict
Early results show that Rolen is picking up some steam and should gain some ground in this year's voting. However, after only receiving 52.9% of the vote on last year's ballot, it seems unlikely that Rolen will gain the more than 23% needed for immortality.
The good news is, Rolen is still only in his fifth year on the ballot and with the way things are trending, I would be willing to bet that he gets in next year. Especially with much of the controversial cluster clearing off as Barry Bonds, Roger Clemens, Curt Schilling, and Sammy Sosa will all be removed from the ballot in 2022.
Things are looking really good for Rolen moving forward and I'd say with a strong amount of confidence that the third baseman deserves to get in to Cooperstown and eventually will. Potentially as soon as next year.