Analysis
Shohei Ohtani Shut Down From Pitching with UCL Tear
The Los Angeles Angels season reached a new low-point on Wednesday, with news that Shohei Ohtani is being shut down with a tear in his UCL.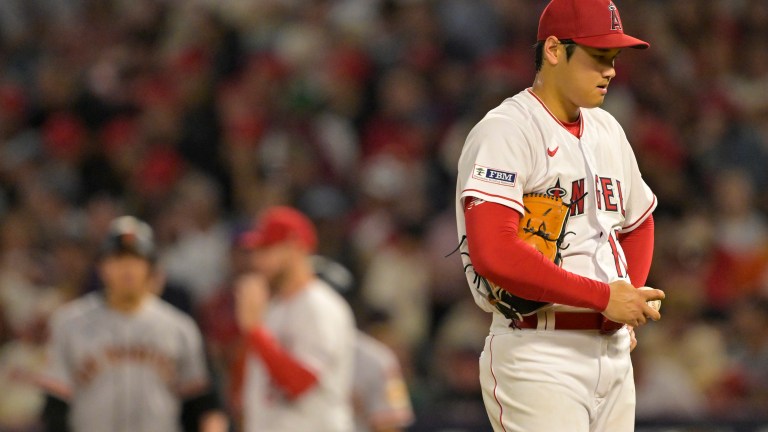 The Los Angeles Angels season has good from bad to devastatingly worse, as they were hit with the worst possible news late Wednesday night. Two-way sensation Shohei Ohtani will no longer pitch this season, as he has been shut down with a tear of his UCL.
It is unclear what the next step will be for Ohtani, and whether he will need surgery, but for now all we know is that he won't pitch again this season. If he does need to get his UCL repaired, it would mark the second Tommy John surgery of his career since coming stateside in 2018.
This injury continues what seems to be an epidemic when it comes to pitcher's elbow injuries, with Shane McClanahan and Jacob deGrom each requiring their second Tommy John surgeries this season. Ohtani made just 10 starts in 2018 before being shutdown for having a tear in his UCL.
Now five years later, the Angels find themselves in the same position but under way worse circumstances, with Ohtani set to his free agency this winter.
What Does This Mean for Ohtani?
Ohtani has been dealing with arm soreness for a couple of weeks now and was removed from his start yesterday in the second inning with what was described as, "arm fatigue". Now we know that the injury is far worse than that, as Ohtani may not pitch again for some time.
Despite being hurt, and getting tests in between games, Ohtani still insisted in playing both games of the Angels doubleheader. He will get a second opinion on whether a surgery is required for his elbow, but could still finish the season as the Angels DH.
If Ohtani does need to go under the knife for his second Tommy John surgery, it will makes things very interesting when it comes to how teams handle talks with the soon-to-be two-time MVP in free agency. Ohtani's list of suitors will still be there of course, but you would have to imagine the language of any contract will get very complicated with his future as a pitcher suddenly in doubt.
Back in 2018, Ohtani made just 10 starts before having to be shut down for his first Tommy John surgery. He waited until the offseason to have the procedure, finishing off his Rookie of the Year campaign with 22 home runs. Ohtani missed all of 2019 as a pitcher and threw just 1.2 innings in 2020, before making a full return to the mound in 2021.
Over the past three seasons, Ohtani has made 74 starts, pitching to a 2.84 ERA over 428 1/3 innings pitched. He has also launched 124 home runs over that span, proving to be the best two-way player this game has ever seen. The only question now is how much longer he will continue to do both.
What Does This Mean for the Angels?
In the midst of all of their bad news yesterday, the Angels were swept by the Cincinnati Reds in their doubleheader and in their series, dropping to just 5-16 since the trade deadline.
We are not even a month removed from when the Angels announced that they would not trade Ohtani and instead would buy heavily around him at the deadline. Now they have fallen 10.5 games out of the Wild Card race, all but eliminated from playoff contention in a highly-competitive American League.
To make matters worse, after finally getting Mike Trout back from the IL on Tuesday, the Angels lost him again on Wednesday as Trout went right back on the IL with a wrist injury.
If Ohtani choses to play, and every indication is that he will, the Angles big-ticket attraction will remain to finish off his MVP campaign. Ohtani is leading the league with 44 home runs, two away from his career-high of 46 from back in the 2021 season.
Watching Ohtani down the stretch is going to be welcomed by Angels fans, but the looming question of what happens next, both with his pitching arm and his free agency, is sure to leave a shadow over the remainder of the season in Anaheim.