Analysis
2022 Fantasy Player Profile: Shohei Ohtani
A guide on how to approach Shohei Ohtani and his unique two-way player status in your fantasy baseball leagues this season.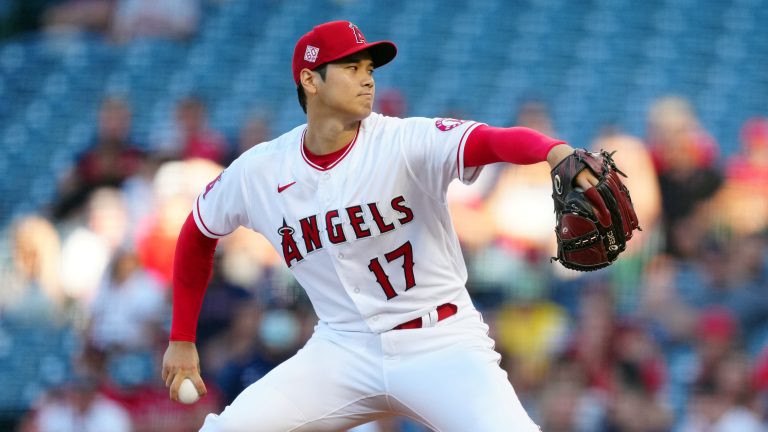 Let's get right to the point with Shohei Ohtani: If you play in a fantasy baseball league on Fantrax, this is your first overall pick. If any other leagues decide to do what Fantrax does and allow Ohtani to both pitch and hit as one player (Yahoo has Ohtani Hitter and Ohtani Pitcher), then he is your first overall pick. No questions asked.

Ohtani is a generational talent, an MVP, and is only 27 years old. Shotime will head into his age-28 season with plenty of fantasy owners expecting massive production from him offensively as well as above-average pitching numbers. The crazy thing about Ohtani and what truly makes him so special is that he is able to deliver elite statistics on both spectrums and people won't bat an eye at it. He is THAT good.

From the offensive standpoint, Ohtani alone is an elite fantasy player. If Ohtani Hitter is available at the end of round one in standard Yahoo leagues, you better swipe him. The man is in his prime offensively and 2021 gave us a preview of what Ohtani could be for years to come with the bat. Remember, he did not have Mike Trout or Anthony Rendon protecting him in the second half of the season. His team had virtually nothing to play for in the second half of the season. It did not matter for Shohei.
Ohtani put together a season that included 46 homers, 100 RBI's, 26 doubles, and a .257/.372/.592 slash line. In addition to those gaudy power numbers, Ohtani quietly stole 26 bases. In a year where 47 stolen bases led the league thanks to Starling Marte, that is a fairly significant number we cannot ignore and may be a key difference when you compare Ohtani to the likes of Vladimir Guerrero Jr. in a one-year league.
Ohtani ranked eighth in the league for stolen bases to go with finishing in the top five of nearly every major statistical category. If you play in a league that counts triples as a stand-alone statistic, Ohtani led the league in that department.

The one key knock to Ohtani's game offensively is that he strikes out frequently, however, he frequently puts the ball in play and effectively. As long as you are not in a league that punishes you for strikeouts, you should sit comfortably with Ohtani. Ohtani ranks in the top percentage of players in the league for max exit velocity, expected slugging percentage, and barrel rate. He ranks in the 97th percentile or better in average exit velocity, hard hit rate, expected weighted on-base percentage, and walk rate. If you are wondering whether or not his stolen bases from a year ago are a fluke, you can turn to his sprint speed that ranks in the 91st percentile in the league to conclude he is going to be a potential 40-30 threat in 2022.

For fantasy owners hoping to get elite numbers out of Ohtani the pitcher, you may have a little more risk in the investment. Ohtani had his first fully healthy season in 2021 and still was limited in his work on the hill with 130 ⅓ innings pitched. That total was a career-high after he logged 51 ⅔ innings in his rookie season, none in 2019 due to recovery from Tommy John surgery, and only logged 1 ⅔ innings in 2020 before suffering a Grade 1-2 strain of the flexor pronator mass, ending his season on the hill.

Ohtani's historical background on the hill is not convincing to be an early-round pick in fantasy drafts due to his lack of logged innings. With the Angels playing the way they have in past seasons, owners must be prepared for Ohtani to be shut down during their late fantasy playoff runs if LA is out of contention.
While these are red flags that can't be ignored, Ohtani does offer significant value when he is on the mound. In 2022, Ohtani posted a 3.18 ERA, 1.09 WHIP, and 156 strikeouts (10.8 K/9). Those numbers will play. When you assess the value of Ohtani as a pitcher, he is still a top-100 draft pick in standard 5×5 fantasy leagues. Expect the production to be there, just in a limited number of innings.

Let me emphasize that if Ohtani is listed as one single player, he is the top pick in your draft. While you can expect him to be separated into a hitter and a pitcher, just know you are getting a first round value at hitter and a pretty dang good value at pitcher, too.