News
SF Giants Trade Steven Duggar to Rangers for Willie Calhoun
This rare one-for-one veteran swap has two teams betting that a change of scenery will help resurrect these struggling player's careers.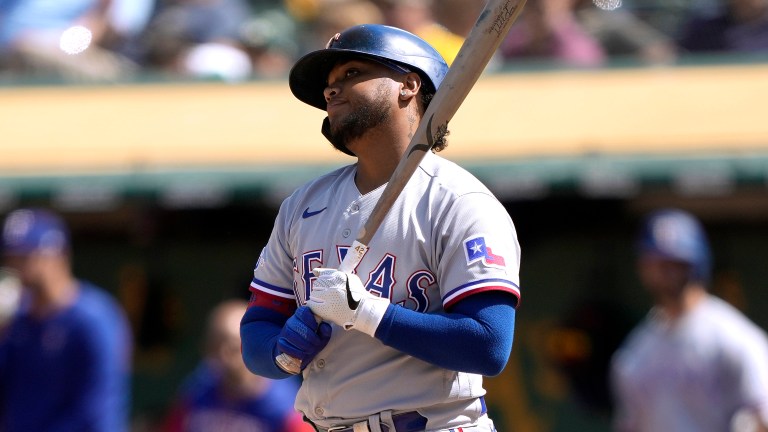 The San Francisco Giants and Texas Rangers swapped significant 2021 contributors who have fallen out of the team's plans in 2022 with a minor trade that sent outfielder Steven Duggar to the Texas Rangers in exchange for Willie Calhoun.
Duggar was placed on the 60-day injured list earlier this year with a left oblique strain but was on the last day of his rehab assignment before he had to be reinstated to the Giants' 40-man roster. Calhoun was demoted earlier this season, outrighted to Triple-A, and requested a trade.
Once viewed as the Giants center fielder of the future, Duggar was known for his elite defensive prowess and a solid offensive approach. However, injuries and a below-average hit and power tool always seemed to prevent Duggar from taking the final step he needed in his development.
Duggar appeared in 135 games for the Giants from 2018-2020, hitting .236/.281/.349 with a 28.4% strikeout rate and just a 5.8% walk rate.
Last season, Duggar seemed to finally turn a corner, with manager Gabe Kapler deploying the left-handed batter in a platoon primarily against right-handed pitching or as a late-game defensive replacement. In just 297 plate appearances, Duggar recorded 14 doubles, five triples, and eight home runs alongside a career-best .257/.330/.437 triple-slash.
Still, some of the red flags from earlier in Duggar's career remained. While his walk rate improved to 9.1%, he continued striking out in nearly 30% of his trips to the plate and was definitely benefitting from a .355 BABIP.
This season, Duggar's numbers severely regressed. He struggled in spring training and in 39 regular-season plate appearances, hit just .194/.231/.278 before hitting the injured list.
The Giants might have been more inclined to bring Duggar back into the fold had he been a bit more productive in his rehab stint at Triple-A, but his woes continued, carrying a .204/.264/.286 triple-slash across 14 games.
On the other end of the transaction, the anticipated day has come. Finally, Willie Calhoun will get (another) chance to prove his doubters wrong. Fresh starts are not new for Calhoun, but this time feels like his last chance. 

There have been stints of Calhoun's Ranger career that have been bright. When he was able to float in and out of a DH/OF role with Shin Shoo Choo in 2019, we saw his best Major League stint.  The issue has never been potential, but it is hard to keep 40 man roster spot when the skipper has to hide you defensively, and you have had just one season with a positive offensive WAR.
Those analysts in Calhoun's corner have always said, "Well, the bat plays." but outside of 83 game stretch in 2019, Calhoun has been hard to watch. It is impossible, however, to evaluate him without stating the obvious. Calhoun has not been able to stay healthy at the major league level.
He has had countless IL stints, several of which are severe (broken jaw), and one must admire his perseverance. Calhoun has to get it right here with San Francisco. They do not have to create a 40-man spot for him since he cleared waivers, and that is the real win for the Giants.
They will receive a hitter who could figure things out and be a late bloomer at almost no risk. And for a guy that was the key Dodgers prospect that the Rangers received in the Yu Darvish trade, it is hard to look at six years with 927 plate appearances, a .241/.300/.407 slash line and 85 career wRC+ with pride. Texas will be glad for anything in return here, as Duggar seems to fit the mold of the fast utility outfielder the Rangers have always had on the roster. With options remaining, Duggar has flexibility.