Analysis
Texas Rangers Trade Deadline Outlook 
Hoping to contend after making a big splash this offseason, the Rangers find themselves somewhere between a buyer and seller at the deadline.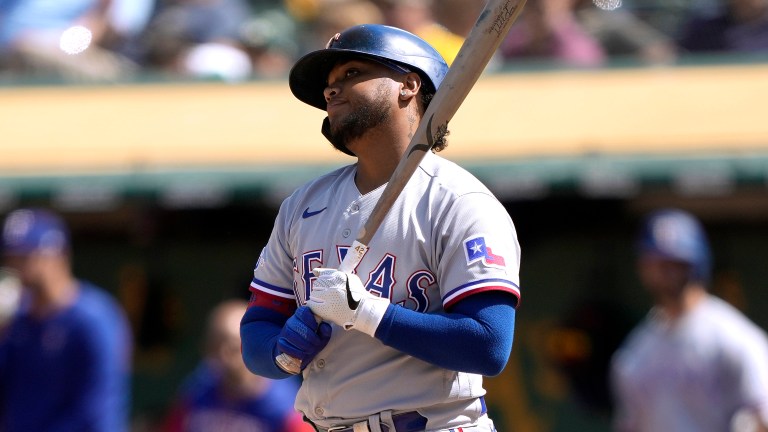 The Texas Rangers are full of fun little surprises. They overperform when no one expects them to, becoming the worst team in the world when facing a team they should beat. As a result, the Rangers continually perplex even the most dedicated fans.
The Rangers currently sit 20 games back of the division but only seven games back in the Wild Card race. If you had asked the Texas Rangers faithful if they would take sitting third in the division and within striking distance halfway through the season, they would have been all over it. Ultimately this team has played above or right at most people's expectations. But, unfortunately, this was never supposed to be the year.
With that being said, people start to get antsy when you spend half a billion dollars on two players. You have less leeway, and it's impossible to keep everybody happy.

The question is whether the Rangers will be buyers, sellers, or stand pat at the deadline. And I am going to give an argument for all three.
This is a take that can be hard to hear when you are a Ranger faithful. But, if you are wise, you know this is not our year. Over the past few years, we have seen these "Wild Card" years, and our front office previously went for it and hurried some development that likely still needed to happen.
This year is different, though; we are seeing new life with Chris Young at the helm. (ALL HAIL, CHRIS YOUNG) He has been everything that Texas has needed and more. With JD moving to baseball ops and Chris making the personal decisions, the Rangers have had new life. Fans, rest easy. I don't think we see an uncalculated move here at the deadline, and the bold but calculated moves that we have gotten used to over the past two years should continue.
With Chris Young at the helm, I can see a few scenarios where Texas comes out as buyers, but not of just anything.
How the Rangers Could Buy
The window here is probably opening slightly in 2022 and will likely run for the next 5-10 years. The Angels are always a mess; Houston has some expiring contracts, and Seattle might be a sneaky Soto spot, but this Rangers team looks very stacked.
I see the Rangers buying if there is an opportunity to move some of their top-of-the-farm system, and middle infield depth, for controllable pitching.
My first thought is Frankie Montas.  The A's and the Rangers have a decent trade history, and Oakland loves to stack young guns. But likely, the Rangers will get outbid here. Even though I could see them kick the tires here.
I think Pablo Lopez is a guy who makes a lot of sense for the Rangers. He isn't a big market name, but Lopez is a legit No. 2 starter on a really good team. We just updated out Top 20 Trade Targets article yesterday to include Juan Soto and Lopez, and put them atop the list.. This could be a sneaky move for the Rangers on a guy with a lot of control.
Another reason why I could see this working is the Marlins could use some help in the middle infield, particularly on the short side of the bag. I think that the Rangers would start the Pablo conversation by pairing Luisangel Acuna and Justin Foscue with Evan Carter and maybe even including a major league center fielder in Leody Taveres.  
Other pitching options like Tyler Mahle and Luis Castillo don't seem out of the realm of possibility for this front office. It would probably start from their middle infield depth, though, and this FO clearly doesn't care what other people think.
Oh, additionally, I wouldn't be a good Rangers writer without mentioning the possibility of a Gallo reunion. Come on, just let him come back. Then, there would be no pressure and a lot of love. Sounds good to me. And Yankees Twitter would be thrilled.

With tweets like this, you have to think the Yankees would take anything for him. I'd be interested to see what it would take, and it would be fun to see a big league lineup on a night Otto was pitching where Gallo, and three of the four pieces in the Yankees trade, were all on the field together. Nothing better than some Yankee slander.
But Could They Also Be Sellers?
Yes.
There is still the very real possibility that the Rangers still move pieces for more depth.
This has been standard operating procedure over the past few seasons. The Rangers have taken an honest look at their franchise and "tank" the second half of the season in favor of giving the youth movement crucial innings and drafting higher.
If the Rangers were to go this route, they have a few assets that could get some attention.
The greatest asset would be the obvious, Martin Perez.
Perez had an immaculate first half that followed by having him in consideration for the AL All-Star start but has cooled off as of late.
The left-hander is a one-year contract and would be a prime rental candidate for teams.  His return would likely be light, though, as, in recent history, the Rangers have gotten prospects like Willie Calhoun, Spencer Howard, and Dane Dunning for rentable arms. 
None of these guys move the needle, and likely Perez wouldn't bring back a game changer either.
Martin said no to several other multi-year contract offers last winter to be a Ranger, so for a guy on a second tour with Texas, you'd have to think he wants to be with the Rangers long-term.
Another interesting name to consider in outgoing conversations here is Adolis Garcia.
Garcia was somewhat of a late-blooming prospect that mirrors a Nelson Cruz-type call-up with Texas. He is older than the average player Texas will likely have in their next window, and it isn't hard to argue that Texas could move him. Although this could be likely, Adolis' market was inevitably higher last summer, so I don't think this is in Texas plans in the short term.
The most likely player to be moved this deadline, though, is Matt Moore.
Pitching is always of need, and Matt is a veteran that will probably be extremely cheap to acquire for clubs in contention.
Moore has been incredible this year and seems to have found his bullpen mojo. For a team competing for a title, you have to have an option you can go to if a playoff start starts rough. You could deploy Matt Moore as a sixth to seventh inning guy, a long reliever, a veteran inning eater, or follow an opener with him.
Versatile, trustworthy veterans are always nice to have in a playoff bullpen, and because of all these factors, I think Moore is wearing something other than powder blues next Sunday.
What if Texas Just Stays the Course?
This is probably my most preferred option at this point.
Martin Perez deserves an extension; Jon Gray is finding his stride and players are performing above expectations (Heim and Taveras Specifically). I think keeping this course is the wisest option for Texas.
They can take phone calls on their guys, or make calls on bringing in new talent, but options will likely be too expensive for controllable starters, and they won't get back game-changing pieces for what they do have, so let's see what happens. 
The Rangers have one of the best middle infields in baseball, and Duran and Smith are a blast to watch. Texas should continue to develop what they have, because they are actually in a good spot.
Rangers fans should sit back, relax and enjoy what's left of the 2022 season, as this is a peek into what the future will hold for this ballclub.