Analysis
The Giants Are Turning Back the Clock
A number of aging Giants players have found the fountain of youth in San Francisco this year.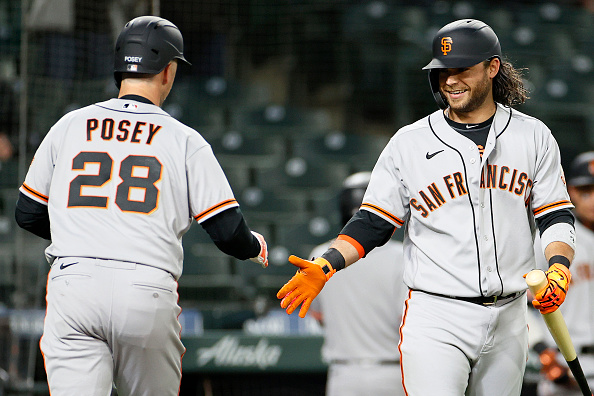 Raise your hand if you predicted the San Francisco Giants would be the first team to 50 wins. Now put them down you liars, because no one saw this coming. Back in March, everyone expected the NL West to be a dogfight between the Dodgers and the Padres.
Both were projected to be amongst the top handful of teams in the league. So far, they have been for the most part. However, both are currently slated to meet in the Wild Card game. That's because the Giants are holding down first place in the division with a 50-28 record. They're as balanced of a team as you'll find in today's game, winning with offense, defense and pitching. Most notably, a number of ageless veterans have produced magical seasons to lead the way.
Resurgent Veterans
The story of the Giants season has been the All Star-level production they've gotten from Brandon Crawford, Brandon Belt, Evan Longoria and Buster Posey, who are all in their mid-30s. It has felt more like 2011 than 2021. At 34-years-old, Brandon Crawford is having the best offensive season of his career. The veteran shortstop has the highest OPS (.868), wRC+ (135) and already the second most home runs (17) in his 11-year Big League career. Crawford also ranks sixth amongst shortstops with four defensive runs saved this season, but we're used to seeing that.
At the corners, Brandon Belt and Evan Longoria have been as good as anyone in 2021. In just under 400 combined plate appearances, Belt and Longoria have hit 20 home runs and each have an OPS of .875 or higher and a wRC+ over 160. They've both been elite. Belt ranks in the top 10% of hitters in walk rate, an area where he's always succeeded. Longoria, on the other hand, ranks in the top 5% of the league in average exit velocity and hard hit rate. Unfortunately, injuries have sidelined both players. Belt's knee and Longoria's shoulder will keep each of them out at least through the All Star Break.
However, no one has been more valuable than Buster Posey. Despite being rested often, Posey leads the Giants in WAR (2.9), wRC+ (166) and is second in home runs (12). In addition to his offense, Posey also ranks 12th out of 61 qualified catchers on Statcast's pitch framing leaderboard. Posey sat out last season after he and his wife adopted twin girls. It's starting to look like the time off revitalized the aging backstop's career.
Add in pleasant surprises like Steven Duggar and LaMonte Wade Jr., and this has been one of the league's best offenses. As a group, the Giants rank 6th in runs scored (384), 4th in wRC+ (110), 4th in OPS (.757) and are tops in home runs (116). I don't know if it's sustainable, but it sure has been fun to watch these guys turn back the clock.
Dominant Pitching
The scary thing about the Giants is that they also have one of the game's best pitching staffs to go along with their elite offense. Headed by breakout stud Kevin Gausman, San Francisco has a top-five starting rotation in the league. Behind him, there's depth in the starting rotation, as well as a strong bullpen to round out the group.
In his age-30 season, Kevin Gausman has become one of the best pitchers in the game. If it weren't for Jacob deGrom, Gausman would be the NL Cy Young favorite right now. The veteran righty owns an unfair 1.49 ERA, while striking out over a batter per inning and walking just 1.86 per nine. Gausman is throwing his splitter more than ever (37.9% usage) and it has been devastating on hitters. In 167 plate appearance, batters have a .101 batting average, .146 slugging percentage and have struck out 79 times against Gausman's split-finger. It's nasty.
Besides Gausman, a number of other veteran starters have produced this year. Anthony DeSclafani (2.91 ERA), Johnny Cueto (3.63 ERA) and Alex Wood (3.91 ERA) have all been great for stretches of the season. Cueto and Wood specifically both looked like their days as contributors at the Big League level were over, but that's been the story of this team: players finding their old mojo and helping the Giants win games. Add it all together and the Giants are 3rd in team starter ERA (3.14) and 3rd in FIP (3.48)
The bullpen has also been fantastic. Led by Tyler Rogers (1.40 ERA in 37 games), the Giants rank 5th in team bullpen ERA (3.31). The Giants relief unit doesn't feature many big names, but they've gotten the job done. Currently, seven of San Francisco's late-game options own an ERA under 4.00. With that being said, shoring up the bullpen is an area that will likely be addressed at the trade deadline.
What Comes Next?
The Giants can do just about anything they want and it would make sense. General Manager Farhan Zaidi has done a fantastic job keeping this team in contention, while building great Minor League depth. That deep farm system should allow him to make a trade deadline splash if he so chooses.
Zaidi could also decide to ride it out with the group he has and keep his elite farm system intact, making only minor moves to improve the current roster. The team could probably use another outfielder and a bullpen arm or two to solidify their group, but it's not a clear necessity. For more on the Giants' extremely promising future, check out Aram Leighton's article from last week that featured three up-and-coming San Francisco studs: