Analysis
Willie Calhoun Requests a Trade From Rangers After Demotion
After being demoted at 27 years old, a change a scenery may be best for the former top prospect.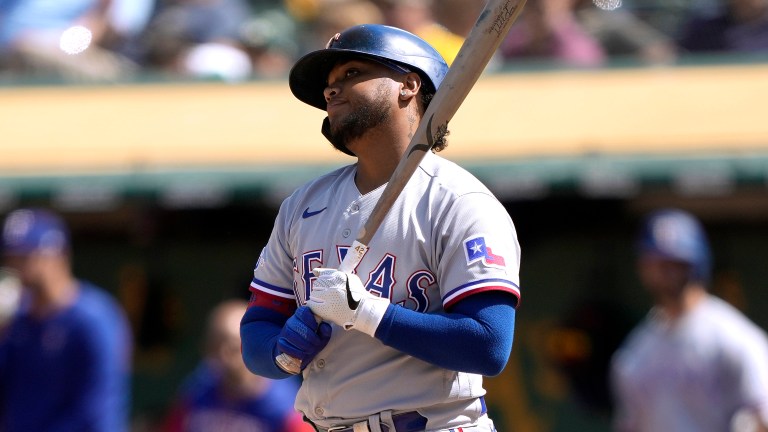 This week the Rangers made a move that was a long time coming. Willie Calhoun was optioned down to Triple-A Round Rock due to underperforming at the plate. Although this is the fifth time that Willie has been optioned by the Rangers over the last five years, this time seems different.
Willie was the cornerstone prospect back from the Dodgers in the 2017 trade deadline deal that sent Texas ace, Yu Darvish, to Los Angeles. Calhoun was once thought to have the stick to force playing time, with a glove that would have to hide in left field. But it has almost been the opposite of that in his major league years in Texas.
Texas has given Calhoun every chance to succeed since his travels south, but he just cant get it together at the dish. We have seen flashes of the player that was once in a Dodgers top prospect list with the likes of Corey Seager, Walker Buehler, Julio Urias, Alex Verdugo, Frankie Montas and Cody Bellinger, but more often than not, we have seen a shell of who he was thought to be.

To be fair, Willie has battled a horrendous injury bug since being in Texas, the worst of which was a fastball to the jaw.
What might be best for Willie now though is a fresh start.
When the team sent him back to a packed Round Rock Express outfield this week, Willie had a unique reaction to it all. Willie made an uncommon move in the likes of Major League Baseball. Calhoun put in an unofficial and "respectful" trade request.
Reported by Rangers beat writer Kennedi Landry, Calhoun stated that respectfully, if he is not in the plans for the Rangers future, that Chris Young would move Willie to a city where he could get a fresh start.
Willie said, "I'm 27, it's not like I'm 22 with all this time to develop anymore." and with that I agree. Willie needs a fresh start and Texas has plenty of young prospects that deserve a look at that left field spot.
So where could Calhoun get another look? Here are three options that I could see working.
1. Oakland Athletics
Oakland seems like the perfect place for a late developer to thrive. It always seems like the Athletics gets the best out of players that have worn out there welcome at other clubs, most recently the Christian Pache turn around.
Texas wouldn't be able to get much for Calhoun but luckily Oaklands farm system has many underrated prospects that have gone without attention and with decent scouting could work.
2. Minnesota Twins
Minnesota could be a place for Calhoun to get major league at-bats. As a left fielder, he seemingly fits into the biggest hole on their roster and with several outfield injuries they could use depth there with major league experience. We all know that Buxton is always one breath away from an IL stint.
3. Pittsburgh Pirates
Clearly a rebuilding franchise, the Pirates have many players that are a year or two away from being Major League ready. Willie could have a chance to fight for at-bats this year. They clearly have the depth to make a trade with Texas, but the price is you potentially lose another place to put Oneal Cruz in the field if they think shortstop is not his long-term position.
As a career .241/.300/.407 hitter, Calhoun might not get many more chances. I want to believe that he has a great player inside there somewhere. Calhoun has seen this as a theme in his baseball career, as he was sent packing from the University of Arizona, Yavapai College (JC), Dodgers, and now seemingly the Texas Rangers. Time will tell how the 2022 Triple-A season will go for Calhoun but I am rooting for him to get at least one more shot.
Willie Calhoun was optioned down to Triple-A Round Rock officially early yesterday morning, May 2, 2022. Manager Chris Woodward noted that there are other Rangers hitters that are underperforming, and Calhoun might be the first of many moves.