Analysis
Luis González Won't Win Rookie of the Year, but He's the SF Giants Spark
SF Giants outfielder Luis González probably won't win Rookie of the Year, but he's still been the exact spark San Francisco needed this season.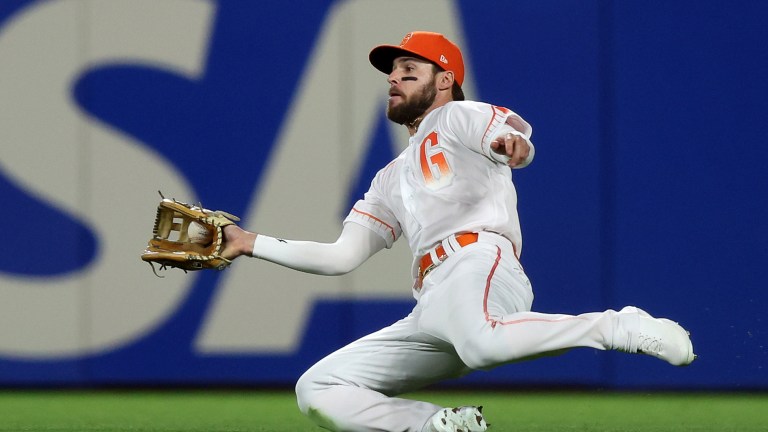 Since John Montefusco was selected as the National League Rookie of the Year in 1975, Buster Posey has been the only SF Giants player in the more than 50 years since to win the award.
Sure, the Giants have had their share of breakout performances from young players, but often aggressively promoting young players through the minor-league ranks, most great Giants have been unable to enter Rookie of the Year conversations. That's changed this season, though, thanks to outfielder Luis González.
Originally claimed off waivers from the Chicago White Sox back in 2021, González has hovered in the background of the Giants organization. While he started on the team's 40-man roster, an offseason roster crunch led them to designate González for assignment, leaving the door open for any other team in the MLB to claim him off waivers. None did.
Luckily for the Giants, González opted to stay in the organization on a minor-league assignment instead of pursuing free agency. Then, González was one of the team's most productive hitters in spring training. Known for a patient approach at the plate and a swing that consistently put the ball in play, González was spraying the ball to all fields with noticeable pop.
While he did not crack the Giants' Opening Day roster, a blistering start at Triple-A soon prompted a call-up to the major leagues.
Since joining their big-league roster, González has been a consistent source of energy for a Giants team besieged by injuries early in the season.
While San Francisco's offense has remained inconsistent, González quickly moved up manager Gabe Kapler's lineup. In 43 games this season (152 plate appearances), González has not generated overwhelming levels of production, but his .306/.368/.425 triple-slash alongside 10 doubles, two home runs, and five stolen bases have made him a constant spark.
As a prospect, González was known as an excellent defensive outfielder, particularly in the corners. However, he seemed to struggle early in the season, perhaps as he adjusted to the notoriously difficult winds at Oracle Park. Now, after more than a month of everyday playing time, González is finally starting showing his defensive prowess as well.
In Tuesday's 4-2 victory over the Royals, González recorded a 97.4 mph assist to help starter Logan Webb complete seven shutout innings.
Yet, while González has been a constant source of excitement for Giants fans, the odds of him winning this year's National League Rookie of the Year award remain low. Cardinals infielder Brendan Donovan has emerged as the most productive rookie hitter in the NL over the past few weeks and other outfielders like Alek Thomas, Seiya Suzuki, and Christopher Morel are all right alongside González statistically.
On the pitching side of things, the competition gets even tougher. Flamethrower Hunter Greene will rack up plenty of strikeouts this season, while Mackenzie Gore and Spencer Strider are each posting sub-3.00 ERAs in relatively high usage.
González, who lacks the name recognition of several other prominent candidates and does not consistently play against left-handed pitching (he's hitting an abysmal .200/.286/.267 against southpaws this year), is going to find it difficult to surpass the competition.
Still, just because he may not be a Rookie of the Year award winner doesn't mean Luis González hasn't been exactly what the SF Giants have needed.