News
Did the Houston Astros Just Find Their Next Marwin González?
The Astros took advantage of the SF Giants roster crunch to acquire versatile right-handed hitter Mauricio Dubón.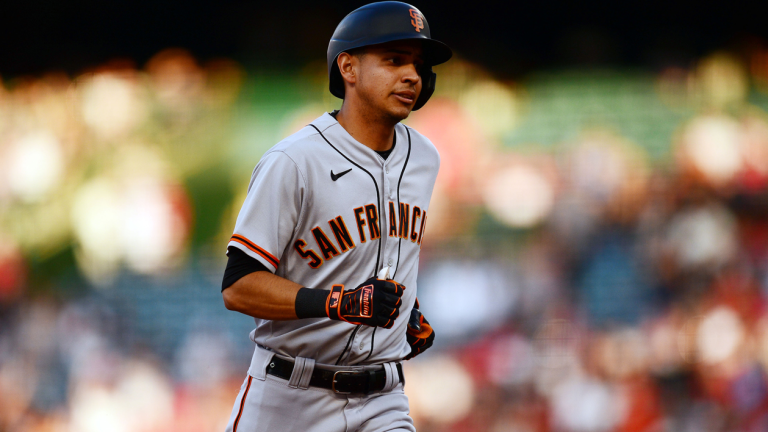 The Houston Astros acquired infielder/outfielder Mauricio Dubón in a trade with the San Francisco Giants for Triple-A catcher Michael Papierski. Dubón has hit .239/.245/.391 this season for the Giants in 49 plate appearances but has primarily been utilized in his 21 games for defensive versatility, appearing at center field, shortstop, third base, and second base. Set to turn 28 in July, Dubón will be arbitration eligible after next season and can be under Houston's team control through 2027.
Papierski was a ninth-round pick out of LSU by the Astros in 2017. Papierski is a switch-hitting catcher who has played some first base over the past two seasons at Triple-A. At 26-years old, he's far from a top prospect, but has generated high exit velocities throughout his minor-league career. Limited loft in his swing has prevented him from turning those hard-hit balls into extra-base hits, though, posting a mediocre .239/.368/.355 triple-slash at Triple-A. More importantly for the Giants, he does not have to be added to their 40-man roster.
How can Mauricio Dubón help the Astros?
Dubón has been a solid contributor for the Giants over the past few seasons. The emergence of Thairo Estrada has relegated Dubón to the bottom of their MLB depth chart. With a roster crunch impending and Dubón out of options, San Francisco opted to trade Dubón for a player that will not require a spot on their 40-man roster.
Dubón is a career .258/.301/.395 hitter with 19 doubles and 15 home runs in 524 plate appearances from 2019-2022. However, he has been consistently productive against left-handed pitching. In 174 MLB plate appearances against southpaws, Dubón has hit nine homers and recorded a far more impressive .298/.341/.503 triple-slash.
Facing off against right-handed pitching has always been a larger challenge for Dubón and kept him from everyday playing time in San Francisco. Despite those limitations, he has a skill-set that should immediately help Astros manager Dusty Baker get more production out of his bench.
Dubón developed as a glove-first shortstop, and has become an average defensive infielder at short, second, and third base. Just as importantly, the Giants began experimenting with Dubón in the outfield in 2019, and it quickly became his best position.
Most versatile defenders leave something to be desired at each spot, but Dubón is a legitimate plus defender in center. There's reason to believe that his glovework on the infield could take another step forward if Houston gives him more consistent reps on the dirt.
That unique defensive versatility should sound familiar to Astros fans, who have watched their team move from Marwin González to Aledmys Díaz as valuable Swiss-army knife bats over the past decade. This season's Astros have struggled to generate any productivity in center field and off the bench, two areas Dubón immediately strengthens.
Dubón's offensive struggles against right-handed pitching are more pronounced than either González or Díaz's ever were, but his overall defensive prowess and productivity against left-handed pitchers positions him to be extremely productive in a more specialized role.
If he can improve his well below-average walk-rate (career 5.7%), something the Giants have prioritized in his development, there still may be a path for Mauricio Dubón to be a viable everyday option. Even if not, the Astros turned an upper minor-league depth piece into an immediate upgrade.