Feature
Scott Rolen: The Man Behind the Golden Gloves
On the day where Scott Rolen reaches baseball immortality, we share an amazing story of what made him such an incredible man off the field.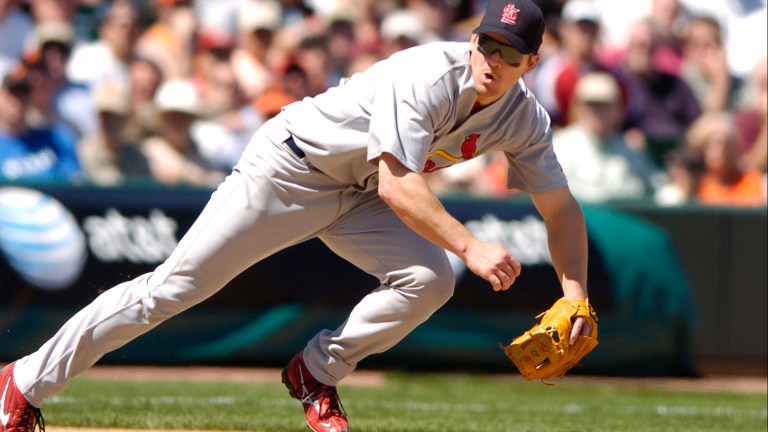 Written By: Pam Frenzel
Scott Rolen's career baseball statistics are impressive ~ 2,077 hits, 316 home runs, 1,287 RBIs, a .281 career batting average, seven All-Star selections, Rookie of the Year honors, an NL Silver Slugger Award, and eight Gold Gloves. All this led to his selection to be inducted into the National Baseball Hall of Fame in July 2023. Baseball aside, who is the man behind the golden gloves?
In today's world, so many athletes are in the news for scandal, or we idolize them and make them heroes merely because they excel at a sport. Then you have someone like Scott Rolen, who quietly uses his fame and fortune not to glorify himself, but to help others. He is a true hero!
I first met Scott in April 2003. My eight-year-old son, Tyler, had been diagnosed with Leukemia four months earlier. Tyler's P.E. teacher, knowing Tyler loved baseball, arranged a meeting with Scott. Little did we know that meeting would change our lives.
Scott hosted us in St. Louis for a game. Tyler had the opportunity to go onto the field, meet the players, go into the clubhouse, and experience a magical day. Every boy's dream!
Tyler came home with a pile of memorabilia ~ photos, hats, signed baseballs and bats, and memories to bring smiles to a young boy facing a long cancer journey. It was a special day and we thought it would end there. Not so! Scott was interested in a long-term relationship with my son, not a one-time charity visit.
Scott Rolen is a man of character. Initially, he was going to fly to our house to meet Tyler, but under one condition. He wanted no one to know about it, no media presence. He just wanted to spend time with Tyler and focus on him, rather than pose for pictures and make himself look good.
After the first meeting, Scott continued to follow Tyler's progress, even inviting him to another Cardinals game in September 2003. Tyler was in remission and feeling great. He had settled into the maintenance phase of his chemotherapy protocol, and had returned to playing baseball and soccer.
That November, Scott held his annual fundraiser in Indianapolis, Indiana for his foundation. He invited our family as his guests and recognized Tyler at the dinner. Scott's dream was to build Camp Emma Lou, a recreational camp near Bloomington, Indiana, for sick children and their families. Tyler was intrigued.
Following a "wish trip" to Disney World in January 2004, Tyler had a routine monthly chemotherapy treatment. Much to everyone's surprise, doctors discovered that Tyler's cancer had returned. Tyler's only chance for a cure would be a bone marrow transplant. He would have to endure 3-4 months of intense chemotherapy to prepare for the transplant.
Once again, Scott Rolen showed his compassion for my son. After learning of Tyler's relapse, Scott said to his attorney, "Just tell me where to go and when to be there." Scott had just a few days available before he was due to report to Spring Training, but he still visited my son, this time at our house!
It was amazing to watch this massive baseball player show such sweet tenderness and concern for my son. Tyler showed Scott his room and then they played MLB Slugfest on PlayStation 2, where Tyler crushed Scott. It was just a couple of buddies jostling and bantering over a video game!
It was amazing to me that this famous baseball player would take the time to care about my child. It would have been easy for Scott to meet Tyler one time and end the relationship there, but that is not Scott's style. He was present, entering into the pain of my son's suffering.
It took until the end of Tyler's third phase of chemotherapy to achieve full remission again on May 10, 2004. Tyler had a week off before beginning his radiation/chemotherapy regimen to prepare for his bone marrow transplant and long stay in the hospital.
When I asked Tyler what he would like to do before his "freedom" was over for a while, he said he would like to go to a St. Louis Cardinals game. On May 16, 2004, Tyler got to do just that, thanks to Scott Rolen. For the third time in a year, Tyler went onto the Busch Stadium field to watch the Cardinals warm up for a game. Scott spent time with Tyler in the Cardinals' dugout and Tyler spent his last day of "freedom" exactly how he had hoped. On May 17, 2004, Tyler began his radiation therapy and on May 25, 2004 he received his bone marrow transplant.
Tyler's new bone marrow engrafted quickly and we hoped for a healthy new life for Tyler. Unfortunately, on September 25, 2004, our world was rocked again, when bloodwork showed that Tyler's cancer had returned.
Once again, Scott Rolen showed his support for Tyler. Shortly after Tyler's relapse, Scott took time to call Tyler at home in the middle of the playoff series with the Los Angeles Dodgers. During one of the most important times in his baseball career, Scott unselfishly reached out to my son and made him smile once again.
Tyler began intensive chemotherapy, which was unsuccessful, then began a clinical study using an experimental drug. By this time, the Cardinals had reached the pinnacle, the World Series against the Boston Red Sox. Scott reached out to Tyler several times, offering to fly him privately to a World Series game. As hard as it was to bypass that opportunity, Tyler was too weak to be able to enjoy the experience.
The Cardinals lost the series in four games, a painful experience for a player. Instead of languishing in defeat, however, Scott returned to Indiana to visit Tyler.
When Scott showed up that day with his brother and his attorney, he was carrying a plastic Target bag, which he handed to Tyler, saying, "Tyler, I brought this for you." Tyler opened the bag and pulled out Scott's game worn jersey from Game 1 of the World Series inscribed with: "Tyler, YOU are my Hero!" Jaws dropped and looks of astonishment prevailed.
Like two old pals, Scott and Tyler headed to the basement for a video baseball game matchup. Meanwhile, Scott's brother and attorney had NO IDEA what was in the bag!
They were dumbfounded and shared that most players pass something so significant as a World Series game jersey on to their grandchildren. In his unassuming way, Scott Rolen had just handed my son his World Series jersey!
Less than a week later, on November 2, 2004, doctors told us that there was nothing more they could do for Tyler. The one question Tyler asked was, "Will I be here for my birthday (March 12)?" I replied, "Tyler, we can celebrate your birthday any time!" We quickly organized a laser tag birthday party for Tyler and all his friends to celebrate Tyler's 10th birthday, which he would not live to see. Scott attended the party, greeting all of Tyler's friends and signing baseballs for each.
It was time again on November 6, 2004 for the annual fundraiser for Scott's foundation. Tyler attended and was presented a Scott Rolen glove mounted on a stand engraved with: Strength, Courage, Love. When Tyler was called up to the podium, Scott lifted up the frail boy as Tyler pulled a gift from his navy blazer. Tyler handed a $2000 check of his own money to Scott and asked him to build a treehouse at Camp Emma Lou.
Before Thanksgiving, Tyler felt well enough to take the 1 ½ hour drive south to Bloomington to see the land that Scott had purchased on which he would build Camp Emma Lou. Tyler rode around the property, surveying the land that would one day hold a treehouse.
A month later, on December 11, 2004, Tyler passed away peacefully in his sleep, leaving a legacy of generosity and faith. Scott attended Tyler's funeral in Carmel, Indiana, delivering a heartfelt eulogy for his young friend. It was evident the two had touched each other in a profound way.
Following Tyler's death, a national radio auction involving many local professional athletes raised over $200,000 to fulfill Tyler's dream. Today, Camp Emma Lou boasts "Tyler's Treehouse," a 3,000 square-foot structure encompassing a castle, pirate ship and firehouse for kids of all ages to enjoy! Tyler clearly understood that though he might be on this earth briefly, his inspiration could last forever.
Scott Rolen did a noble thing one day in 2003, answering a call to reach out to a boy with cancer. The two forged a remarkable bond, becoming heroes to each other. That's what happens when you humbly use your gifts to bless others. Accolades are well deserved and respectable, but impacting the lives of others is lasting. Scott Rolen recognizes this. He touched the life of my dying son in a very special way, and for that, this mother's heart is eternally grateful.
~ Pam Frenzel (Tyler's mom)