Analysis
The BBWAA Got It Right!
Scott Rolen is headed to the Hall of Fame, as Todd Helton inches closer to election and several big names fall off the ballot.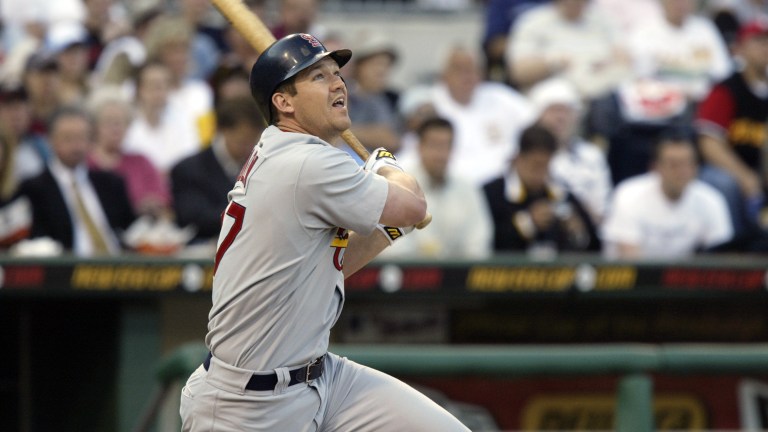 It is not often that you will hear me say positive words about the Hall of Fame voting process. Normally, the process causes me great frustration, and I spend the back end of the offseason railing against writers who want to make Hall of Fame voting all about themselves.
Not this time, though! Stunningly, despite a sea of inconsistent and flat out terrible ballots, the BBWAA got it right this year. Not only did they elect an extremely deserving candidate, they nearly elected two others and put other deserving candidates in position to be elected in the future.
However, as is usually the case in baseball, the process took a step forward while also taking a few steps back. Steroid users that are beyond deserving of being elected to Cooperstown–ehem, Alex Rodriguez and Manny Ramirez–had bad years. A candidate with no steroid ties–and 500 home runs–is left with a massive mountain to climb in his final season.
And sadly, a candidate I find worthy of Hall of Fame enshrinement fell off the ballot. At this point, I have seen so many deserving players miss out that I have become numb to it. Nonetheless, we will send him off to the committees with a hat tip at the end of this article.
We begin with the great news: the BBWAA got it right! Scott Rolen is a Hall of Famer!
Rolen Into Cooperstown
It says something about the people involved with this process that we are giving them such credit for simply doing their jobs. That is how low the standard has fallen for the Hall of Fame election process.
The writers elected a candidate to the Hall of Fame that deserves to be in the Hall of Fame. Normally, this would seem ridiculous to celebrate, but considering I thought we were heading for a second shutout in three years, it is worth it. I genuinely entered this Hall of Fame season with no hope. After last season's debacle–only David Ortiz was elected, and Barry Bonds and Rodger Clemens fell off the ballot–morale was low.
So when I opened Twitter today–having forgotten the announcement would be made–and saw the news, I let out a celebratory "THEY DID IT!" Yep, in the office and everything.
I celebrated not only because Rolen is one of my favorite players on the ballot, and I have championed his case for many years. I celebrated because of the pure shock that it actually happened.
And it barely happened! Rolen got in with 76.3% of the vote, which is pure nonsense when you look at his resume. Rolen had 69.9 (nice) fWAR in his career; I usually say 70-75 is a lock. He won the Rookie of the Year in 1997. He made seven All-Star Games, usually a good indicator that a player was the dominant player at his position for a large stretch of time. He's a career .281/.364/.490 hitter, good for an .855 OPS and 122 wRC+.
Then, there is the defense. Defensive Runs Saved (DRS) at FanGraphs dates back to 2002. Rolen had been in the league for six seasons by then, but he accumulated 114 DRS over the next 10 years. He won eight Gold Gloves. Only Frank Robinson (16!), Mike Schmidt (10), and Nolan Arenado (10) have more among third basemen. He is undeniably one of the greatest defensive third basemen in history.
I see a lot of detractors of Rolen, and if you are one of them, I simply ask: why? Am I missing something? I actually looked to see if I was missing something–you never know these days–but no. Nobody has ever said a bad word about him. He has never done anything wrong (at least not publicly). He seems to be a decent dude who is also one of the 10 greatest third basemen in the history of the game. What about that person is not a Hall of Famer?
So congratulations to you, Scott Rolen. You absolutely deserve this incredible honor, and I am so happy to see you receive it. And congrats to you, BBWAA, for finally putting in a guy that should have been in years ago!
Hope For The Future
Guys! You're not gonna believe this! We might have a real Hall of Fame class next year!
After back-to-back one-person classes, a shutout in 2021, and a two-person class in 2020–the obvious omissions being Bonds and Clemens–next year, things are really looking up.
First off, Adrián Beltré joins the ballot. Not only is he a favorite of baseball writers everywhere–more of a guarantee than resumes sometimes–he is a surefire first-ballot Hall of Famer. There is no need to discuss it. I do not think it will be unanimous, but Beltré is getting in next year. He might even eclipse Big Papi's percentage from 2021.
The best part is: it looks like he will have company! Todd Helton had another splendid year, receiving 72.2% of the vote. In fact, he fell just 11 votes shy of election. Helton gained 20.2% of the vote–a stunning number–from 2022. That is partially due to the de-crowding of a loaded ballot–again, Bonds and Clemens fell off, along with the polarizing Curt Schilling. It is also due to a younger voting group slowly taking over and voting for deserving candidates that may have previously been held out for dumb reasons.
The "dumb" reason here is that Todd Helton played in Coors Field his entire career. Give me a break. Not only did Larry Walker break that glass ceiling in 2020, but that was always a dumb reason to keep a guy out. It is not Todd Helton's fault MLB put a team in Denver, that team drafted him, and he was loyal enough to spend his entire career with them despite limited team success.
Helton would have been the best first baseman in the National League for his generation had it not been for some guy named Albert Pujols. He will get in next year, probably with huge numbers, and we will properly celebrate a tremendous player.
A shock for me is the result that Billy Wagner got. Wagner was seventh among vote-getters last year with 51%. The fireballing lefty also took a huge jump, leaping all the way up to 68.1% of the vote. Based on his gains in previous years, it seemed possible Wagner would cut it close in his final year. Now, he is all but certain to get in next year, which will be his ninth on the ballot.
And that is awesome! Relief pitching is a huge part of the game, and there has to be a place for relievers in the Hall of Fame. Especially when you are arguably the best left-handed reliever of all time.
There are others that had great years but likely will not get in next year. We start with Andruw Jones. Arguably the best defensive center fielder since Willie Mays–who also has 434 home runs, 67.0 fWAR, and 10 Gold Gloves–it is shameful he is not already in. Nevertheless, he had a massive fall-off due to injuries at the end of his career and has become a polarizing vote.
This year was a great year for Andruw. He got 58.1% of the vote, and if you follow the Andruw Jones HOF account on Twitter, you will know why that is great. This account does a tremendous job showcasing why Jones is deserving, and the person who runs the account moved up his projection for entry to 2025. That seems likely! He jumped 16.7% from last year's total and seems destined to end up in Helton territory next year.
The other guy who had a great year is Carlos Beltrán. Nobody really knew what to expect with his candidacy after his involvement in the Astros cheating scandal. He is, without a doubt, a deserving Hall of Famer and got a great start to his time on the ballot. His 46.5% is a huge number, and while how much he jumps next year will be telling, I think this puts him well on his way to election.
The Other Side
As always with the Hall of Fame process, it is not all butterflies and rainbows. I mentioned A-Rod and Manny's bad years earlier. There are also the great many players who fell off the ballot this year. Plenty of terrific players and names that make you smile: Bronson Arroyo, R.A. Dickey, John Lackey, Mike Napoli, Huston Street, Matt Cain, Jacoby Ellsbury, Andre Ethier, J.J. Hardy, Jhonny Peralta, Jered Weaver, and Jayson Werth.
It may seem unnecessary to name all those players, but I think it's important to acknowledge them. They were all great players, and just making the Hall of Fame ballot is a massive achievement. Salute to all of them, especially Matt Cain, who brought me so much joy as a key part of those three Giants teams that won the World Series.
Then, there is Gary Sheffield. Why is he not in the Hall of Fame? He has 500 home runs. Should that not be an automatic qualification? Every other player that ever hit 500 home runs–and has no steroid ties–is in the Hall of Fame. What are we doing here?
Sheffield received 55% of the vote this year. It is a good number! A 14.4% leap from last year. However, he has to get another 20% of the vote in his final year to be elected. Can he do it? It is going to be really close. It is also not without precedent! Larry Walker, one of the biggest late risers in Hall of Fame history, got 54.6% in his ninth year, so it is possible! I am skeptical but hopeful. Sheffield would be the first Marlin to go in–his son recently said he prefers to wear the Marlins cap–and that would be awesome. Will it happen? Will the Marlins trade for a center fielder? #WaitToSee.
Farewell To Jeff Kent
This one is tough. Kent was a personal favorite, not just because of his Survivor appearance but his ties to the Giants. Not only that, he probably should have gotten in! Kent is basically Rolen without the stunning defense. I mean that literally, Kent and Rolen have the same OPS (.855), and Kent's 123 wRC+ is just one point higher than Rolen's. He is a 5x All-Star and a 4x Silver Slugger. Also, he was just an average defender. Not great, not terrible. That should not penalize his candidacy.
He also has that all-important MVP. Sure, many believe it was given to him to spite his teammate Barry Bonds, but let us not pretend like Kent was anything but exceptional that year. He posted an incredible .334/.424/.596 slash with a 1.021 OPS and 159 wRC+. Kent socked 33 dingers that year and accumulated 7.4 fWAR. That is a really good season!
Funny enough, it was not Bonds who led the NL in fWAR that year. It was Helton, with 8.6. Bonds was not even second! Jones finished second with 7.7. Then came Bonds with 7.6, then Kent. The Giants' second baseman was great that year, and attributing it all to spiteful writers takes away from how great he was.
None of these are the main reason Kent should be in. No. The main reason Kent should be in is that he is the greatest power-hitting second baseman of all time! Taking out Alfonso Soriano, who played about 300 more games in left field than he did at second, Kent has the most home runs at the position in history. That's more than Cano, Hornsby, Biggio, and Sandberg. Should that not mean something? Being the best ever at your position at hitting the ball out of the ballpark? Sure, second base has never been a spot for sluggers, but come on. With the exclusion of Kent, second base becomes the only position whose all-time leader in home runs–excluding steroid guys–is not in or heading to Cooperstown.
So farewell to you from the Hall of Fame ballot, Jeff Kent. I hope you find success in the committees because you absolutely deserve it. More importantly, I hope your teammate Barry Bonds finds it as well.
That concludes Hall of Fame season from me. Unfortunately, I was not able to start up Big Hall Talk again due to work. However, this season has left me more positive than ever about the future of Hall of Fame voting. I actually think the Hall is set up well to go on a nice run of doing what it should do: honoring the greatest players in the history of the game.
A final congratulations to the BBWAA! You guys did it! You did your jobs! I hope you all give yourselves a pat on the back.