Analysis
Ryan Noda is Becoming the Eventual Seth Brown Replacement
With Seth Brown being a likely trade candidate this season, Ryan Noda is showing he is capable of filling his role in Oakland moving forward.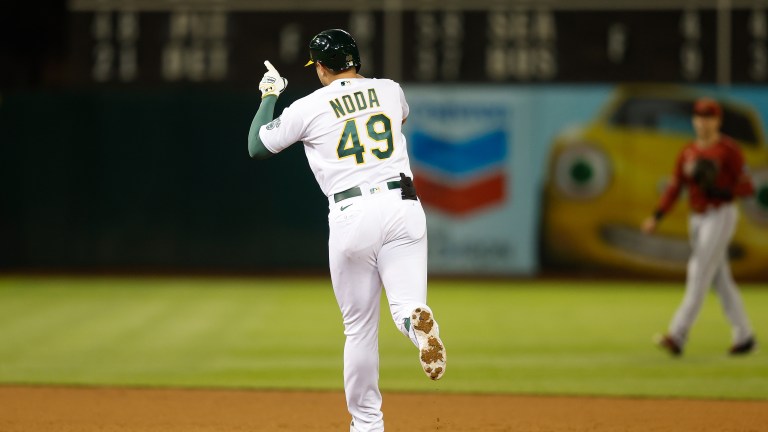 Seth Brown has established himself as a fan favorite in Oakland while being one of the more underrated lefty bats in the league. A power bat that can play outfield and first, Brown quietly has had back-to-back seasons of at least 20 home runs. His unlikely path the the majors is a story many people in Oakland can relate to – being the underdog.
Brown was a 19th-round selection by the A's in 2015, who did not become a major league regular until the 2021 season. The 28-year-old rookie would go on to slug 20 home runs earning an everyday role in 2022. This season, Brown has missed the majority of the year due to injury, which helped give an opportunity to another unlikely story.
Ryan Noda was a 2017 15th round pick of Toronto who was eventually traded to the Dodgers in a 2021 deal that sent Ross Stripling north of the border. After not being added to the 40-man roster this offseason, Noda was selected second overall in the December Rule 5 draft.
While the Rule 5 draft is great for players to get opportunities, it rarely produces starting level options. Landing on a team with opportunities like Oakland sure does help. Noda, like many rookies, has seen his share of ups and downs, while also showing enough to potentially stick.
The Good
Hitting in the two-hole is something most managers will not task a rookie with. However, that exactly where Noda has seen the majority of his at bats. Hitting second, Noda has slashed .211/.398/.394 with eight extra base hits in 71 at-bats. Batting Noda second makes sense for a few different reasons.
With Esteury Ruiz, a righty, leading off manager Mark Kotsay can can go righty, lefty, righty with Brent Rooker in the three hole. Ruiz speed with Noda's ability to get on base gives slugger Brent Rooker a great opportunity to flip the game with a swing of the bat.
Noda's eye for the zone and ability to work counts is far more advanced than you see from most rookies.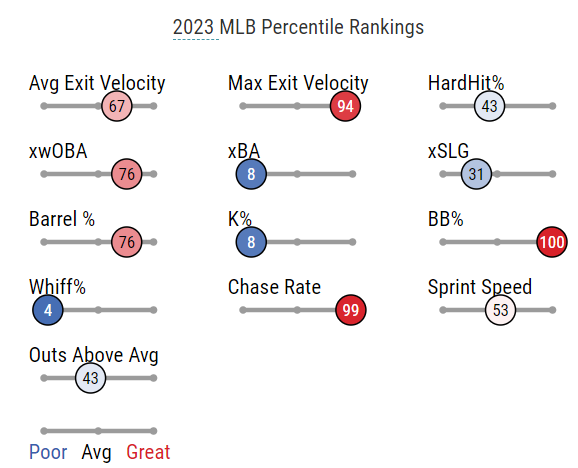 A 21.3% walk rate and 16.7% chase rate will help keep you in the big leagues for awhile. Noda's patience at the plate has resulted in 39 of his 132 (30%) of his plate appearances going to a full count. Not only does this help raise the pitch count, it allows for batters behind Noda to see more of the possible pitches before stepping in the box.
Ok, enough about watching pitches, what happens when Noda actually makes contact? Well, it's loud. A 12% barrel rate shows the quality of contact he makes, while a 113.9 max exit velocity proves he can really impact the baseball. Another positive sign has been Noda lifting the ball. Only 36% of contact is resulting in a groundball while 24% are line drives and 40% are fly balls. Although he only has four home runs, signs are pointing towards an increase.
Defensively, Noda has looked comfortable at first. The outfield might not be as natural, but he's not going to force his way off the field because of defense. He's been about average, while making a few splash plays here and there.
As he gets more at-bats and settles in, there's reason to believe the power will come. Noda has three different stops in the minors with 20 or more home runs, topping out at 29 in Double-A, and posting 25 last year in Triple-A. A high walk, power profile has followed him at each level, but so has the issue that has held him back.
The Bad
Obviously, any player who gets to the Rule 5 draft will have something they need to work on. For Noda, it's been issues with striking out. Yes, some players can get away with a high strikeout rate, but only if they are hitting for some serious power. A "three outcome" hitter (walk, home run, strikeout) can find a long career in the league, but Noda needs to add more power to fall into that discussion.
Swing and miss numbers have been concerning to start the year. A 37.5% whiff rate on fastballs, 40% on breaking balls, and 34.5% on offspeed are numbers that will make it difficult to sustain success. Even in the minors, velocity was a problem for Noda. A .164 average with 25 strikeouts in 74 plate appearances against fastballs is simply not sustainable.
Noda is naturally going to see more fastballs than any other pitch, and if this trend continues, expect more fastballs to come his way. It's worth noting that Noda has improved his swing and miss on fastballs from 40% in April to 32% in May. The sample size is still small, but something to monitor.
Why Noda Makes Brown Expendable?
We all know the reality. The A's are doing something even beyond a rebuild and trading away more proven players to get younger, and frankly, looking ahead to Vegas. Brown is in his age-30 season and will become arbitration eligible for the first time this winter. His current salary of $730,000 will see a significant pay bump, to John Fisher's standards.
With three more years of control, all coming in what most consider the last years of his "prime", Brown is an option to get moved before the deadline. Of course, he has to show he is healthy. A lefty power bat that can play a couple different positions will always be in demand. The team control makes Brown even more attractive and should help with the return coming back to the Athletics.
Having Noda and Brown on the same roster going forward does not make much sense. They are too similar of players and roster redundancy does not help in this case. Noda is three years younger and the cheaper options of the two.
Although we could paint it as a simple cost savings, I think it's the right baseball move. You capitalize on Brown's control and value as he ages and your team is in early stages of a long rebuild. You continue to add prospects, which is key considering how some recent trades have gone.
While there's still work to be done, Noda is proving he can be an option not only for this season, but for the next few years for the A's.