Analysis
Oakland Athletics Offseason Outlook for 2023-2024 Free Agency
The Oakland Athletics are coming off a miserable season with very little hope in sight. How will they go about building out a roster for 2024?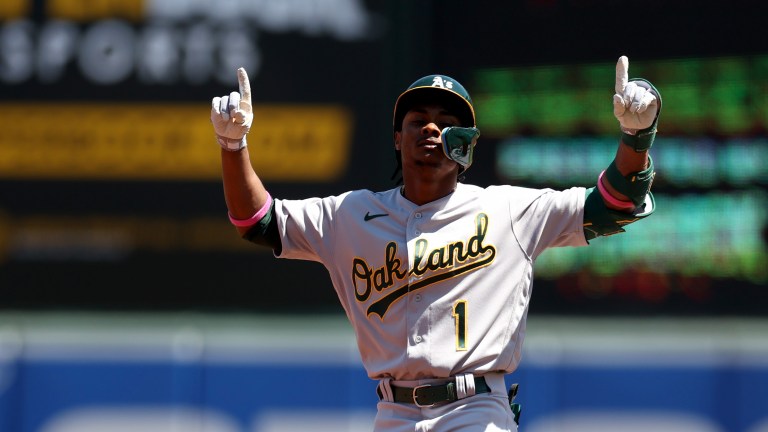 The Athletics finished 2023 with a Major League Baseball worse 50-win season. While the play on the field was bad, the early season news of shipping the team to Vegas was even worse. The A's, their fans, and players suffered through one of the saddest seasons in recent memory.
No big additions, poor play, and the thought of "does this even matter" knowing their time in Oakland is dwindling. Owner John Fisher has been notoriously cheap and I would not expect that to change this winter. Combine Fisher's piggy bank with an eventual move to a relatively poor free agency class and what do you get? Well, let's try to find out.
Starting Pitching
Current Options: Paul Blackburn, JP Sears, Mason Miller, Joe Boyle, Ken Waldichuk, Luis Medina, Kyle Muller, Joey Estes
Minors: Freddy Tarnok, Royber Salinas, Ryan Cusick, Jack Perkins, J.T. Ginn, Gunnar Hoglund
Need: Prioritize young arms and sign one veteran, especially if Blackburn is moved.
Coming into the 2023 season, there was enough talent and prospect pedigree to at least be intrigued. Miller, Waldichuk, and Muller were well-regarded prospects with a reasonable belief that they could develop into plus starters. However, injury and underperformance derailed those beliefs early on. Miller flashed and showed the highest ceiling while an electric fastball and bulldog mentality. Waldichuk had his moments, and Muller fell well short of expectations.
Paul Blackburn and JP Sears were fairly consistent and have proven themselves to be big league arms. If both stick around they can help round out a rotation that currently lacks that ace it needs. I think Blackburn could be moved during the winter, even if the return is light. He's a good enough fifth starter under team control through 2025.
I have always been under the impression Medina would shift to the bullpen, but he might not be the only one to do so. Oakland saw a small sample of Joe Boyle, who was acquired from Cincinnati at the deadline, and impressed. The book on Boyle is simple; 100 mph fastball with control issues. Giving him a large portion of starts in 2024, along with Tarnok, Miller, Sears, Waldichuk, and a cheap veteran looks like the most likely path.
Hoglund, Ginn, and Cusick all have had their own injury issues but surely one of them can be healthy enough to position themselves for innings. The name to keep an eye on is Jack Perkins. I liked what I saw from him in High-A and the competition in front of him is far from cemented.
Bullpen
Current Options: Zach Jackson, Dany Jimenez, Adrian Martinez, Lucas Erceg, Sean Newcomb, Richard Loevlady, Hogan Harris, Anthony Kay others
Need: Multiple free agents or converted starters
The A's bullpen filtered in and out many AAAA and waiver wire level pitchers in 2023. Lucas Erceg and lefty Richard Lovelady did enough to be considered for next years bullpen. Adrian Martinez has appearances where he looks like he's put it together and can work off his nasty changeup, but has not found consistency.
Oakland has many lefty options, even a few southpaw lefties that could move to the bullpen. The need here is a focus on veteran righties. Last winter they brought in Trevor May to help anchor the back of the bullpen and it did not go as planned. He ended up retiring after the season with some strongly worded remarks about John Fisher.
I doubt middle to high end relievers will be interested in Oakland. Looking into the rebound market is familiar, and likely. Perhaps a late spring DFA will be found treasure.
Infield
Current Options: Shea Langeliers, Tyler Soderstrom, Jordan Diaz, Zack Gelof, Ryan Noda, Aledmys Diaz, Nick Allen, Kevin Smith
Minors: Darell Hernaiz, Brett Harris, Max Schuemann
Need: Either 3B and/or SS, back up catcher
Entering 2023, everyone had their eyes on top 50 prospect Tyler Sdoerstrom. A beautiful swing from the left side with power seemingly singlehandedly carried hopes for A's fans. However, he struggled mightily. I doubt his struggles change the plan going forward and I expect him to get everyday at bats. A couple other rookie infielders did see their stock rise.
Ryan Noda, acquired via Rule 5 draft, showed some power, ability to work counts, and draw walks. He also struggled to hit fastballs and found himself with some swing and miss issues. Although he's an "older prospect", Noda should be in the lineup daily. Zack Gelof also stood out for a rookie and looks to be a fixture at second. His 14 home runs, 14 stolen bases, and 133 wRC+ while playing above average defensive shows he'll be written into the lineup with a sharpie.
The glaring need is on the left side of the infield. The Nick Allen experiment needs to come to an end. He's a great defender, but does not impact the baseball at all. Kevin Smith is a DFA candidate and Aledmys Diaz had the worst year of his average at best career.
There are two prospects who could get some run at some point next summer. Hernaiz at short, and Harris at third. Hernaiz had a mini break out in Double-A and showed enough in Triple-A to be considered. It's likely he starts back in Triple-A with a chance to hit his way onto the roster. Similar story for Harris.
Finding a veteran stop gap or change of scenery player for at least one of these positions is crucial. Waiting to see which players are non-tendered wouldn't be a bad path to take. Or, giving a veteran who wants everyday at-bats a one-year deal could pan out if that players interest is low. Brian Anderson is a player who could fit. A veteran who can play third or corner outfield and would not cost an arm and a leg.
Outfield
Current Options: Esteury Ruiz, Brent Rooker, Lawrence Butler, Seth Brown, JJ Bleday
Minors: Denzel Clarke, Conner Capel
Need: 400+ at-bats for Butler and Bleday
The current outfield options lead me to believe Oakland will not target someone who would demand everyday at-bats. Ruiz brought excitement stealing 67 bags and is lined up to be the everyday option in center. His bat will need to come around. Someone with so little power will need to find a way to get on base more often to hold his value. Rooker brought power to the lineup and could be a trade piece if a team is looking for a power DH or platoon option.
Fan favorite Seth Brown had a down year after struggling with injuries and is another player who could be moved. He'll have to show he is healthy first. Prospects Lawrence Butler and Denzel Clarke are tooled up, raw prospects with the most upside of this group. Butler is far from a sure thing but getting him at-bats needs to be a priority in 2024. Clarke will start in the minors to work on fine tuning his craft. A main focus will be cutting down on his swing and miss issues.
With Ruiz in center, Brown and Rooker currently in the mix at OF/DH, and Bleday/Butler needing an opportunity to prove what they could be, I do not see any significant add coming.
An invite to spring training to eventually serve as a depth or AAAA role might do the trick. Find out if any of these options are more than what they have show. Do any fit into the Vegas plans? Or are they just place holders to live out the Oakland years.
Outlook
A rather boring offseason, right? What else would you expect. Maybe a trade or two happen, recent history tells us the A's love to make trades. The difference this winter is the lack of big names to move. Getting back flyer prospects and depth pieces for a few guys wouldn't hurt.
The harsh reality in the situation is this. The Athletics have zero motivation to improve before they move. Fisher will not invest in a team that will soon just be a memory. Expect the next couple of seasons to be tryout and trade aways with the primary focus on Vegas.
I feel awful for these fans. A team is no-mans land just waiting for a move looking at another lackluster season. But hey, Vegas will change the ways of Fisher, right?