Analysis
Royals Trade Jose Cuas for Former AFL MVP Nelson Velazquez
The Kansas City Royals were able to flip reliever Jose Cuas to the Chicago Cubs yesterday in an underrated trade to add a prospect with upside.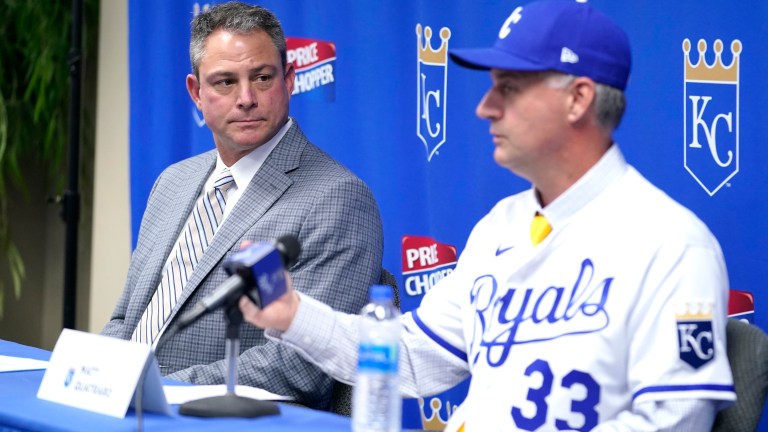 Since the Royals dealt Aroldis Chapman to the Texas Rangers for Cole Ragans and Romi Cabrea, it has been a quiet trade deadline for the Kansas City Royals.
Part of the reason is because the Royals just don't quite have the trade chips like they had in Andrew Benintendi and Whit Merrifield last year. 
The Royals finally broke the silence over the last couple of days with some minor trades. First by trading infielder Nicky Lopez to the Atlanta Braves for left-handed pitcher Taylor Hearn. This trade didn't make many Royals fans happy as they moved Lopez who had years of control for an arm that was recently DFAd, but it also seemed like there wasn't much being offered for Nicky according to General Manager J.J. Picollo.
Yesterday, the Royals made a more significant move by trading right-handed reliever Jose Cuas to the Chicago Cubs for 24-year-old outfielder Nelson Velazquez. 
Cuas had an incredible story of being released, becoming a FedEx driver, and training to make his way back for his eventual major league debut. Besides the cool story, the 29-year-old has been mediocre for the Royals all season long. Across 41.2 innings pitched, he carried a 4.54 ERA and 5.07 xERA. He has given up a ton of hard contact and has always relied on ground balls to get outs which he hasn't been getting this year. His slider presents a solid swing and miss pitch and the Cubs might see the opportunity to develop a really good reliever here.
Velazaquez showcases some unreal raw power. He has accumulated some great numbers across the minor leagues, but the approach at the plate has really hampered his ability to find success at the major league level and stick as a corner outfielder.
Velazquez had a breakout and rose up prospect ranks when his 2021 Arizona Fall League performance won him the MVP. That fall, he slashed .385/.480/.712 with a 1.191 OPS and seven doubles, nine home runs, and 24 RBI.
Despite the lack of approach, Velazquez still does a good job at drawing walks and getting on base. Still only 24, the Royals likely see the opportunity to develop his bat into something more. They also were able to option him to Triple-A clearing another roster spot for others to get called up. 
These moves could be the first of a few coming into today's trade deadline. The Royals still have closer Scott Barlow and left-handed starter Ryan Yarbrough who could draw some interest. I wouldn't be surprised if reliever Taylor Clarke is also moved for a very small return.
Many teams seem to be asking about reliever Carlos Hernandez and starter Brady Singer, but the likelihood of either of them being moved doesn't seem high unless the Royals are truly blown away. But hey, it could possibly happen with how much of a sellers market this deadline has seemed to be. Either way, Royals fans should temper expectations and expect it to continue to be a quieter deadline with small moves, unless the Royals decide to pull off some surprises.