Analysis
Red Sox Hope Alex Verdugo Delivers Breakout Campaign in 2023
If the Boston Red Sox are going to contend this season, it is going to be reliant on Alex Verdugo playing his absolute best in right field.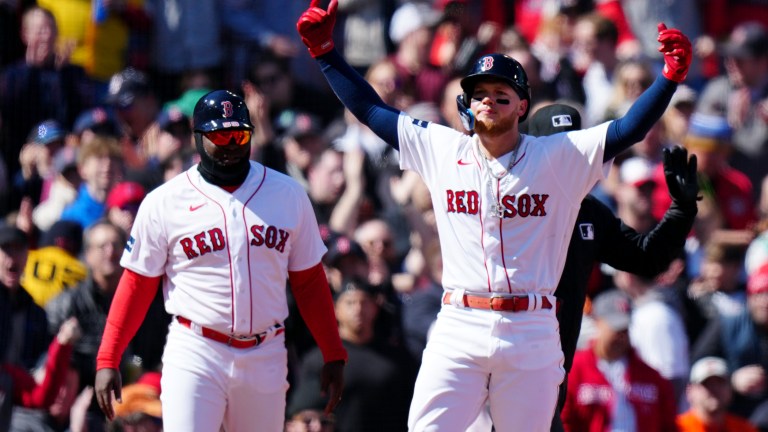 Opening Day 2023 will mark the fourth season since the Red Sox traded their homegrown, superstar right fielder, Mookie Betts, to the Dodgers. The trade immediately panned out for the Dodgers as they won 2020 World Series and have continued to be one of the best teams in baseball while the Red Sox now sit at the bottom of their division.
In return for Betts, the Red Sox acquired right fielder Alex Verdugo, infield prospect Jeter Downs and catching prospect Connor Wong. So far Wong has been unremarkable in his small MLB sample size, but his return on investment won't fully be known until he takes on a bigger role with the team.
In December, the Sox designated Downs for assignment after only 14 appearances with the team. Although fans had high hopes for Downs in the future, he was never the star piece of this trade.
Verdugo for Betts. Right fielder for right fielder. From day one, all eyes were on Alex Verdugo. He had huge shoes to fill and an intense pressure from fans to deliver.
Verdugo got off to a hot start with the Red Sox in the shortened 2020 season, batting over .300 and finishing 12th in MVP voting. But the past two seasons he's looked streaky. His offensive numbers stayed solid, but a lack of speed and awareness on the bases often overshadowed that. He made several dazzling catches in the outfield, but overall his defensive metrics declined.
At the end of the 2022 season, Alex Cora singled Verdugo out as the player needing to take the biggest leap in 2023.
In an attempt to increase power, Verdugo entered 2022 heavier than prior seasons. The extra weight bolstered his power at the plate, but negatively impacted other aspects of his game. Cora told the media the team would push Verdugo hard his offseason to improve his playing speed.
With Verdugo playing for Mexico in the World Baseball Classic, he is already in better shape to start the season.
"He can feel it now, swing-wise and he's moving well," Cora told reporters in Fort Myers. "Physically, it's a lot different than last year and he feels a lot better."
Verdugo knows this is a big season for him and came into spring training with high expectations for himself. He told John Henry, Sam Kennedy and Chaim Bloom his 2023 performance would lead to a big payday down the line.
The conversation was lighthearted and dubbed as "Dugie being Dugie," but it's clear Verdugo is highly motivated to deliver this season.
Verdugo has spent the past two seasons bouncing around the outfield, but is slated to spend most of 2023 in right field. Having a set position should help Verdugo get his defensive stats back up, and he seems confident he can handle Fenway's expansive right field.
"Right field is fun because you can turn and burn," Verdugo said. "A lot of people hold Fenway in very high regard. I'm going to pride myself on it and I want to be one of the best players to play right field in Fenway."
When looking back at the trade, there is really nothing Verdugo could do to make that deal a win for the Red Sox. He is never going to be Mookie Betts and fans shouldn't expect him too. All the Red Sox need from the 26-year-old is to be the best version of himself, they don't need him to be Betts.
Last year, Verdugo hit .304/.356/.447 across 65 games played in the second half. He improved his OPS from .678 in the first half, to .803 in the second. If Verdugo improves defensively and can hit to a similar clip, the Red Sox will feel great about him being their right fielder long-term.
Expectations for the Red Sox are low, but a breakout season for Verdugo could change that, and he seems ready to do so. On Opening Day, Verdugo led off the Red Sox season with a triple.
After the triple, Rafael Devers grounded out, driving in Verdugo for the first run of the season. The right fielder went on to go 2-for-5 and scored two runs in what was ultimately a 10-9 loss against the Orioles.
Two years away from free agency, this is a pivotal year for Alex Verdugo to establish himself if he wants to remain starting in right field for the Red Sox. Time will tell how much he can deliver.