Analysis
What If the Red Sox Kept Their 2018 Team Together?
A projected payroll and roster for a tantalizing team sure to haunt Red Sox fans.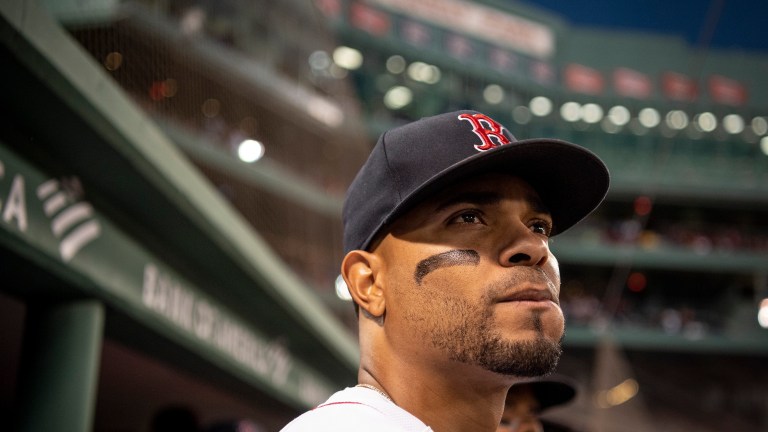 The 2018 Boston Red Sox were one of the best teams baseball has ever seen. They won 108 regular season games and beat the Dodgers in four games to one to clinch their fourth World Series in a 15-year span. They had a young offensive core that consisted of Mookie Betts and Xander Bogaerts, both 25 years old, Andrew Benintendi (23 years old), and Rafael Devers (21 years old). It was supposed to be the beginning of the next Red Sox dynasty.
Then, in shocking fashion, John Henry became what the baseball world could never imagine: a penny-pinching billionaire that has let his stars leave for a payday elsewhere. The New York Yankees are projected to have $261 million in luxury tax allocations for their 2023 team, while the Red Sox are projected to spend only have $191 million in luxury tax allocations for next season, per Spotrac.
How Did This Happen?
The demise of the Red Sox franchise is puzzling. They've won four World Series championships in the last 18 years and have, for the most part, always spent to the limit to make their fans happy and deliver a winning product on the field. When the Red Sox hired Chaim Bloom after a disappointing 2019 season in which the Red Sox missed the playoffs, everything changed.
On February 20th, 2020, Chaim Bloom executed his first move as Chief Baseball Officer. He traded the Red Sox cornerstone and future Hall of Famer, Mookie Betts, to the Los Angeles Dodgers for Alex Verdugo, Jeter Downs and Connor Wong. The return has been mostly disappointing; Verdugo is currently a league-average corner outfielder, Wong has established himself as the Sox' backup catcher, and Downs struggled mightily in Triple-A last season before being DFA'd on Thursday to make room for newly-acquired Masataka Yoshida.
The reason for a poor return is as much a fault on scouting and player development as it is a fault on negotiating properly with Betts. When it became clearer and clearer that the Red Sox weren't going to pay what Betts wanted, The Red Sox lost all leverage in trade negotiations. Mookie ended up receiving a 12-year, $365 million contract from the Dodgers, which at $29 million per year, looks like a bargain compared to the contracts given out this offseason.
A year later in 2021, The Red Sox traded Andrew Benintendi, who was coming off a down 2019 campaign and a 2020 campaign lost to injury. He had fallen out of favor with the fanbase and with two years of control left, Bloom traded him to the Royals for Franchy Cordero, Josh Winckowski, and Freddy Valdez.
With Xander Bogaerts departing via free agency to the San Diego Padres on an 11-year, $280 million deal last week, that leaves Rafael Devers as the only remaining member of the "core four" mentioned above, and even his future with the Red Sox hangs in the balance. The Red Sox failure in the Xander Bogaerts sweepstakes is not that they decided against giving him an 11-year, $280 million contract; it's that they once again botched the early contract extension negotiations.
It's been reported that Bogaerts was eyeing a contract extension in line with what Story and Altuve were paid. The Red Sox reportedly countered with a 4 year, $90 million offer that Bogaerts and agent Scott Boras obviously balked at.
It's a comedy of errors for John Henry and Co., and it's been made no better by the signing of Trevor Story last offseason. Tell me why the Red Sox would sign Trevor Story to a six year, $140 million deal if they weren't going to also re-sign Bogaerts for a similar contract before the 2022 season? If the Red Sox are going to become "cheap" by their standards, the Story signing makes even less sense.
Chaim Bloom has made questionable decisions, but whether you believe he is a good or bad baseball executive is besides the point. John Henry and Fenway Sports Group have let Red Sox fans down by not investing in their homegrown star players again and again. It's becoming increasingly hard to decipher their so-called plan for the future that involves "playing baseball in October and winning world series championships." And that's not to mention that re-signing Devers is a taller task without other supporting stars like Betts and Bogaerts on the roster.
The Cost of Keeping the 2018 Red Sox Roster
If the last section was depressing for Red Sox fans, it's about to get a lot worse. I set out on a mission to construct the Red Sox roster in current day if they had decided to keep the 2018 core together and see how much it would actually cost to build a winning roster. Spoiler alert: the payroll implications are about the same as the Yankees $248 million projected payroll in 2023.
This analysis is certainly not perfect and assumes a good amount, but my hope is that is gives a good idea of what it would take for the Red Sox to win at all costs, especially considering the Red Sox spent $239,193,487 on their entire roster in 2018.
The 2023 Lineup and Rotation
Let's first breakdown the 2023 lineup if the 2018 core stays together and other players are added via free agency.
This assumes the following things happen:
Mookie Betts stays with the Red Sox on a 12 year, $365 million deal
Xander Bogaerts stays on an 11 year, $280 million deal
Rafael Devers signs a 10 year, $350 million extension
Andrew Benintendi signs for 3 years, $45 million
J.D. Martinez re-signs for 2 years, $24 million
Trevor Story signs for 6 years, $140 mil
Kiké Hernandez signs for 2 years, $20 mil

The Red Sox pay their homegrown stars what they deserve and are still able to afford complimentary players from free agency in Trevor Story and Kiké Hernandez. This is what the biggest market teams are doing and guess what, the Boston Red Sox are a big market franchise, so they should act like one.
Let's start with what the 2023 lineup would have looked like with the above signings. Each player's projected fWAR for 2023 from Steamer is provided as well to get a gauge on this lineup's total value.
2023 Projected Lineup
Mookie Betts – RF – 5.9 WAR
Rafael Devers – 3B – 4.8 WAR
Xander Bogaerts – SS – 4.5 WAR
JD Martinez – DH – 0.8 WAR
Triston Casas – 1B – 1.9 WAR
Trevor Story – 2B – 2.9 WAR
Andrew Benintendi – LF – 2.3 WAR
Christian Vazquez – C – 1.8 WAR
Kiké Hernandez – CF – 1.8 WAR
Would this lineup be expensive? Yes. It cost the Red Sox $161.8 million, but it would also be one of the best offenses in baseball with a projected fWAR total near 30 when accounting for bench players as well. For reference, only five lineups had an offensive fWAR greater than 30 last season, so the Sox lineup above could have been lethal. As the saying goes, you get what you pay for.
Now this leads us to outlining the 2023 pitching staff if the Red Sox had kept the core around and added Kodai Senga via free agency. The Red Sox were reportedly active in their talks with Senga, but it's likely Senga wanted to play for a contender and the Red Sox of reality couldn't give him that opportunity. At an annual average value of $15 million, Senga could be a steal after posting a 1.89 ERA in Japan last year.
The below rotation would cost the Red Sox $70 million in 2023, which for five quality arms is pretty affordable. That would bring the total Red Sox payroll to $231 million before additions to the bullpen. Again, that's expensive, but on par with what the other big market teams are spending to contend.
2023 Projected Rotation
SP1 – Chris Sale – 3.0 WAR
SP2 – Nathan Eovaldi – 2.4 WAR
SP3 – Kodai Senga – N/A
SP4 – Brayan Bello – 2.1 WAR
SP5 – Nick Pivetta – 1.5 WAR
Will the rotation above be one of the best in baseball? Probably not. Will it give the potent offense the Red Sox put together a chance to win every game they're in? Probably, and that's without even mentioning how strong the bullpen will be.
2023 Red Sox Bullpen
RP1 – Kenley Jansen ($16 million)
RP2 – Garrett Whitlock
RP3 – John Schreiber
RP4 – Chris Martin ($8.75 million)
RP5 – Tanner Houck
RP6 – Joely Rodriguez ($2 million)
RP7 – Matt Barnes ($9.375 million)
Kenley Jansen steps in as the Red Sox closer the Red Sox have needed and instead of forcing Tanner Houck and Garrett Whitlock into a starter role, they would be placed into a multi-inning high-leverage relief role that is more suitable to their strengths. If this Red Sox team had a lead in the sixth, it would be hard to imagine them losing many of those games.
Final Payroll Cost of Keeping the Core Together
The final total payroll cost of this entire roster comes to about $270 million, but with the recent news of $50 million of Chris Sale's contract being deferred to 2035-2039, I am going to knock off $10 million from the final number to bring the total luxury tax payroll to $260 million. To field one of the best teams in baseball and keep all of their stars, the Red Sox would still be spending less than the New York Yankees.
As one of the biggest markets in baseball with ever increasing profits due to large TV contracts, the Red Sox have a duty to their fans to field a winning team no matter the cost.