Analysis
Was the Boston Red Sox's Alex Verdugo an All-Star Snub?
Alex Verdugo is having a terrific season for the Boston Red Sox, but did he deserve to be an AL All-Star selection?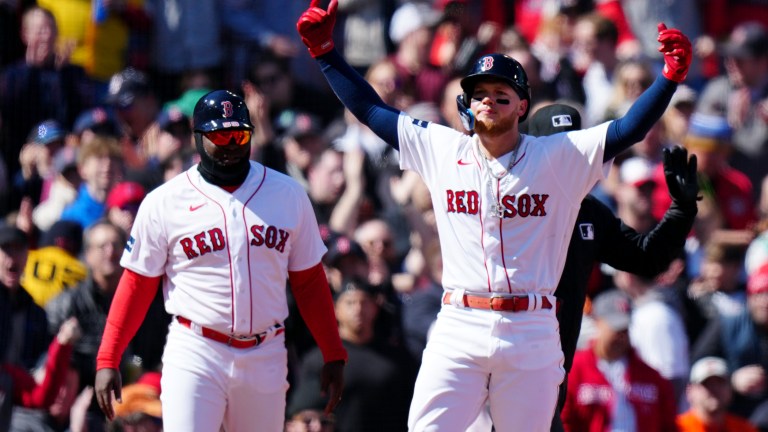 The 2023 MLB All-Stars were announced this week, and one of the names sparking the most discussion wasn't even on the list: Alex Verdugo.
While the Red Sox's season has been a roller coaster of ups and downs, Verdugo has stayed consistent. He's having the best year of his career, yet he was passed over to be a starter, a reserve, or an injury replacement.
After selections were announced, Julian McWilliams of The Boston Globe asked Verdugo if he felt snubbed.
"Yeah," Verdugo said. "I mean, but it's not even just in my regards. I just feel like it's a fan popularity contest. And, like, the person who went in shouldn't be there."
Verdugo didn't reveal which player he was talking about, but it was likely Julio Rodríguez, who was named as an injury replacement on Tuesday. There has been some speculation that the reigning AL Rookie of the Year's popularity in the All-Star Game host city (Seattle) played a bigger part in his selection than his actual numbers this season.
Rodriguez is batting .251 with a .730 OPS. Meanwhile, Verdugo is hitting .284 with a .802 OPS. On top of that, Verdugo ranks top three in the American League in defensive runs saved (11) and outfield assists (7).
Entering the Red Sox game on Wednesday, Verdugo's 26 doubles ranked third in the majors. He was also top ten in the AL in hits (T-5th, 91), average (9th), runs (T-10th, 53) and extra-base hits (T-9th, 36).
"I just want to play ball," Verdugo said. "I want to play ball and help the team win and some people are more active in certain things that get them more attention. But I want to play ball and be recognized for what I do on the field."
Verdugo's frustrations are certainly justified. By almost any metric, he has been one of the top outfielders in the game this season. But the reality of the MLB's selection process is that not every player that deserves to be an All-Star will get to be. Verdugo is not the first player to be burned in this process and certainly won't be the last.