Analysis
Michael Harris II is Struggling to Find His Rookie of the Year Form
Michael Harris II has been mired in a sophomore slump to open the 2023 season. Is it just a slow start or should we be concerned?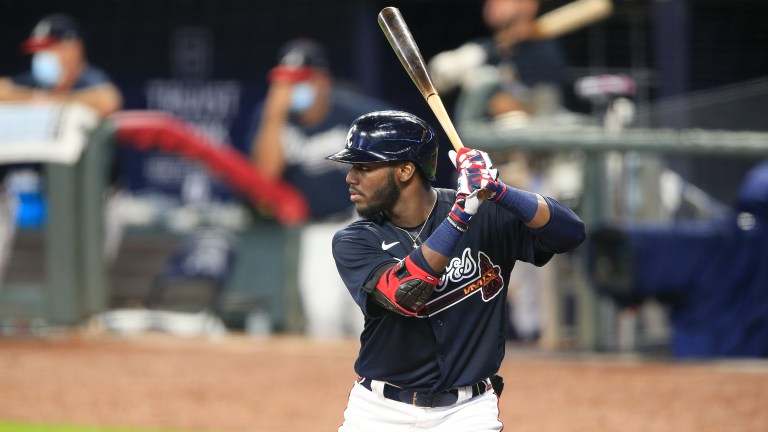 Coming off of an NL Rookie of the Year award and a near five-win season in just 113 games, Michael Harris II was poised to be a centerpiece in the Atlanta Braves' young core for years to come.
But so far in 2023, he hasn't been able to find the same level of success.
A sophomore slump is certainly nothing new, but Harris II has looked like a totally different player to begin the season.
After putting together a slashline of .297/.339/.514 in 2022, Atlanta's centerfielder is following that up with a .177/.259/.281 through 30 games in 2023.
Of course, he did go on the IL about a week into the season with a lower-back strain, but he hasn't shown much in the way of improvement since returning at the end of April.
A two-run home run against the Philadelphia Phillies on Friday night may be a sign that the 22-year-old could be primed for a breakout relatively soon, but his other results as of late haven't been all that promising.
Let's dive into the numbers and see what has been going differently for Harris II this year.
What went well for Harris II in 2022?
If you look at Harris II's expected stats vs. actual results in 2022, you'll see that he slightly overperformed how his quality of contact suggested he would fare.
| | | | |
| --- | --- | --- | --- |
| 2022 Stats | Batting Average | Slugging | wOBA |
| Real | .297 | .514 | .368 |
| Expected | .268 | .460 | .335 |
That performance combined with one of the best home run per flyball rates in MLB (22.9%) — similar to the totals of players like Mike Trout and Austin Riley.
Harris II also finished the season with the fourth-highest BABIP (.360) of all hitters to record 400 or more plate appearances.
So while, yes, there was some luck involved in his rookie campaign, the DeKalb, GA native still looked like a potential five-tool player, nearly going 20-20 in an abbreviated season.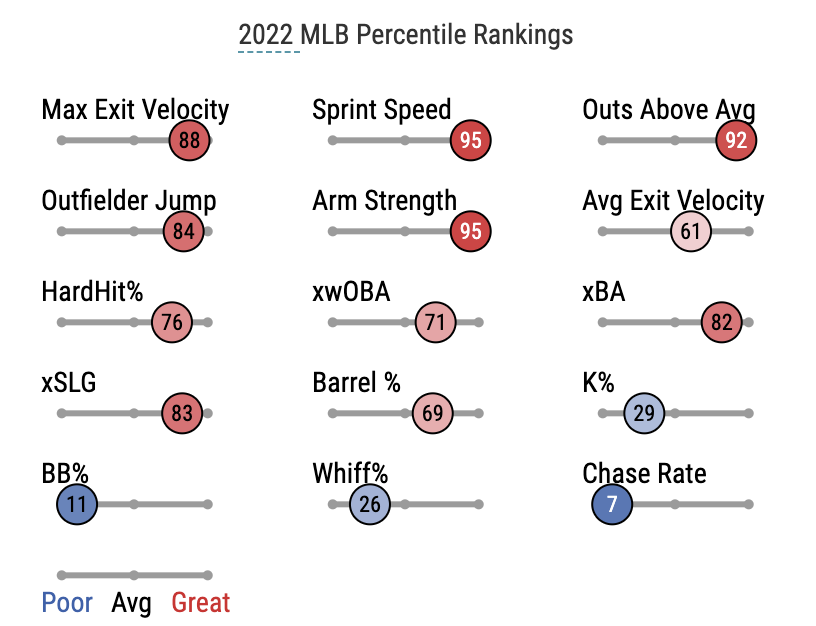 Another reason for his early success was his performance against right-handed pitchers, slashing .323./.363/.580 with a 161 wRC+ in 306 plate appearances against them. He also struck out nearly nine percent less against righties than he did against southpaws.
As you may expect, a lot of this has changed in 2023. I'll get into that in the next section, but one of his biggest dropoffs has been in the damage he does against fastballs.
In 2022, Atlanta's third-round pick in 2019 hit .342 and slugged .632 against heaters, good for a +15.8 run value — with 30 of his 49 extra-base hits coming on fastballs.
What's changed in 2023?
If you're looking for some positive signs that Harris II might be able to flip the switch with some improved health and better luck, his raw tools suggest that not much has changed.
His average and max exit velocities are nearly identical to the numbers he posted a year ago, his hard hit rate has gone up slightly, and he still ranks among MLB's best defenders and runners.
He's also chased less in 2023. After swinging at pitches outside of the zone 41% of the time in 2022, he's improved that number to 37.9% this season — still not a great number, but a tangible improvement.
He's also walking more and striking out less, so what's up with the poor results?
Insert sample size disclaimer here. Harris II likely needs a lot more at-bats to remove any noise from his season, but his batted ball directions have changed significantly to this point.
His line drive percentage has dropped, and he is hitting 7.6% more flyballs and 3.6% more infield flyballs. As you may recall from earlier, Harris II was one of the best hitters at turning his flyballs into home runs in 2022 — well, that hasn't been the case this season.
His 22.9% home run to flyball rate has dropped to 8.0%. This may have to do with the angle that he's hitting the ball. He's decreased the number of balls he's barreling, showing that he hasn't been able to apply his increased hard-hit rate to the balls he's hitting in the air.
We already touched on how Harris II excelled against fastballs and right-handed pitching in 2022, but both of those have been weaknesses this year.
Harris II is actually hitting worse against righties this year, as you can see in the table below.
| | | | | | | | | |
| --- | --- | --- | --- | --- | --- | --- | --- | --- |
| 2023 Splits | Batting Average | OBP | SLG | wOBA | BB% | K% | HardHit% | wRC+ |
| Vs. Righties | .156 | .257 | .234 | .230 | 10.8 | 27.0 | 31.1 | 38 |
| Vs. Lefties | .219 | .265 | .375 | .280 | 2.9 | 14.7 | 37.0 | 70 |
He's walking more in those matchups, so perhaps he's trying to be more patient and not chase as much.
This could also be an explanation as to why he's not faring as well against fastballs. If he is trying to see pitches a bit longer, he might be late reacting to fastballs in the zone, preventing him from getting extended and driving those pitches for extra bases.
The lefty hitter is batting just .143 and slugging .190 against heaters while seeing them 54.4% of the time. After putting together that +15.8 run value last season, he's already at -6.3 in 2023 and is swinging and missing on 30.1% of the fastballs he sees.
To further hammer home his struggles, his two home runs this year have come off non-fastballs.
While there are certainly some red flags in his performance worth keeping an eye on going forward, with all of his raw numbers suggesting that he is still the same player he was a year ago, Harris II may be a breakout candidate as he gets more settled into the batter's box this season.
All stats courtesy FanGraphs, from before play on May 28.