Analysis
Power Ranking Who Has the Best Playoff Rotation in the AL
With so many great teams, the American League playoffs will be a gauntlet this year. Who among them has the best playoff starting rotation?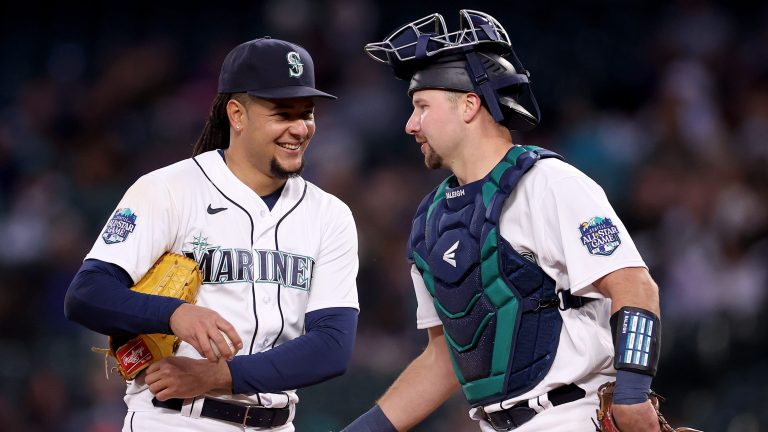 There is a lot of truth to the old maxim that pitching wins in October, and with the playoffs fast-approaching, it is time to dive in and rank the starting rotations of the contenders from the American League.
For the purposes of this exercise, contenders are defined as the top seven teams in the AL according to Fangraphs playoff percentage. I will be looking at both how the staff has performed over the course of the season, the strength of their top couple of starters, any injury concerns, and any potential "X-Factors" that could help them in the postseason.
No. 1 Minnesota Twins
Starting Rotation: Sony Gray, Pablo Lopez, Joe Ryan, Kenta Maeda, Baily Ober
The Minnesota Twins have quietly assembled one of the best rotations in baseball, and have ridden that rotation to an all-but-clinched American League Central division title.
The Twins starters have amassed the most WAR of any American League rotation, and are second in FIP and xFIP. The Twins also boast the second-best K/9 in the league and the second best HR/FB percentage amongst contenders.
Sonny Gray has anchored the rotation at the top, posting a 2.85 ERA on the season and pitched his way into early Cy Young consideration. Pablo Lopez would likely start game two, and he has been just as dominant as Gray, landing in the top 10% of the league in both xWOBA and xERA.
Joe Ryan, the Twins game three starter,  has continued to progress as one of the game's future aces, as he ranks in the 92nd percentile in both chase rate and walk percentage, a combination that indicates an incredible command of the strike zone and high-level tunneling. Kenta Maeda has been solid, and Bailey Ober has been phenomenal during his breakout campaign; both would be very solid options should the Twins need a fourth starter down the stretch.
No. 2 Seattle Mariners
Starting Rotation: Luis Castillo, George Kirby, Logan Gilbert, Bryce Miller, Bryan Woo
When making this list, the Seattle Mariners very nearly took the top spot. Luis Castillo was a bona fide ace last year, and despite a slow start has found himself back in his 2022 form as the Mariners playoff push has intensified in the second half.
Given his experience, and the fact that he leads the team in ERA, the Mariners would likely go to Castillo in game one. Additionally, Castillo's expected statistics indicate that his upward trend will continue, and that he truly has turned the corner and solidified himself atop the rotation.
The team also has unmatched depth and youth in their rotation with Logan Gilbert and George Kirby as two of the most exciting young pitchers in the league, and the team's projected game two and game three starters. Gilbert and Kirby boast elite command, as they sit in the top 2% and top 1% in walk percentage, respectively.
Bryan Woo and Bryce Miller are both more than serviceable fourth starters, and have shown flashes of dominance in their rookie years. As a unit, the Mariners' starters are second in ERA in the American League, and have the talent to go toe-to-toe with any rotation in the AL.
No. 3 Toronto Blue Jays
Starting Rotation: Kevin Gausman, Chris Bassitt, Jose Berrios,Yusei Kikuchi, Hyun-jin Ryu
While there is a chance that the Toronto Blue Jays do not make the playoffs, they will have one of the best rotations in the tournament if they do find their way to the postseason. They lead the American League in ERA, and have four true workhorses atop their rotation.
Kevin Gausman, Chris Bassitt, Jose Berrios, and Yusei Kikuchi all have sub-four ERAs. Gausman, who would be the game one starter, has posted an incredible 11.62 K/9 and a HR/9 under one. Chris Bassitt, who would likely start game two, has been elite at inducing weak contact as he ranks in the 79th percentile in average exit velocity. Berrios, who has had a bounce-back 2023, is in the 70th percentile or better in chase rate, walk percentage, average exit velocity, and hard hit percentage; a true luxury to have as a third starter.
Kikuchi would likely be the Jays' fourth starter, and with four pitches that measure well above league average, he is a pitcher that the team would have confidence in taking the ball in a pivotal postseason game. Not to mention, Hyun-jin Ryu has pitched remarkably well in his first nine starts coming off Tommy John surgery, as he has posted a 2.62 ERA, giving Toronto yet another option.
No. 4 Tampa Bay Rays
Starting Rotation: Tyler Glasnow, Zac Eflin, Aaron Civale, Zac Littell, Taj Bradley
The Tampa Bay Rays have long been synonymous with pitching, and this year is no exception. Rays starters lead the American League in FIP with a 3.61 and xFIP with a 3.55. They are also tops in the American League in ERA with an impressive 3.81.
Another key factor in the playoffs is avoiding the "big blow," and Tampa's starting rotation leads the league in ground ball percentage; they have limited the big hit all season. That said, Shane McLannahan contributed significantly to these numbers, and because he will be missing from the rotation, this group falls off from where they could have been at their best.
While Tyler Glasnow and Aaron Civale's surface-level numbers have been good this year, their "expected" statistics indicate that they are both due for a regression. The Rays would then likely need to turn to Zach Eflin and Zack Littell as their third and fourth starters, and they simply do not match up with the teams ahead of them on this list.
No. 5 Houston Astros
Starting Rotation: Justin Verlander, Framber Valdez, Cristian Javier, Hunter Brown, J.P. France
It may seem crazy to have the Astros ranked fifth on this list given their rotation is led by the two-headed monsters of Justin Verlander and Framber Valdez. While these two are on par with any top-two starters in the American League, the Astros lack the depth of some of the above rotations.
Christian Javier and Hunter Brown, who would likely be Houston's third and fourth starters, have posted underwhelming seasons with ERAs over 4.5. Houston's starters as a unit are middle of the pack in terms of ERA, FIP, xFIP, and K/9.​​
That being said, it should come as no surprise if the Astros make a run, and their pitching plays a large part. Their starters are workhorses, leading the American League in innings pitched, and all know what it takes to get to and win the World Series, and there is no question that the rotation heading into the playoffs is better than the regular season numbers would suggest given that Verlander was a trade deadline acquisition, and they dealt with injuries along the way.
No. 6 Texas Rangers
Starting Rotation: Nathan Eovaldi, Jordan Montgomery, Jon Gray, Dan Dunning, Andrew Heaney
The Texas Rangers have been absolutely snake-bitten this season; if everyone in their rotation was healthy, they would have been far-and-away the top team on this list with DeGrom, Scherzer, and Eovaldi likely leading Texas to the ALCS and beyond.
Unfortunately, injuries are a part of the game, and the Rangers rotation, like that of Houston, finds itself in the middle of the American League in most major statistical categories.
Nathan Eovaldi is a true playoff ace, and a large part of Texas's success will hinge upon Eovaldi continuing to progress now that he is back off the IL and that he will be able to take the ball at 100% in game one. Jordan Montgomery has been good since getting traded to Texas, and would likely fall into the second spot in the playoff rotation.
Dane Dunning, Jon Gray, and Andrew Heaney have all shown flashes of dominance and turned in quality starts throughout the season. Yet none of them have posted numbers that would inspire confidence in a pivotal playoff game. That is not to say that they are incapable of winning in the playoffs, but the lack of consistency and playoff experience amongst the Ranger's starters after Eovaldi lands them at sixth on this list.
No. 7 Baltimore Orioles
Starting Rotation: Kyle Bradish, Jack Flaherty, Grayson Rodriguez, Tyler Wells, Dean Kramer, John Means, Kyle Gibson
Despite having the best record in the American League, the Baltimore Orioles have the weakest rotation of the American League contenders, as the rank last in ERA, FIP, xFIP, K/9 and HR/FB percentage. They lack a proven ace, and have relied more heavily on their bullpen than any other contender.
Kyle Bradish would likely take the ball in game one for the Orioles, followed by trade deadline acquisition Jack Flaherty, rookie Grayson Rodriguez, and Tyler Wells. Bradish has posted an impressive 3.12 ERA, but his FIP suggests that that number should be about a half a run higher.
While he is a solid starter, he does not match up with the other game one starters from the American league contenders. Flaherty, although his numbers on the season have not been good, has thrown the ball much better since his trade to Baltimore, and his 4.07 xFIP suggests he could be a solid second starter for Baltimore.
The highly-touted rookie Grayson Rodriguez has had his fair share of ups and downs this season, but if he pitches up to his potential these playoffs he could be an x-factor for the Orioles.
Beyond that, Tyler Wells is the only starter with an ERA under four, but his underlying numbers suggest there has been a significant amount of luck involved. Still, for the Orioles rotation to go blow-for-blow with the other playoff teams in the American League they would need to put together their most dominant stretch of the season in October.