Analysis
Early World Series Odds Break MLB Teams Into Clear Tiers
With most of the top players already signed in free agency, it is time to look at the World Series odds to see which teams are the early favorite.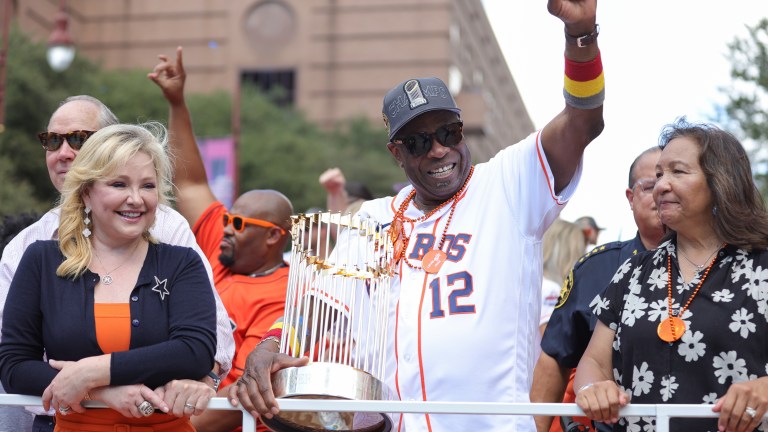 The MLB offseason is winding down as we are getting closer and closer to pitchers and catchers reporting to start another full baseball season.
We have seen some big moves made across the board this offseason, as playoff teams tooled up their rosters to make another series push at a title in 2023. Here are the early World Series odds with a little more than a month left this offseason, followed by the tiers each team could belong too.
All odds are pulled from Fan Duel Sportsbook at Vegasinsider.com.
MLB World Series Odds
Houston Astros, New York Yankees, New York Mets: +650
Los Angeles Dodgers: +750
San Diego Padres, Atlanta Braves: +1000
Philadelphia Phillies: +1400
Toronto Blue Jays: +1500
Seattle Mariners: +1600
St. Louis Cardinals, Chicago White Sox, Tampa Bay Rays, Cleveland Guardians: +2500
Milwaukee Brewers, Los Angeles Angels: +4000
Texas Rangers, San Francisco Giants: +5000
Baltimore Orioles, Minnesota Twins: +6000
Boston Red Sox, Chicago Cubs: +8000
Miami Marlins: +10000
Arizona Diamondbacks, Detroit Tigers: +12000
Kansas City Royals: +15000
Colorado Rockies, Pittsburgh Pirates: +20000
Cincinnati Reds: +25000
Washington Nationals: +50000
Oakland Athletics: +100000
Top Tier World Series Contenders
There are four teams in Major League Baseball who are currently getting odds less than +1000 to win the World Series. On paper, these are the best teams in baseball who are expected to make their way through the gauntlet of the regular season to become formidable playoff foes.
In the American League, there is no surprise in the top two teams. We have the reigning World Series champion Houston Astros and the team they met in the American League Championship Series, the New York Yankees.
For the Astros, they are largely bringing back the same team. Jose Abreu represents their biggest addition, replacing Yuli Gurriel at first base with a former MVP, who is coming off a season where he posted a 138 wRC+. Along with Abreu, the Astros re-signed Michael Brantley, giving their offense another potent left-handed bat.
When it comes to the pitching side, the Astros did lose reigning AL Cy Young Justin Verlander, but still feature a deep starting rotation that can absorb the loss, particularly if Hunter Brown establishes himself in 2023.
The New York Yankees meanwhile took an already strong rotation and made it that much better by adding Carlos Rodon to the mix. With Aaron Judge returning and the addition of Rodon, the Yankees are looking like the favorites to make it out of a very competitive AL East.
On the National League side, the New York Mets join the Astros and Yankees with the top odds, thanks to Steve Cohen's immense offseason spending spree. The Mets are one team to avoid betting right now, as the odds are reflecting as if Carlos Correa is their starting third baseman, but once that becomes finalized, you can understand why they are tied for the best odds in baseball.
Lastly, the Los Angeles Dodgers are sitting at +750, just a tick behind the Astros, Yankees and Mets. This is likely due to them seemingly taking a step back this offseason, but with enough talent on the farm to fill their gaps, the Dodgers are sure to be the favorites in the NL West yet again.
A Tier Below the Top
There is a list of five teams that sit with odds between +1000 and +2000 right now, who all are expected to be playoff teams this season.
The Atlanta Braves and San Diego Padres are the best of this particular bunch. Sitting at +1000, the Braves and Padres are the clear 1B to the 1A in their respective divisions of the Mets and Dodgers.
Last year, the Braves edged out the Mets to win the NL East by taking the season series, as the two teams finished with an identical 101-61 record. Atlanta returns a very similar team, although upgraded behind the dish by trading for and extending All-Star Sean Murphy.
The Padres on the other hand, made a big splash in free agency, signing Xander Bogaerts to become their new starting shortstop. With Juan Soto, Manny Machado, Bogaerts and Fernando Tatis Jr. coming off suspension, few teams in baseball have more star power than the Padres.
One team we have yet to mention was just in the World Series, yet finds themselves third in World Series odds in their own division. Thus is life for the Philadelphia Phillies right now, as even the signing of Trea Turner isn't enough to catapult them ahead of the two teams who finished 14 games better than them during the 2022 regular season.
Last we have the Toronto Blue Jays and Seattle Mariners, two young teams who have arrived and are ready to win now. The Blue Jays made some really solid moves to reshuffle their roster, picking up Dalton Varsho in a blockbuster trade, while signing veterans Kevin Kiermaier and Chris Bassitt to fill needs in center field and in their starting rotation.
The Mariners made a few big trades to make their lineup fit better, acquiring slugger Teoscar Hernandez to bolster the offense and Kolten Wong to fortify their infield defense.
Likely Playoff Teams at +2500
There are four teams who share the same World Series odds currently at +2500. These are teams who are expected to make the playoffs, but have rosters that could go the other way if just a few things don't pan out in their favor.
With the Minnesota Twins likely to take a step back without Carlos Correa, the Chicago White Sox and Cleveland Guardians stand to be the favorites to make it out of the AL Central. The White Sox need to put last year behind them and get back to being the team they were in 2021.
Meanwhile the Guardians can look to build off last year and added a nice middle of the order bat to compliment things with the signing of Josh Bell.
The last teams sitting at +2500 are two of the best-run franchises in baseball in the Tampa Bay Rays and St. Louis Cardinals. Even if their rosters don't always look top tier heading into any given season, these are franchises that simply know how to win.
If Everything Breaks Right Contenders
Our next tier consists of six teams who need everything to go their way to become true contenders this season. We will start with one of the biggest winners in free agency, the Texas Rangers.
If Jacob deGrom, Andrew Heaney and Nathan Eovaldi are all healthy and pitching up to their standard, the Rangers could have the best rotation in baseball. There are massive if's that come with that and the lineup is still a bat or two away, but Texas could be a real player this season.
Speaking of pitching, the Milwaukee Brewers still have plenty of it and are real contenders to beat the Cardinals to take the NL Central. The additions of William Contreras and Jesse Winker could prove to be vital for their offense this season.
Next up, the Los Angeles Angels once again look like a scary team if they can just build a halfway competent roster around Shohei Ohtani and Mike Trout. The addition of solid veterans like Tyler Anderson and Brandon Drury should go a long way in doing that.
Lastly we have the San Francisco Giants, the Minnesota Twins and the Baltimore Orioles.
For the Giants, we would be betting on franchise pedigree and that their veteran additions of Michael Conforto, Mitch Haniger, Sean Manaea and Ross Stripling will put them in position to be a Wild Card team. In Minnesota, it would a similar bet of hoping their roster finds it in them to either compete in a bad AL Central, or has a path to a Wild Card.
The Orioles contrarily look to be at the beginning of a long window towards contention. With a roster full of great young talent like catcher Adley Rutschman and top prospects Gunnar Hernandez and Grayson Rodriguez.
Stuck in the Middle
The Boston Red Sox and Chicago Cubs are two of the more premier franchises in baseball, who are stuck in a mediocrity right now.
Things are at least looking up in that the Red Sox have signed Rafael Devers to a long-term extension and the Cubs have their new face with Dansby Swanson, but these teams are still years away from serious contention.
If everything clicks for these teams, a Wild Card isn't out of the question, but both rosters lack the depth to become true World Series contenders.
Would Take a Miracle
We are now left with nine teams who are more than longshots to win the World Series in 2023.
The only reason to even consider any of these teams is because the MLB playoffs is an absolute crapshoot. If you find your way into the dance, chances are you have a shot, but still not a great one.
The Miami Marlins are an interesting team from this group because of their pitching, meanwhile the Diamondbacks look like a sneaky lineup on paper offensively. Other than those teams, it's hard to buy much stock in any of the following teams: Royals, Tigers, Rockies, Pirates, Reds, Nationals, Athletics.