Analysis
Three Starting Rotations I'm Worried About in 2023
These teams should compete in 2023, but they must address their starting rotations to go from playoff contenders to World Series contenders.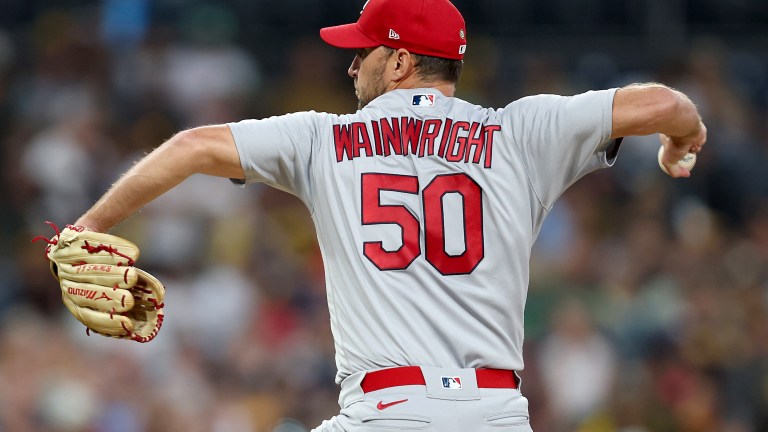 I'm worried about the Washington Nationals rotation. That's not the point here.
I'll evaluate the top three rotations among playoff contenders that can bite them in the rear over a 162-game schedule. In my opinion, starting pitching is the most essential unit for any ball club.
We've seen this year over year. In 2022, eight of the top ten rotations in fWAR made the playoffs. In 2021, seven of the top ten rotations made the playoffs. The Astros and Phillies finished first and second in fWAR among starting rotations and met in the 2022 World Series. The Washington Nationals led in fWAR among starters in 2019 and went on to win the World Series.
These three teams should compete but must address their starting rotations to go from playoff contenders to World Series contenders.
You'll see each team listed with their projected 2023 rotation, according to FanGraphs.
1. St. Louis Cardinals
2023 Projected Rotation:
Adam Wainwright
Miles Mikolas
Jordan Montgomery
Jack Flaherty
Steven Matz
Let's not get it twisted, this Cardinals rotation has potential. The issue is health with several of their projected starters. Before we even talk about Miles Mikolas' or Adam Wainwright's ages, what will we get from Jack Flaherty or Steven Matz?
Jack Flaherty has thrown over 160 innings just once in his five-year career. In his last two seasons, he's tallied 114 innings. In those two seasons, his underlying metrics are alarming — a 4.92 xERA since 2021. He's walking more hitters while striking out fewer. That's not a good recipe for success.
Steven Matz signed a four-year deal last winter, and in his first season with the team, he threw 48 innings. This wasn't a fluke occurrence for Matz; he's only reached the 160-inning plateau once since his debut in 2015. His underlying metrics were much better than his 5.25 ERA, but his health is still a significant concern.
I will not be added to the list of Adam Wainwright, doubters, but… he will turn 42 in August. I fully expect him to pitch relatively well, but we shouldn't expect an ace-level performance this season. Mikolas can be relied on, but it should be noted he will turn 35 in August. Jordan Montgomery is as solid as they come, but he's no spring chicken either at 30 years old.
Behind these five is a rag-tag bunch. Matthew Liberatore has flashed potential, but he put up a 5.97 ERA last season. Dakota Hudson was one of the worst-qualified starters in 2022. Jake Woodford was solid out of the bullpen, but he's only made ten total starts in his three MLB seasons.
If one of the big three goes down, this team could be in a massive hole.
2. San Diego Padres
2023 Projected Rotation:
Yu Darvish
Blake Snell
Joe Musgrove
Nick Martinez
Seth Lugo
The Padres are a dangerous playoff team. Depth isn't as crucial in a short series, and they have as good of a top three as any in baseball. However, depth is essential over a 162-game schedule. I know Padres fans are well aware of the years when Jake Arrieta and Vince Velasquez were brought in for spot starts. Could that be the case again this year?
I'm not concerned about the top three, but the bottom two are worrisome. Both Martinez and Lugo are good pitchers, but they are relief pitchers. Last season, Nick Martinez was an excellent reliever for the Padres, putting up a 2.60 ERA. As a starter, that ERA was well above four, and San Diego felt Sean Manaea was a better option at the time. Without Clevinger and Manaea, they are transitioning Martinez back to the rotation.
He could be a fine starter, but you're losing him in the bullpen, and it's no guarantee he can handle a full-season workload. The last time we saw Martinez as a full-time starter was in 2017 with the Rangers, where he posted a 5.66 ERA. He's improved since then, but as the fourth starter, I have my concerns.
Seth Lugo told teams he should be viewed as a starter, and he will be one in this 2023 Padres rotation. He hasn't made a start since 2020, and his last season as a starter was in 2017, when he made 18 starts. Over those 18 starts, he put up a 4.71 ERA with a 4.61 xERA. A 33-year-old Lugo could surprise us with an excellent season, but history would say he finds his way back to the bullpen by the middle of the season.
Beyond these two is a combination of Julio Teheran, Ryan Weather, Jay Groome, and Adrian Morejon. Teheran threw five innings in 2021 and zero in 2022. Weathers put up an ERA over six in Triple-A last year. Groome has yet to debut, and Morejon hasn't made an MLB start since 2021. Depth in the regular season is significant. If one of the big three goes down, this team could be in trouble.
Baltimore Orioles
2023 Projected Rotation:
Kyle Gibson
Dean Kramer
Kyle Bradish
Tyler Wells
Grayson Rodriguez
The Oriole rotation is entirely different than the two listed above them. They have depth, but they don't have one arm that could be considered an ace or even a solid number-two starter.
In their division, the number-two starters for their fellow contenders are Carlos Rodón, Kevin Gausman, and Tyler Glasnow. The Orioles' best pitcher isn't close to the level of those three in terms of past production or according to any projection system.
Grayson Rodriguez hasn't made an MLB start yet, but he is the one who could rival those other names. He is Just Baseball's number one pitching prospect and is projected to be an ace in the league one day. Rodriguez should flash that potential in year one, but we can't bank on him maintaining it over an entire season. He only threw 75 innings last year after a lat strain ended his 2022 campaign prematurely.
The Orioles rotation ranks 28th in FanGraphs' projected WAR. At the beginning of this article, I said I was worried about the Nationals, who rank one spot ahead of the Orioles.
Kyle Gibson should be an innings-eater, but he did post a 5.05 ERA in 2022. His underlying metrics point to positive regression, but he's not someone a contender can rely on to lead their rotation. Pitchers like Dean Kramer, Tyler Wells, and Kyle Bradish have all shown flashes of skill, but they're all projected to have ERAs over 4.00 next year.
The Orioles do have depth. DL Hall has fantastic stuff, but he's still young and hasn't shown any semblance of command. If he can throw strikes, the sky is the limit. John Means has been a solid arm for a while now, but he won't be back for the start of the season after recovering from Tommy John surgery. Austin Voth had a 3.04 ERA when he came to Baltimore, but he doesn't have a track record to rely on. Bruce Zimmerman came out on fire in April, then slid back down to earth and posted a 5.99 ERA on the season.
Baltimore has plenty of viable arms but doesn't have the firepower most contenders have. The Orioles said they would escalate their payroll in 2023, yet they failed to do so. It's disappointing, as the lineup is ready for lift-off.