Rankings
Power Ranking the Best Relievers From Every Contending Team
From Devin Williams to Andrés Muñoz, these 16 relievers will play critical roles down the stretch and into October.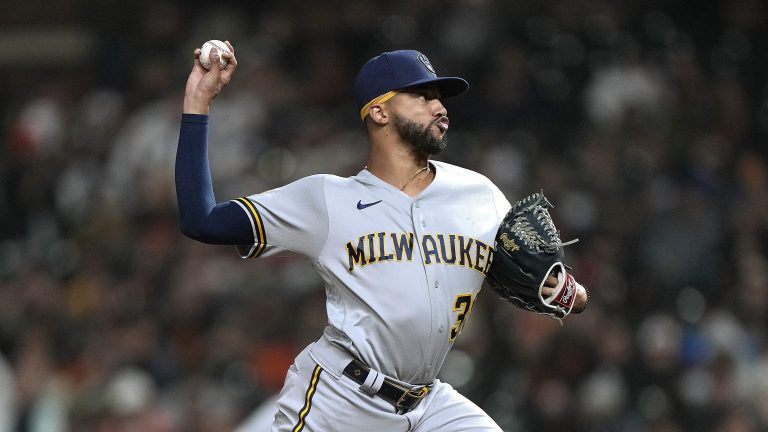 The playoffs are a reliever's time to shine.
During the regular season, even the best, most durable relievers will only appear in 45% of their team's games. They will only pitch about 5% of their team's total innings. But in October, they have the chance to play a much bigger role.
With higher stakes, more rest between games, and the end of the calendar in sight, managers can push their relievers harder in the playoffs. A shutdown closer can make the difference between a World Series title and an early exit.
This year, several of the top relievers in the game are already out of the postseason picture: Emmanuel Clase, Josh Hader, and David Bednar. Meanwhile, the very best reliever in baseball, Félix Bautista, is watching from the sidelines as his Orioles compete without him.
In light of Bautista's injury, I decided to look at the best active relievers on every contending team. These pitchers will play a critical role down the stretch and into October. All 16 are remarkable pitchers, but, of course, some will help their teams more than others.
Taking into account both recent performance and future potential, I present a power ranking of the best relievers from the remaining contenders – one from each team within three games of a postseason berth.
Stats updated before games on August 28.
American League
1. Aroldis Chapman, Texas Rangers
2.37 ERA, 1.85 FIP, 2.10 xERA
16.42 K/9, 0.36 HR/9, 1.52 GB/FB
99th-percentile fastball velocity, 100th-percentile whiff rate
3.07 DRA (best among active relievers)
For the last few years, it seemed like Chapman's career was on the decline, and with the way his
season ended in 2022, plenty of people thought it was time for the lefty to hang up his hat.
Yet clearly, the flamethrowing veteran still has something left in the tank. With Bautista on the IL, the 35-year-old Chapman might be the most powerful reliever in the game.
2. Jhoan Duran, Minnesota Twins
2.58 ERA, 2.80 xERA, 2.70 xFIP
12.21 K/9, 2.92 GB/FB
100th-percentile fastball velocity, 95th-percentile whiff rate
3.13 DRA (second best among active relievers)
Duran broke out last season and has looked just as good in 2023. With a four-seam fastball that can reach nearly 105 mph, the 25-year-old closer is the hardest thrower in baseball.
His reverse platoon splits are another point in Duran's favor this season. His 1.43 FIP and 2.11 xFIP against left-handed hitters both rank top three in the American League.
3. Pete Fairbanks, Tampa Bay Rays
2.48 ERA, 2.67 xERA
52.2% groundball rate, 0.55 HR/9
98th-percentile fastball velocity
Fairbanks doesn't look quite as dominant as he did last season, but he remains one of the more consistent young relievers in the game. Over the past four years, he has a 2.70 ERA and 2.52 FIP in 132 games out of the 'pen. He's a groundball machine with legit strikeout stuff, which makes for a dazzling combination.
4. Andrés Muñoz, Seattle Mariners
2.63 ERA, 12.66 K/9
2.14 FIP, 2.32 xFIP, 2.23 SIERA since 2022 (best in MLB, min. 80 IP)
98th-percentile fastball velocity
The Mariners may have traded Paul Sewald, but they still have one of the most fearsome bullpens in the league, and Muñoz is a big reason why. The 24-year-old righty has been dominant for the past two years, and he has dialed it up a notch since the trade deadline, with a 2.08 ERA and 1.96 FIP in 13 games.
One could make a convincing case for Matt Brash or Justin Topa to represent the M's on this list, but Muñoz has a longer track record and has pitched in higher leverage spots this season.
5. Yennier Cano, Baltimore Orioles
2.72 PitchingBot ERA (4th in AL)
18 run value on his sinker (best among qualified relievers)
1.6 WARP (best among active relievers)
97th-percentile walk rate
Picking the Orioles' best reliever (and the best reliever in the playoff race) should have been easy, but with Félix Bautista on the shelf, it came down to a tough decision between Danny Coulombe and Yennier Cano.
Both pitchers have broken out as dominant relief arms this season, but Cano comes out on top thanks to his breathtaking stuff. His 96-mph sinker is one of the nastiest pitches in the game, helping him to maintain a 58.2% groundball rate; he has given up only three home runs in 63 IP.
The only thing keeping Cano behind Muñoz on this list is track record, but it's impossible to deny that Cano has been one of the best relievers in baseball this season.
6. Bryan Abreu, Houston Astros
2.10 ERA, 3.02 SIERA
99th-percentile whiff rate, 98th-percentile strikeout rate
Ryan Pressly might be Houston's closer, but Bryan Abreu is the best weapon at Dusty Baker's disposal. The right-hander has built off his breakout 2022 season with another strong campaign in 2023.
Abreu racks up strikeouts with a devastating slider, keeping his opponents' batting average low (despite giving up his fair share of hard contact). He isn't quite as dominant as the five pitchers ahead of him on this list, but he has made more appearances than any of them.
7. Jordan Romano, Toronto Blue Jays
2.51 ERA, 3.18 FIP
97th-percentile whiff rate
2.33 average leverage index, 2.24 WPA
Romano's numbers aren't the flashiest, but he has pitched in higher-leverage spots than any other reliever in the American League. Among pitchers on this list, only Cano has a higher Win Probability Added – and Romano has thrown far fewer innings.
The Blue Jays closer pairs the best extension in the league with a 97-mph fastball to keep hitters on their toes; his 36.4% whiff rate ranks among the best in the game.
National League
1. Devin Williams, Milwaukee Brewers
1.46 ERA, 2.52 FIP, 13.50 K/9
13 run value on changeup (best among qualified relievers)
1.54 WPA/LI (best among qualified NL relievers)
3.9 fWAR since 2022 (best among NL relievers)
Williams sat in Josh Hader's shadow for far too long, but no more. Since Hader was dealt, Williams has a 1.79 ERA and 2.0 fWAR in 74 games.
By just about any measure you can think of, the Brewers closer is one of the best relievers in the league. He takes an unusual changeup-heavy approach, but there's no arguing with results; over the last four seasons, he leads all relievers with 6.6 fWAR.
2. Raisel Iglesias, Atlanta Braves
2.81 ERA, 2.71 xERA, 2.67 FIP
11.88 K/9, 2.38 BB/9
99th-percentile chase rate, 94th-percentile whiff rate
Iglesias has a long track record of consistent success, and his stuff remains elite. For the fourth consecutive season, he is running an ERA, FIP, xFIP, and SIERA below three and a strikeout-to-walk ratio above 5.00. The Braves closer continues to induce whiffs and weak contact, helping him to post an xERA in the top 5% of the league.
Some relievers have nastier stuff, and others are having better seasons, but Iglesias brings it all to the table.
3. José Alvarado, Philadelphia Phillies
1.24 ERA, 2.20 FIP, 2.16 xFIP
13.97 K/9, 3.41 BB/9, 54.1% groundball rate
Alvarado can be just as dominant as Williams or Iglesias, but he has yet to prove himself over a full, healthy season. He finished strong last year but started out so poorly that he was demoted to Triple-A. On the flip side, he has looked terrific in 2023 but has also taken multiple long trips to the injured list.
Still, Alvarado is unhittable when he's on his game. He regularly hits triple-digits with his sinker, and he has gotten his walks under control in 2023. Among relievers with at least 20 IP, his 2.16 xFIP, 2.46 SIERA, and 3.13 DRA are the best in the National League.
4. Tanner Scott, Miami Marlins
2.55 ERA, 2.24 FIP, 2.61 xERA
99th-percentile barrel rate, 99th-percentile hard-hit rate
95th-percentile whiff rate, 97th-percentile chase rate
Scott was the first name on this list that made me say, "Who?"
However, with the way he's pitching, it won't be long before more people know his name. Scott has dominated opposing batters this season with his fastball/slider combination, inducing whiffs and weak contact in equal measure.
The lefty leads qualified NL relievers in xFIP and ranks second in FIP and DRA. And according to pitch modeling statistics like Stuff+ and PitchingBot, his stuff is right up there with Devin Williams at the top of the National League.
5. Paul Sewald, Arizona Diamondbacks
3.25 ERA, 2.59 xERA, 3.15 SIERA
2.74 PitchingBot ERA, 114 Pitching+ (2nd among NL relievers)
98th-percentile hard-hit rate
Sewald has struggled since he was traded to Arizona, but his track record speaks for itself; he has been an elite reliever for the past three years. His numbers aren't super flashy, but pitch modeling metrics think very highly of his stuff.
Considering his electric stuff and stellar track record, Sewald should turn things around soon.
6. Evan Phillips, Los Angeles Dodgers
2.34 ERA, 2.89 FIP, 5.00 K/BB
11 run value on his sweeper (best among qualified relievers)
1.67 ERA since 2022 (best in MLB, min. 80 IP)
Despite his phenomenal breakout season for the Dodgers in 2022, Phillips somehow remains underrated. He hasn't looked quite as dominant this season, but he remains one of the better relievers in the game.
7. Camilo Doval, San Francisco Giants
3.04 ERA, 2.89 xERA, 2.88 FIP
96th-percentile strikeout rate, 92nd-percentile whiff rate
98th-percentile fastball velocity
Picking the best reliever in San Francisco's bullpen is an easy choice. Over the past three years, Doval has a 2.80 ERA and 3.03 FIP in 154 games. He has hit a bit of a rough patch in August, but if he can get his walks under control, he should be able to turn things around.
8. Adbert Alzolay, Chicago Cubs
2.64 ERA, 2.70 FIP, 2.95 xERA
1.40 BB/9, 6.89 K/BB (best among qualified NL relievers)
91st-percentile barrel rate
One reason the Cubs have had so much success this season is the breakout performances of Alzolay and Mark Leiter Jr. The two righties have come out of nowhere to lead Chicago's bullpen this year.
Ultimately, the two have very similar numbers, but Alzolay has nastier stuff and has performed better in high-leverage spots. His 2.62 WPA ranks sixth among qualified NL relievers.
Alzolay isn't a hard-throwing strikeout machine, but what he lacks in power, he makes up for with command and precision.
9. Alexis Díaz, Cincinnati Reds
2.22 ERA, 2.89 xERA, 3.27 FIP
18 run value on his slider (best among qualified pitchers)
2.13 average leverage index when entering games, 4.19 WPA (best among qualified NL relievers)
The younger Díaz isn't quite as dominant as his brother Edwin, but he has done phenomenal work for the Reds this season. His slider is a menace, helping him miss bats at one of the best rates in the league.
No reliever has entered games in more tough spots than Díaz this season, and only Félix Bautista has racked up more Win Probability Added for his team.