Analysis
José Leclerc Is Standing Out On a Team Full of Standouts
José Leclerc has been lights out for the Rangers in October, finishing all seven of their postseason games thus far.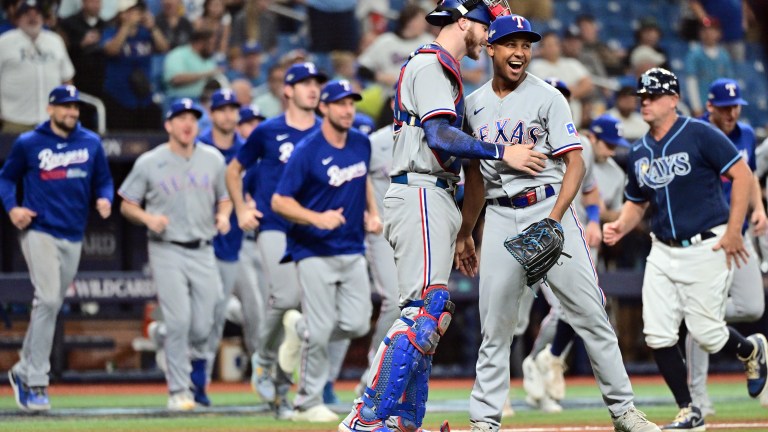 The Texas Rangers are getting plenty of attention lately, and deservedly so. They have yet to lose a postseason game, outscoring their opponents 39-16 through seven contests.
Corey Seager has maintained his MVP level of performance. Josh Jung is back and better than ever. Top prospect Evan Carter is on a rampage. Jordan Montgomery and Nathan Eovaldi are a two-headed monster atop the rotation. Oh, and did I mention Max Scherzer is coming back?
With all the excitement over the All-Stars, the rookie phenoms, and the future Hall of Famer, it's easy to overlook some of the lesser-known names. Yet Texas wouldn't be in this position without contributions from further down the roster. The role players are standing out as much as anyone else.
Leody Taveras is tearing the cover off the ball. Josh Sborz has yet to allow a run. And, of course, José Leclerc has been an impenetrable force at the back end of the bullpen.
Leclerc isn't the biggest name in the Rangers' bullpen. That would be seven-time All-Star Aroldis Chapman. Yet while Chapman looked dominant when he first arrived in Texas, he struggled down the stretch. In his final 14 appearances of the regular season, he posted a 6.23 ERA and a 6.33 FIP.
The southpaw hasn't looked sharp in October, either, giving up four walks to just three strikeouts. In Game 2, he gave up a no-doubt home run to Yordan Alvarez in the bottom of the eighth. Alvarez is a beast, but Chapman's job is to overpower tough lefties. On Monday afternoon, he couldn't get it done.
Leclerc wasn't the closer for most of the year, either. That job belonged to 11-year MLB veteran Will Smith, who recorded 22 saves in 27 chances. Yet Smith is more of a durable veteran than a true shutdown arm.
His overall numbers this year are serviceable but uninspiring (4.40 ERA, 3.36 FIP in 60 games). What's more, Smith struggled from August onward, giving up 18 runs in 19.1 innings of work. Thus far in October, he has faced only one batter, striking out Gunnar Henderson in Game 1 of the ALDS.
While those two more prominent names have faltered, José Leclerc has been nothing but reliable. After an excellent regular season, in which he threw 57 innings with a 2.68 ERA, the righty has been instrumental to his team's playoff success.
Leclerc has closed out all seven of the Rangers' postseason games thus far, collecting three saves and posting a 1.23 ERA. He's made some mistakes, but he's never been stuck in a jam for long. Indeed, manager Bruce Bochy has brought him in to escape a jam of another pitcher's creation on several occasions.
Leclerc broke out in 2018, pitching to a 1.56 ERA in 59 games and leading qualified AL relievers in xERA. He finished second in ERA to Blake Treinen and third in FIP behind Treinen and Edwin Díaz. Then just 24 years old, he was well on his way to joining those two as one of the premier relievers in baseball.
His numbers weren't as jaw-dropping the following year, but he increased his workload, upped his velocity, and finished with the fifth-highest K/9 among qualified relievers in the American League.
Unfortunately, disaster struck the year after that. Leclerc sat out all but two games of the shortened 2020 season dealing with a teres major strain, and in March 2021, he needed Tommy John surgery to repair his UCL. It was a devastating turn of events for such a promising young pitcher.
However, after two years on the shelf, Leclerc returned to the Rangers' bullpen. He was a new pitcher, and the Rangers were a new team. Once reliant on a four-seam/slider combo, Leclerc added a cutter and emphasized his changeup (per Baseball Savant). Meanwhile, the Rangers had proven they were serious about competing with the additions of Corey Seager, Marcus Semien, and Jon Gray.
The 2022 season wouldn't be sunshine and roses for the Rangers, but clearly, they were moving in the right direction. Now, they're only six wins away from their destination.
It's been a long road to reach this point for José Leclerc. He made his debut in 2016, the last year the Rangers made the playoffs, but he didn't get a spot on the postseason roster.
At age 23, Leclerc exceeded rookie limits, and at age 24, he burst onto the scene. His age-26 and 27 seasons were lost to injury, but he made his way back and remade his arsenal. Since his return from Tommy John on June 18, 2022, only three relievers have pitched more innings with a lower ERA: Bryan Abreu, Hector Neris, and Emmanuel Clase.
Since 06/18/2022, via FanGraphs
The Rangers are on an incredible run, and the longest-tenured player in the organization has as much reason to celebrate as anyone. With so many big names on the roster, Leclerc has flown under the radar, but his performance speaks for itself. On a team full of standouts, José Leclerc still stands out.