Analysis
Pittsburgh Pirates Trade Deadline Guide
The Pirates are within striking distance in the NL Central, but they may be better suited to sell at this year's deadline.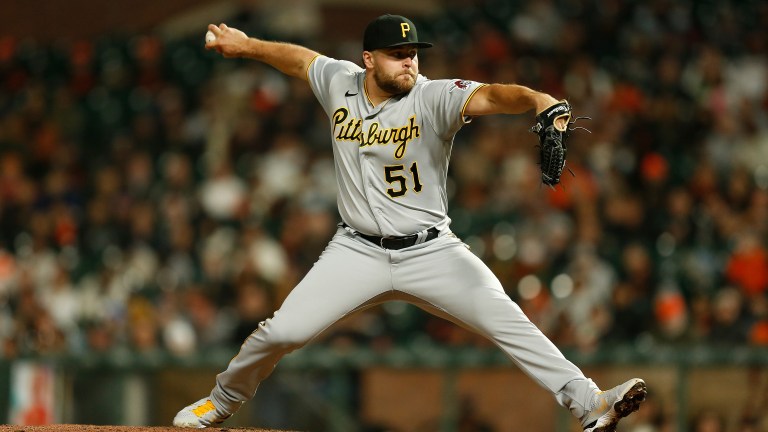 The first half of the season was a roller coaster for the Pittsburgh Pirates. On one hand, they've surpassed all preseason expectations and have found a way to hang around in a very winnable NL Central division.
Despite losing their star shortstop, Oneil Cruz, to a fractured ankle just a couple of weeks into the season, they've received valuable contributions from role players all throughout their roster. The Pirates have held a division lead at several points during the season, and they've shown flashes of potential throughout the year.
On the other hand, Pittsburgh has also been susceptible to significant losing streaks this season, and it has contributed to their current status in the NL Central division.
Pittsburgh enters the All-Star break 8.5 games back of the Cincinnati Reds in the NL Central with a record of 41-49. They've dropped seven of their last nine games, and their outlook at the trade deadline has gotten a bit more murky over the past few weeks.
The Pirates have a bright future. They have a plethora of young, exciting talent who are making an impact this season, but it's looking less and less likely that the Pirates will be legitimate contenders in 2023.
With that being said, the Pirates have several veterans on expiring contracts who could bring in a return at this year's trade deadline. It makes sense for the ball club to capitalize on some of their assets and set their sights on the future.
2023 Trade Deadline Candidates
| | | | |
| --- | --- | --- | --- |
| Player | Age | Free Agent | 2023 Contract |
| Rich Hill | 43 | 2024 | $8,000,000 |
| Carlos Santana | 37 | 2024 | $6,725,000 |
| Connor Joe | 30 | 2028 | $735,00 |
| Ji-Man Choi | 32 | 2024 | $4,650,000 |
| Austin Hedges | 30 | 2024 | $5,000,000 |
| Andrew McCutchen | 36 | 2024 | $5,000,000 |
| David Bednar | 28 | 2027 | $745,000 |
| Mitch Keller | 27 | 2026 | $2,437,500 |
Numbers from Sportrac
Pitching Options
Rich Hill – Starting Pitcher: 98 IP (7-9), 4.78 ERA, 4.43 FIP, 1.44 WHIP
If the Pirates end up selling at the deadline, Rich Hill is an obvious candidate to be dealt. At 43 years old, Hill has shown that he can still provide solid outings every fifth day. He brings a strong veterans presence to the clubhouse, and he won't demand a significant return.
At the same time, he should have some degree of value on the trade market. For example, teams like the Atlanta Braves or the Los Angeles Dodgers would make sense as a potential fit.
They are two of baseball's best offenses, so they shouldn't have trouble giving him run support. At the same time, they are also ball clubs who are in need of a reliable starter to hold down the back end of the starting rotation.
Hill is a player who can eat innings down the stretch this season while at the same time give his ball club the chance to win when he takes the mound.
David Bednar – Relief Pitcher: 35.1 IP, 17 Saves, 1.27 ERA, 0.96 WHIP
Of all Pirates players who could be available at the this year's deadline, David Bednar is the most valuable. Pittsburgh acquired David Bednar in January of 2021, and he has been one of the best relievers in baseball over the past three seasons.
During that stretch, Bednar has the seventh-best ERA (2.13) and fourth-best FIP (2.40) among qualified MLB relievers to go along with a solid WHIP of 1.02.
This season, Bednar has only continued to improve. He is walking batters at the lowest rate of his career (5%), and he is allowing some of the weakest contact of his five-year career. His hard hit rate of 33.7% is down over 12% from last season, and he is posting his best barrel rate of his career at 4.3%, which is down three percent from 2022.
Now an All-Star for the second consecutive season, Bednar is under team control for a few more years. He has been one of the more consistent closers in all of baseball, and he is a reliable and dominant bullpen arm that any contender would be clamoring for. If the Pirates are receiving offers, David Bednar is one of Pittsburgh's best trade chips.
Mitch Keller – Starting Pitcher: 117 IP (9-4), 3.31 ERA, 3.35 FIP, 1.12 WHIP
Mitch Keller has easily been the Pirates best starter in 2023. He has taken a step forward in his player development this season, and it led to his first-career All-Star bid. Keller has been the anchor of Pittsburgh's pitching staff in 2023, as he leads their starers in ERA, FIP, WHIP, and batting average against.
With two years of arbitration left on his contract, it's unlikely the Pirates will trade Keller at this year's deadline, given how important he has been for this ball club. He's an obvious extension candidate if the Pirates feel he is a building block of their future rotation.
However, he's a valuable asset nonetheless, and he would be a very desirable arm for a contender looking to elevate their starting rotation at the deadline.
Position Players
Carlos Santana – First Baseman: 344 PA, .233/.311/.390, 91 wRC+, 90 OPS+
Carlos Santana signed a one-year, $6.7 million deal with the Pirates in the offseason, and it's been a productive 2023 campaign thus far. He's been the ball club's everyday first baseman and cleanup hitter this season, and he has served as a valuable veteran mentor for the younger players in the club house as well.
Santana is tied on the team for the most doubles (21) and runs scored (40), and he has the second-most RBIs (45) to go along with nine home runs on the season. The 37-year-old switch hitter could be a low risk, low reward bench bat acquisition for a contender at this year's deadline if the Pirates are willing to part ways with his expiring contract.
Santana leads the Pirates with 80 games played and 344 plate appearances this season, so his departure would leave a large void to be filled both in the field and in the batting order. With that being said, it would be smart for Pittsburgh to capitalize on any value Santana might have at the deadline.
Ji-Man Choi – First Baseman: 44 PA, .159/.159/.409, 42 wRC+, 48 OPS+
The Pirates acquired Ji-Man Choi via trade from the Rays in the offseason, but he has missed most of the 2023 season with a strain to his Achilles tendon. Choi re-entered Pittsburgh's lineup on July 7th, and he will serve as a valuable lefty bat in Pittsburgh's lineup if he remains put.
In Choi's eight year career, he has an .805 OPS and a wRC+ of 124 versus right-handed pitching. Choi's successful splits versus righties could make him an appealing bench bat for a ball club. With him being on an expiring contract and recently returning from injury, he would be an inexpensive addition at the deadline.
Choi brings an element of offensive consistency to the lineup, and he will look to ease some of Carlos Santana's workload at first base if he remains in Pittsburgh. The Pirates likely won't trade both Carlos Santana and Ji-Man Choi, but I do anticipate one of them being dealt.
Austin Hedges – Catcher: 174 PA, .179/.230/.232, 26 wRC+, 27 OPS+
Understandably, Austin Hedges has very little trade value. While he doesn't bring much production to the batters box, Hedges is a veteran presence who brings value behind the dish, grading as one of the best defensive catchers in the sport.
Hedges is one of three catchers on Pittsburgh's active roster. The other catchers include second-year catcher Jason Delay, and Henry Davis, the team's first overall pick in the 2021 MLB draft. Not to mention Endy Rodriguez, the organization's top prospect, could be set to make his debut in the second-half of the 2023 season.
It's a crowded position for Pittsburgh, and they have two very talented prospects ready to take the reins at the position. Austin Hedges, who turns 31 next month, is on an expiring contract and likely doesn't have a future with this ball club. It wouldn't hurt to explore his value on the market to clear way for the Pirates' youth movement.
Connor Joe – Outfielder: 233 PA, .240/.332/.421, 106 wRC+, 104 OPS+
The Pirates traded for Connor Joe in the offseason, and he has put together a productive season with Pittsburgh. He has racked up 27 extra-base hits on the year, including 18 doubles, three triples, and six homers. Joe was brought in for his efficient production against left-handed pitching, and he has serviced that role well this season.
Against left-handed pitching, Joe is slashing .281/.385/.517 for an OPS of .902 and a 145 wRC+ in 2023. If the Pirates don't see a future with Joe in their outfield, there could be a market for him at the deadline.
He is an above-average defender who can play first base along with the corner outfield positions, and he brings a disciplined approach to the lineup as well. Joe remains pre-arbitration eligible for the next two years, so his team control could provide some extra value on the trade market.
Andrew McCutchen – Designated Hitter: 316 PA, .268/.383/.425, 123 wRC+, 121 OPS+
First and foremost, it is extremely unlikely that the Pirates trade away Andrew McCutchen. This season has been more than just a swan song for the Pittsburgh legend. He has been one of the best hitters on the team thus far, and McCutchen is the picture-perfect veteran leader for the young players in that clubhouse.
However, Andrew McCutchen has yet to make a World Series appearance in his 15 year career. It's clear that there is more left in his tank, as he has played at a competitive level in the first half of the season.
With McCutchen set to be a free agent at the end of the year, there is a chance Pittsburgh sends him to a World Series contender at the trade deadline, if requested by McCutchen. This would give him the opportunity to chase his ring, and it would still allow him to rejoin the Pirates on a new deal in the offseason.
Again, it's extremely unlikely. But McCutchen has played well enough this season where he deserves to be recognized as a serious asset for the Pittsburgh Pirates in 2023.
Conclusion
The Pirates have an abundance of young, exciting talent throughout their lineup. Jack Suwinski is proving to be an impact bat in Pittsburgh's lineup, and the recent promotions of some top prospects in Henry Davis and Nick Gonzales have given life to their offense. Not to mention, there is talent in their minor league system who could make an impact in the second half of 2023.
They also have franchise building blocks in Ke'Bryan Hayes, Oneil Cruz, and Bryan Reynolds who give Pittsburgh a strong core to build upon. The Pirates have a bright future ahead of them, but 2023 doesn't look like their window to compete.
If the Pirates do sell at this year's trade deadline, they will aim to capitalize on veteran players who are on expiring contracts. At the same time, it's entirely possible, and probably more likely, that the Pirates hold onto their assets and play the season out as-is. The Pirates are a youthful team and could benefit from having veteran leadership in the clubhouse if they feel they can compete for a division title in the second half of 2023.
The Pirates will be a team to track out of the gate in the second half of the season. Their play could dictate which direction the organization chooses to go at the deadline, but their recent skid leads me to believe they will be more inclined to sell rather than buy. Pittsburgh will surly be a team to monitor as we approach the August 1st trade deadline.