News
Slumping Pirates Take Bull by the Horns, Promote Henry Davis
After just ten games at Triple-A, top prospect and 2021 No. 1 overall pick Henry Davis is coming to Pittsburgh to make his big league debut.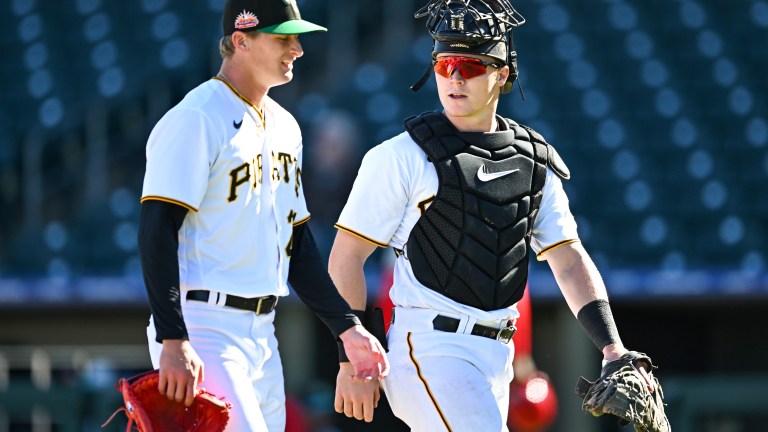 After just ten games at Triple-A, Henry Davis is ready for his next challenge. The No. 1 overall pick in the 2021 MLB draft is headed for the major leagues.
As Pirates manager Derek Shelton confirmed on Sunday, the 23-year-old top prospect will be promoted ahead of the series opener against the Chicago Cubs. The team has yet to finalize the transaction or announce corresponding roster moves.
Davis spent the first two months of the season at Double-A Altoona, where he hit .284/.433/.547 in 41 games. When he was promoted in early June, general manager Ben Cherington said Davis was "performing offensively at a level where we felt like he was more than ready to meet the challenges."
Indeed, Triple-A turned out to be no challenge at all. Davis barely skipped a beat, smacking ten hits (five for extra bases) in 35 at-bats. He slashed .286/.432/.514 with a 142 wRC+.
The young catcher placed 84th on Just Baseball's latest top 100 prospects list. He ranked fourth in the Pirates' system and ninth among all catchers. Here's what our own Aram Leighton had to say:
At the end of the day, the big asset here is Davis' bat. That being said, the Pirates took him first overall to be the catcher of the future, and he has a chance to be just that. Davis has shown good bat-to-ball skills and immense pull-side power that should have Pirates fans excited.

Aram Leighton on Henry Davis' outlook
However, while Davis still has a future as a backstop, he is expected to play a good deal of outfield for the Pirates. He spent six games in right field during his brief stint at Triple-A, where he was splitting time with fellow "catcher of the future" Endy Rodríguez.
Austin Hedges and Jason Delay, who have been sharing catching duties in Pittsburgh, will both remain on the roster. Hedges is an excellent defender and pitch framer, while Delay has had a surprisingly productive season at the plate.
The Pirates are promoting Davis because they want his bat, and they're willing to get creative to put him in the lineup. The team hit well in April, leading the National League with 156 runs scored, but they rank last in scoring ever since.
Things have gotten especially bad over the past week. On June 12, the Pirates sat atop the NL Central with the fifth-best record in the National League. Then, they were swept in two straight series by the Cubs and Brewers – two of their biggest division rivals.
On June 19, just seven days later, the Pirates are 2.5 games back in the division and four games back of a Wild Card berth. They desperately need a spark.
As strange as it is to say, the Pirates are legitimate contenders in a wide-open NL Central. However, they have the worst run differential in the division, and most projections still have them finishing last. They're going to need every advantage they can get, and aggressively promoting Davis is a step in the right direction.
All eyes will be on PNC Park this evening, as Henry Davis is expected to make his big league debut.