Rankings
Pittsburgh Pirates Top Prospects For 2023
The Pittsburgh Pirates were one of the worst teams in baseball in 2022, but help is on the way for 2023 and beyond.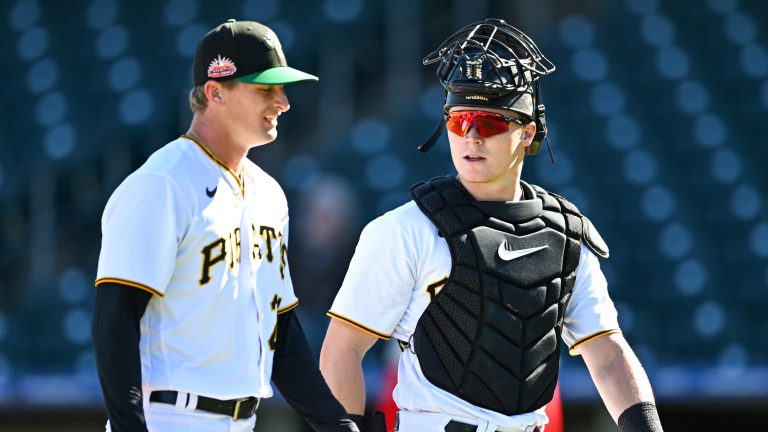 The Pittsburgh Pirates farm system is loaded with reinforcements who could reach the big league level in the next year or so. Several prospects in the top 10 have either have a brief cameo at the MLB level while others could force their way up with a strong start to 2023.
1. Endy Rodriguez – C/UTIL – (Triple-A)
Height/Weight: 6'0, 180 | Bat/Throw: S/R | IFA: $10K – 2018 (NYM) | ETA: 2023
| | | | | | |
| --- | --- | --- | --- | --- | --- |
| HIT | RAW POWER | GAME POWER | RUN | FIELD | FV |
| 60/60 | 50/55 | 50/55 | 50/50 | 45/55 | 55 |
Signed for a measly $10,000 by the Mets before being traded to the Pirates in the three-team Joe Musgrove deal, Rodriguez has done nothing but rake since making his pro debut in 2018. The talented switch-hitter kicked things up another notch in 2022, putting up arguably the best offensive season in all of the minors.
Offense
A switch hitter with pretty even production from both sides, Rodriguez has a really good feel for both of his swings that are geared for lift and carry. Rodriguez further simplified his load in 2022, losing the moving leg kick in favor for a toe tap. He struggled at times with the timing of his leg kick in years prior, and his ridiculous 2022 slash line may point towards the tweak helping him find even more consistency.
It's hard to argue with a hitter who posts an OPS above .900 from both sides of the plate, and while Rodriguez's exit velocities are above average at best, his swing is designed to drive the ball in the air. Rodriguez is extremely difficult to strike out, possessing great pitch recognition skills and impressive bat-to-ball no matter where the ball is pitched.
Impressive balance and plate coverage helps Rodriguez stay back on breaking pitches and drive them with authority to all fields while still being quick and explosive enough to turn on hard stuff in. Rodriguez mashed breaking balls to an OPS of .988 while dismantling fastballs to the tune of a 1.177 OPS.
Rodriguez is a complete hitter with the body control, bat-to-ball skills, and approach to give him a plus hit tool while tapping into every bit of his above average raw power in games.
Defense/Speed
A primary catcher, Rodriguez is extremely athletic behind the dish and receives well. Despite being younger for the upper levels, Rodriguez controls the game well as a catcher and pitchers seem to enjoy working with him.
With a litany of talented catching prospects in the Pirates system, Rodriguez has also received reps at second base, first base, and left field. He is athletic and talented enough to be an average defender at any of those positions.
It seems that the Pirates longterm plan is to keep Rodriguez at catcher, but if he continues to produce the way he has offensively, they will likely use his versatility as a way to keep him in the lineup.
Outlook
Rodriguez is an extremely fun prospect. I mean, how many switch-hitting catchers who can also play the infield and outfield have we seen? Combine the defensive versatility and switch hitting with a strong balance of bat-to-ball and intriguing game power, there is a lot to like with Rodriguez.
A confident hitter who controls his at bats from both sides of the plate, Rodriguez has a chance to be one of the better switch hitters in all of baseball while providing value behind the dish and potentially at other defensive spots as well. Rodriguez could be a threat to hit .300 with 20+ homers.
2. Termarr Johnson – 2B – (Low-A)
Height/Weight: 5'8′, 175 | Bat/Throw: L/R | 1st Round (4), 2021 (PIT) | ETA: 2026
| | | | | | |
| --- | --- | --- | --- | --- | --- |
| HIT | RAW POWER | GAME POWER | RUN | FIELD | FV |
| 50/70 | 50/60 | 40/55 | 45/45 | 40/50 | 55 |
Viewed as one of the best pure prep hitters in years, Johnson's bat has a chance to be special, but as an average running second baseman, there's a lot of pressure on that bat.
Offense
Johnson starts with his bat resting on his shoulder and his weight favoring his backside before getting into a big leg kick that coincides with a barrel tip. Generally, these loud moves would be of concern in regards to disrupting timing and consistency, but Johnson is quick and compact with explosive bat speed.
Despite his smaller stature, Johnson generates a ridiculous amount of rotational power, already flashing plus power to his pull side. Like many young hitters, Johnson tends to try to get into his pull side power a bit too much, causing him to be out and around the baseball. Good secondary stuff in pro ball has also caused Johnson to drift onto his front foot as well.
Johnson is a really fun hitter to watch. Pitchers will fear going inside on him because of the way he is able to turn around stuff on the inner half with authority. When Johnson is at his best, he is able to shoot balls the other way with authority as well, but he will need to find some more consistency with his lower half.
It will remain to be seen if Johnson can get away with his loud moves against more advanced pitching, however his advanced feel to hit and ridiculous bat speed should help him either: A. Get away with it or B. Quiet things down without it coming at expense of his power.
Defense/Speed
Technically drafted as a shortstop, Johnson profiles as a second baseman and already saw the majority of his starts in Low-A at the position. His hands work really well and he has a well above average arm for the position. Johnson should be an above average defender at second.
Just an average runner who many evaluators think could slow down a step as he continues to mature, it's unlikely that Johnson is a major factor on the bases.
Outlook
There's a lot to like with Johnson's bat as a potential plus hitter with plus raw power. While I understand why scouts see that kind of upside with Johnson, I do think there's more susceptibility to whiff than some are accounting for with Johnson.
The offensive skill set is extremely exciting and he could develop into one of baseball's most exciting offensive prospects, but he may be more challenged by older pitching than some may think. Regardless, Johnson is big upside, bat-first second baseman whose ceiling is one of the best hitters at his position at the highest level.
3. Luis Ortiz – RHP – (MLB)
Height/Weight: 6'2, 240 | Bat/Throw: R/R | IFA: $25K – PIT (2019) | ETA: 2023
| | | | | |
| --- | --- | --- | --- | --- |
| FASTBALL | SLIDER | CHANGEUP | COMMAND | FV |
| 60/65 | 70/70 | 40/45 | 50/55 | 50+ |
A combination of a velocity tick up along with further development of his secondary pitches has Ortiz looking like a legit rotation piece for the Pirates.
Arsenal
Ortiz has an explosive arsenal led by a combination of two distinguishable fastballs and a wipeout slider. The four seamer averaged 97.7 mph last season, touching triple digits consistently. Ortiz's two-seamer doesn't generate as many whiffs, but compiled a 58% ground ball rate and higher chase rates. He struggled at times by leaving the two-seamer a bit too elevated, but when Ortiz pounds the bottom of the zone with his hard and heavy pitch, it can be a weak contact machine. It's also an effective weapon to tie up right-handed hitters while setting up his slider well.
His best pitch is his plus-plus slider which sits 86-88 mph with sharp, late bite. Ortiz can weaponize the offering against both lefties and righties, holding hitters from each side to a .575 OPS and .418 OPS respectively. Ortiz commands the pitch well, especially to his glove side, landing it for a strike 66% of the time last season.
Ortiz developed his changeup into a viable fourth offering last season, mixing it in around 10% of the time and predominantly against lefties. Though Ortiz struggled to consistently land the pitch for a strike as frequently as his other offerings, it gives him a second ground ball inducing offering.
Outlook
A big guy at 6-foot-2, 240 pounds, Ortiz repeats his delivery well enough to consistently throw strikes. Where Ortiz could improve a bit is his ability to hit his spots within the strike zone a bit better, especially with the two-seamer. The 24-year-old has a unique and electric arsenal with pitches that work off of each other really well to make for an uncomfortable at bat for hitters as he continues to learn how to weaponize his stuff properly. Ortiz has middle rotation upside with a great chance of at least being an innings eater at the back of a rotation.
4. Quinn Priester – RHP – (Triple-A)
Height/Weight: 6'3, 200 | Bat/Throw: R/R | 1st Round (18) – 2019 | ETA: 2023
| | | | | | |
| --- | --- | --- | --- | --- | --- |
| FASTBALL | SLIDER | CURVEBALL | CHANGEUP | COMMAND | FV |
| 50/55 | 50/55 | 70/70 | 40/45 | 40/50 | 55 |
Preister built on a good 2021 with a great 2022, finishing the year in Triple-A and putting himself on track for PNC Park at some point in 2023.
Arsenal
Priester has a deep bag of five pitches that he will mix really well. The right-hander has a four seamer and sinker along with a plus curve, slider and changeup. The four seam fastball has been a hittable pitch for Priester through the years. It sits in the 93-95 mph range but lacks shape.
Introducing the sinker more frequently this season has helped Priester immensely. He has upped his usage of the pitch by 10%, helping him generate a lot of ground balls and more whiffs than his fastball from his over-the-top release point that really makes the pitch dart to his arm side and under barrels. By the end of the season, Priester was using his more effective sinker more frequently than the four seamer.
Priester's best pitch his his plus-plus curveball in the upper 70s with 12-6 break. The pitch breaks so much that it can be difficult to land for a strike, but Priester racked up a 45% chase rate with the offering while allowing almost no hard contact.
Rounding out Priester's arsenal is an above average slider and changeup. The slider sits in the mid 80s with a cutterish, short break. He spots the pitch well, almost exclusively using it against righties. Priester's changeup lags behind the rest of his arsenal. It flashes average with decent arm side fade, however Priester struggles to command it.
Outlook
The lack of fastball quality was my biggest concern with Priester and the use of his sinker has helped hedge that immensely. Not only does Priester get more whiffs with his sinker than his four seamer, but it is also a weak contact machine.
Priester may not consistently be a huge strikeout pitcher, though when he is on, he can accumulate K's in bunches. Even when the stuff isn't all the way there, Priester's above average command and five pitch mix helps him turn in quality starts. Priester has the ceiling of a No. 3 starter with a great chance at being an above average No. 4. He's near big league ready.
5. Henry Davis – C – (Double-A)
Height/Weight: 6'2, 210 | Bat/Throw: R/R | 1st Round (1), 2021 (PIT) | ETA: 2023
| | | | | | |
| --- | --- | --- | --- | --- | --- |
| HIT | RAW POWER | GAME POWER | RUN | FIELD | FV |
| 45/55 | 60/60 | 50/60 | 45/45 | 35/45 | 55 |
The top selection in 2021's MLB Draft was banged up in his first full pro season, but has shown flashes of offensive brilliance.
Offense
Davis starts crouched and slightly open, using a hovering leg kick to help keep weight back. Though a bit unorthodox, Davis generates a ton of torque and rotational power with his swing while staying short to the ball.
At Louisville, Davis put the questions around his swing to bed by slashing .370/.482/.663 with 17 homers and 31 walks against just 24 K's versus ACC pitching in 2021. It was more of the same for Davis in his 22 High-A games this past season, quickly earning a promotion to Double-A where injuries derailed his season.
Even in just 53 games, Davis launched nine homers along with 21 extra base hits, flashing his plus raw power. While his swing is geared for doing damage to his pull side, Davis generates enough bat speed and backspin to where the ball carries well to all fields.
Davis looked a bit out of sync at times with his timing, sometimes looking rushed in the batters box. As a result, he seemed to be cheating a bit more for the fastball while finding himself out on his front foot more than we're used to seeing on sliders, hitting just .173 against such pitches last season. The timing issues could have been a result of his gaps between playing time last season due to the aforementioned injuries, but it is definitely something to monitor as we go into next season.
Davis boasts plus raw power, with a 90th percentile exit velocity of 105 mph last season and more in the tank. He has a good overall feel for the barrel with an athletic lower half, lending belief that he can still develop into an above average hitter.
Defense/Speed
Davis' best tool on defense is his 70-grade arm. He's a good athlete which provides some optimism that he can continue to improve behind the dish, but he has some work to do in regards to blocking and receiving.
He was able to get away with some things in college thanks to his absurd arm, but he will need to shore up some defensive fundamentals to provide value on the defensive side of things.
Outlook
At the end of the day, the big asset here is Davis' bat. Davis has shown good bat-to-ball skills and immense pull-side power that should have Pirates fans excited. Though his reps have been limited at the professional level thus far, Davis showed well in the Arizona Fall League and has a strong track record of hitting. Davis has a chance to hit for a pretty good average along with 30 homer upside.
6. Nick Gonzales – 2B – (Double-A)
Height/Weight: 5'10, 195 | Bat/Throw: R/R | 1st Round (7), 2021 (PIT) | ETA: 2024
| | | | | | |
| --- | --- | --- | --- | --- | --- |
| HIT | RAW POWER | GAME POWER | RUN | FIELD | FV |
| 40/50 | 50/55 | 40/55 | 55/55 | 45/50 | 50 |
As advanced a hitter as you could find in the 2020 Draft, Gonzales has surprisingly struggled with swing and miss as well as injuries in pro ball which has slowed his progression. While some of the excitement around the former No. 7 pick has cooled, he has still shown plenty of flashes of the hitter who won the NCAA Division I batting title and Cape Cod League MVP.
Offense
Gonzales has a simple set up and extremely quick hands, which combined with his phenomenal collegiate numbers, had scouts and evaluators confident that he would be a plus hitter in pro ball (myself included). Injuries have limited Gonzales to just 151 games between High-a and Double-A in two years and despite the concerning 28% strikeout rate, he has still produced a strong .285/.384/.506 slash line with 25 homers and 75 extra base hits.
It's worth noting that Gonzales has played in some hitter-friendly environments and his home/road splits are something to monitor, but his strong finish to the season which extended into a nice stretch in the Arizona Fall League provided Gonzales with some momentum heading into the offseason.
Thanks to his quick bat and feel for the barrel, fastballs have never been an issue for Gonzales. He posted an OPS of 1.090 against four seam fastballs last season with much stronger contact rates. Where the 23-year-old runs into some trouble is with secondary stuff. Gonzales has always had a swing geared for lift, but his bat tends to be in and out of the zone quicker than desired; he often had the tendency to pull off or swing over good sliders and changeups last season.
If Gonzales can improve his path and body control a bit (both go hand in hand), theres still reason to believer he can be an above average hitter. While the exit velocities don't jump off of the page, his ability to lift the ball and generate easy carry make 20+ home runs conceivable. His quick swing, track record of hitting and solid overall approach hedge some of the whiff concerns and Gonzales could very well be one tweak away from looking more like the collegiate/Cape star the Pirates took at No. 7 overall.
Defense/Speed
Predominantly a second baseman, the Pirates have tried Gonzales a bit at shortstop and even third base in the Arizona Fall League. While he could probably play those spots in a pinch thanks to his good hands and instincts, his average-at-best arm points more towards second base. Gonzales is an extremely heady baseball player with great instincts both in the field and on the bases. He's an above average runner, but is not the most aggressive base stealer.
Outlook
2023 will be a huge season for Gonzales both in the health and performance department. He will presumably start the season in Triple-A, where his knowledge of the strike zone will be more rewarded, but his struggles with secondaries could be further exploited. Ultimately, Gonzales' performance against specifically sliders and changeups will have to improve for him to succeed in Triple-A. Given his work ethic, makeup and quick stroke, Gonzales could still very well put it all together next season.
7. Mike Burrows – RHP – (Triple-A)
Height/Weight: 6'2, 185 | Bat/Throw: R/R | 11th Round (324), 2021 (PIT) | ETA: 2024
| | | | | |
| --- | --- | --- | --- | --- |
| FASTBALL | CURVEBALL | CHANGEUP | COMMAND | FV |
| 60/60 | 55/60 | 50/55 | 50/50 | 50 |
An overslot 11th round pick in 2018, the Pirates shelled out $500K to sign Burrows away from UCONN, betting on his upside. Burrows put it all together this year, carving through Double-A and holding his own in Triple-A.
Arsenal
Burrows has a solid three pitch mix and has commanded it better than ever this season. His arsenal is led by his plus fastball in the mid 90s with lots of ride. The high spin fastball averages more than 19 inches of vertical break, causing hitters to frequently swing under it.
Working off of his lively fastball is his hammer of a curveball in the low 80s. The plus pitch dives off the table with 12-6 break and is a great put away pitch to both lefties and righties. Burrows would probably benefit from tightening up the pitch a bit as it often dives out of the zone and hitters have started to lay off the pitch more (38% swing rate).
Rounding out Burrows arsenal is his above average changeup which has improved massively this season. After struggling to command the pitch last season, Burrows landed it for a strike two thirds of the time in 2022, featuring late drop in the 86-88 mph range.
Outlook
Already reaching Triple-A at 22 years old, Burrows is ahead of schedule and seems to keep getting better each time I see him. The development of Burrows' changeup has really helped him make the transition to the upper minors and the right-hander has the confidence to go to all three of his offerings in any count.
Above average command of three above average pitches gives Burrows a high floor with still a good amount of upside.
8. Bubba Chandler – RHP – (Low-A)
Height/Weight: 6'2, 200 | Bat/Throw: S/R | 3rd Round (72), 2021 (PIT) | ETA: 2026
| | | | | |
| --- | --- | --- | --- | --- |
| FASTBALL | SLIDER | CHANGEUP | COMMAND | FV |
| 55/70 | 45/55 | 50/60 | 35/50 | 50 |
Drafted as a two-way player and signed away from a baseball/football commitment to Clemson with a $3 million bonus, Chandler is an elite athlete whose ceiling may be highest on the mound.
Arsenal
Chandler's athleticism is immediately visible on the bump, utilizing his body and impressive arm speed to throw an easy 95-97 mph fastball that can already touch 99 with a ton of life. The data on Chandler's fastball is even more tantalizing, averaging nearly 20 inches of induced vertical break and over 2,400 RPMs. Though his fastball command is inconsistent, Chandler overpowered Low-A hitters with his heater, generating a 33% in zone whiff rate.
Despite his inconsistent command, Chandler has already shown a good feel for his changeup which flashes plus. The third pitch for Chandler is his slider. It's his most inconsistent offering, but still flashes average and could develop into an above average pitch.
Outlook
Arguably the most athletic pitcher in the Pirates system, Chandler repeats his mechanics and delivery better than his high walk rate may suggest. The 20-year-old has a good chance to develop into at least average command and a potentially devastating fastball, changeup combination. If Chandler can continue to develop his slider and overall command, he could have as much helium as any lower level pitching prospect in baseball next season.
9. Liover Peguero – SS – (Double-A)
Height/Weight: 6'1, 175 | Bat/Throw: R/R | IFA: $450K – ARI (2017) | ETA: 2023
| | | | | | |
| --- | --- | --- | --- | --- | --- |
| HIT | RAW POWER | GAME POWER | RUN | FIELD | FV |
| 40/50 | 50/55 | 40/50 | 60/60 | 45/55 | 50 |
Peguero has exciting tools, but tends to let the fundamentals get away from him. With some maturity on both sides of the ball, Pegeuro could be a viable big league middle infielder.
Offense
An aggressive hitter with a good feel to hit, Peguero made a good amount of contact despite chasing 32% of pitches last season. This resulted in more weak contact than whiffs for Peguero who posted a 31% in field fly ball rate along with plenty of softly hit ground balls as well.
Pegeuro produces impressive bat speed with above average power in the tank. He posted a max exit velocity of 112 mph last season. Peguero's aggressiveness at the plate causes him to struggle to get his "A" swing off consistently.
Despite poor swing decisions, Peguero still posted a decent 80% zone contact rate last year (90% on fastballs). With comfortably above average pop in the tank and a decent feel for the barrel, Peguero has exciting offensive upside, it's more a matter of whether his approach will allow him to translate tools into production. The 22-year-old has 20+ homer in the tank and the ability to put up a decent average. He'll need to walk more frequently than his 5% clip, though.
Defense/Speed
Much like the offensive side of things, Peguero has the tools to be good defensively, but inconsistencies hold him back. Peguero is a borderline plus runner and twitchy athlete helping him get to difficult balls at shortstop. His arm is more than strong enough to stick at the position as well. His actions can be shaky at times and he struggled mightily with arm accuracy last season.
Peguero is a value on the base paths, swiping 28 bags on 34 tries each of the last two seasons. He should be a threat to steal around 20 bases annually.
Outlook
The rawness of Peguero's game was exploited a bit in Double-A last season, but in his defense, he just turned 22 years old this offseason. There's a wide range of outcomes with Peguero and while his ceiling is higher than most prospects you'll find ranked towards the back of the top 10 in their team's system, his questions on both sides of the ball point towards a concerning amount of volatility relative to other top 10 prospects in the system.
That said, it could all click for Peguero and he could develop into an above average everyday shortstop. Still young with a full season Double-A experience (and one MLB game), Peguero has time, but he needs to make some adjustments to turn into that everyday shortstop capable of putting up above average offensive numbers.
10. Anthony Solometo – LHP – (Low-A)
Height/Weight: 6'5, 215 | Bat/Throw: R/R | 2nd Round (37), 2021 (PIT) | ETA: 2026
| | | | | |
| --- | --- | --- | --- | --- |
| FASTBALL | SLIDER | CHANGEUP | COMMAND | FV |
| 50/55 | 50/60 | 40/50 | 40/50 | 45+ |
A big lefty with a deceiving delivery and developing stuff, Solometo showed well in his pro debut and has breakout potential heading into 2023.
Arsenal
Despite operating in the 89-91 mph range while topping at 93, Solometo generated impressive whiff rates on both his four seamer and two-seamer. The southpaw hides the ball well with an inward twist as he reaches his arm seemingly as far back as it can go. The last thing the hitter sees is Solometo's arm as it slingshots around from a high three-quarters release. There's a lot going on with Solometo's delivery, but he repeats it surprisingly well and the ball gets on hitters way quicker than his velocity would suggest.
Between his two fastballs last season, Solometo racked up a 25% strikeout rate along with a 48% ground ball rate. Of the two secondary offerings Solometo sports, his slider is the most impressive at this point. The pitch dives across the strike zone from his low release point, sweeping away from lefties and burying onto the back foot of righties.
Solometo showed a willingness to throw his inconsistent changeup last season, but it needs work. The pitch had the tendency to be too firm and he struggled to locate it. There were times where the pitch flashed average and it has a chance to be a viable third offering as he develops more of a feel for it.
Outlook
Solometo showed well in his pro debut last season, pitching to a 2.64 ERA in Low-A with 51 strikeouts in 47 2/3 innings. At 6-foot-5, 215 pounds, Solometo has room to add more velocity which could make him a problem for hitters given his unique delivery, pair of quality fastballs and a slider that has flashed plus.
Though his 10% walk rate last season is nothing to be upset about, Solometo will need to prove that he can repeat his unique delivery and release point across his entire arsenal as he climbs through the minors. There's a lot to like with the young lefty and it will be interesting to see how he responds to High-A this year.
The Next Five Prospects
Ji-Hwan-Bae – UTIL – (MLB): Plus wheels, a good feel to hit and the ability to play all over the diamond have Bae looking like an ideal super-utility type for the Pirates and he's big league ready. Bae showed well in his 10 game MLB cameo, registering starts in center, left field and at second base. He stole 33 bags on 41 tries and only struck out 17% of the time last season. An extremely patient hitter with enough pop to avoid the "slap-hitter" designation, Bae should be a pest of opposing teams and a Swiss Army knife for the Pirates.
Thomas Harringon – RHP – (CPX): The highest-drafted pitcher in Campbell history, Harrington caught the attention of scouts by winning Big South Pitcher of the Year and rising to the occasion against power five competition. Harrington fits the bill of what the Pirates look for in starters: athletic and loose. He is a higher floor arm who pounds the strike zone with three potentially above average offerings. His fastball velocity has been a tad sporadic, but he mostly operates in the low 90s, touching 96.
Malcom Nunez – 1B/DH – (AAA): Acquired by the Pirates from the Cardinals for Jose Quintana at last year's trade deadline, Nunez absolutely mashed last season at the Double-A level and finished the year with Triple-A Indianapolis. Nunez is limited to a first base or DH role defensively, but there's a ton to like about the bat. His advanced approach allowed his plus power to shine through in the upper levels last season, hitting 23 homers while slashing .262/.367/.466. Nunez's 21% strikeout rate and 14% walk rate are extremely encouraging given the lack of questions around his power.
Jared Triolo – UTIL – (AA): A polished hitter with sneaky complementary tools, Triolo posted a 121 wRC+ in Double-A Altoona while swiping 24 bags and playing all over the diamond (3B, CF, SS). His 87% zone contact rate is impressive and there is enough impact for average power. With impressive K-BB rates and his positional versatility, it's hard to find a higher floor in the system than Triolo aside from Ji-Hwan Bae.
Hunter Barco – LHP – (CPX): One of the top collegiate arms in 2022, Barco seemed destined for the first round until Tommy John surgery put an end to his promising campaign in May. The Pirates were still intrigued enough to take him in the second round with a slightly above slot value bonus of $1.5 million. Barco is a tall lefty with a low 90s fastball and a sweeping slider that could become a plus pitch. Barco already flashed a changeup at the collegiate level, boasting a relatively advanced three pitch mix. He had struck out 69 in 50 1/3 innings for the Florida Gators before going down.
Other Names To Watch
Lonnie White – OF – (CPX): A three sport athlete who was committed to play football and baseball at Penn State, White was signed away form his commitment with a $1.5 million pay day after being selected 64th overall in the 2021 draft. Injuries have delayed White's full season debut, which is much anticipated given his exciting tools. White is a 70 gray runner with impactful potential in center. Even in limited looks, White has flashed at least average power and should be an exciting name to follow next year.
Dariel Lopez – INF – (High-A): A strong 21-year-old with a smooth swing, Lopez put up impressive numbers at High-A Greensboro last season, nearly doubling up his home run total from the year prior with 19 while slashing .286/.329/.476. Lopez blends power and feel for the barrel in a way that bodes well for his offensive outlook, but is an extremely aggressive hitter (34.4% chase rate). Even with his high chase rates, Lopez kept his strikeout rate at 25%, but he'll need to improve his 5% walk rate to reach his offensive ceiling. Originally signed as a shortstop, Lopez looks more like a corner infielder who could hold down the hot corner.
Michael Kennedy – LHP – (CPX): A fourth rounder in the 2022 Draft, the Pirates gave Kennedy second round money ($1 million) in order to convince him to forgo his LSU commitment. Kennedy is polished for a prep lefty, operating in the low 90s with his fastball with good shape while mixing in a slurvy slider and changeup. He will only be 18 years old for the duration of next season.
Jared Jones – RHP – (AA): A second round pick out of high school in 2020, Jones overpowered Low-A hitters in 2021 with his 95-97 mph fastball and nasty slider. The changeup is a distant third pitch for Jones, but both his fastball and slider are above average offerings. He is still just 21 years old and made strides with his command last year.
Kyle Nicolas – RHP – (AA): Acquired from Miami in the Jacob Stallings deal, Nicolas was a second round pick for the Marlins with a powerful two pitch mix. His fastball sits in the mid 90s, topping at 98 mph while his mid 80s slider flashes plus and is a big whiff pitch. Nicolas has continued to work on his changeup, but it has not been there for him so par in pro ball. Even so, Nicolas has been effective, following up a strong finish to 2021 with a solid showing in 2022 (3.97 ERA in 90.2 innings).
Matt Gorski – OF – (AAA): Swing and miss issues have plagued Gorski, but he showed off both his power and athleticism last year hitting 24 homers while swiping 20 bags in just 81 games. Gorski whiffed 28.6% of the time last year, but walked at a decent clip and showed an ability to play all three outfield spots even though he projects more as a corner guy.
Canaan Smith-Njigba – OF – (MLB): A wrist injury cut a strong campaign for Smith-Njigba short last season after making his big league debut. Smith-Njigba hits the ball hard, but often on the ground which saps his slugging output, but he is a patient hitter who knows how to put bat on ball. Only 1 HR in 52 Triple-A games is not ideal, but he did still post a 118 wRC+ while seeing some action in all three outfield spots. He projects more as a fourth outfielder.
Carmen Mlodzinski – RHP – (AA): The 31st overall selection in the 2020 MLB Draft, Mlodzinski struggled with the long ball a bit in Altoona, but flashed an intriguing three pitch mix. His changeup is the closest to a plus pitch while the mid 90s fastball and mid 80s slider are viable offerings as well. He could develop into a solid No. 5 starter or swingman.
Tsung-Che Cheng – SS/2B – (Low-A): Compact with great contact skills and speed, Cheng is an underrated name who should be able to climb the minor league ranks quickly thanks to his polish. Signed for $380K, there could be just enough impact in Cheng's bat to eventually carve out an every day role.