Analysis
2023 Has Been More Than a Swan Song for Andrew McCutchen
The Pittsburgh Pirates have emerged as surprising contenders for a division title, and the effort has been led by some unexpected names.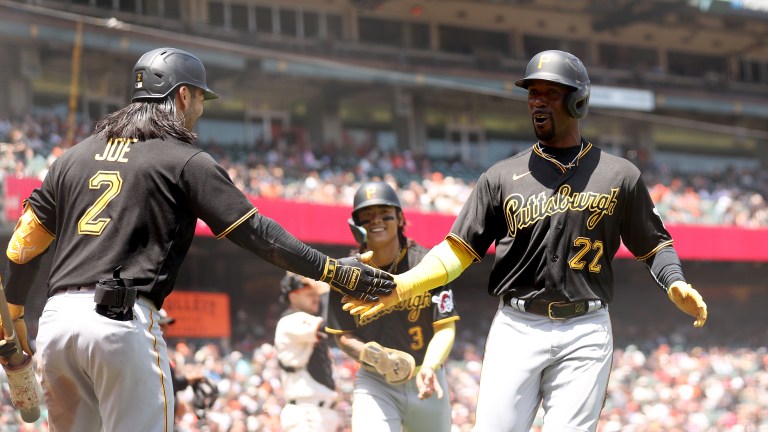 The Pittsburgh Pirates have been one of the bigger surprises in baseball this season. They were a popular pick to finish in the bottom-half in the NL Central heading into 2023, but they have surpassed all expectations through the first third of the MLB season.
After a hot start to the year, the Pirates went into May with the best record in the National League at 20-9. Following that, the Pirates lost 12 of their first 14 games to start the month of May and it felt as if the early-season magic had ran out.
However, they turned it around at the end of May and into the first week of June. Now winners of six of their last eight, the Pirates find themselves battling the Brewers for the top spot in the NL Central as they sit three games above .500.
Pittsburgh has several young, exciting pieces of talent to build around for the future. They recently signed Bryan Reynolds to an eight-year extension to be a cornerstone of their future outfield, Ke'Bryan Hayes continues to showcase some of the best defense in the game at third base, and Oneil Cruz, their freakishly-talented shortstop, is one of the most exciting young players in baseball.
Pittsburgh also managed to improve their team in the margins. They've received valuable step-forwards from young slugger Jack Suwinski, who appears to be in the midst of a breakout-type season for the Pirates. They also made some under-the-radar moves by adding solid role players to elevate the team's floor.
While the move didn't make headlines at the time, the Pirates traded for Connor Joe in the offseason, and he appears to be settling in nicely in his new home at PNC Park. But one of the more feel-good storylines of the early MLB season has been the unexpected bounce-back performance from seasoned-veteran Andrew McCutchen.
McCutchen signed a one-year, $5 million deal with Pittsburgh in the offseason. 'Cutch' is a familiar face to the Pirates as he started his career with them back in 2009 and spent the following nine seasons with the ball club.
The signing felt like an unofficial retirement tour for McCutchen. Being one of the best players to wear a Pirates uniform, it felt like a proper a reunion to put him on a one-year sendoff into retirement. However, with how well he and the Pirates have been playing, that may not end up being the case.
McCutchen has turned back the clock through his first 53 games, and he appears ready to help the Pirates compete for a division title. Whether it is McCutchen emptying the tank for one final season, or him proving to the league that he has more left to offer, he has played an essential role in the early-season success of the Pittsburgh Pirates.
Andrew McCutchen's Career Accolades
Andrew McCutchen was one of the best players in the sport in the early 2010's. Pittsburgh drafted him in the first round of the 2005 draft, and he remained one of the top prospects in baseball until debuting with Pittsburgh back in 2009.
From then on, he put together an impressive run with the Pirates. From 2011-'15, McCutchen accumulated an fWAR of 34.2 wins, the second-best mark in baseball only behind Mike Trout.
In those five seasons, McCutchen posted an overall slash line of .302/.396/.509 for an OPS of .905 and an impressive wRC+ of 151. He also made five-straight All Star Game appearances during that stretch in addition to various other accolades.
McCutchen finished in the top-five in NL MVP voting from 2012-'15, and won the the NL MVP in 2013. He won four-straight Silver Slugger awards in that same time frame and secured a Gold Glove in 2012.
McCutchen was doing it all with the Pirates. He was one of the best players in baseball in the early part of the decade, but hasn't returned to that level of play since parting ways with Pittsburgh.
McCutchen's Step Back
Following his age-30 season with the Pirates in 2017, Pittsburgh elected to trade McCutchen to the San Francisco Giants for a prospect who is now the future of their outfield in Bryan Reynolds. From there, McCutchen failed to find his footing elsewhere.
McCutchen signed a three-year deal with Philadelphia back in 2019, but suffered an ACL tear in his first year with the team at the age of 32. After posting league-average numbers with Philly in his remaining two seasons, he signed a one-year contract with the Milwaukee Brewers in 2022.
Unfortunately for McCutchen, his situation didn't improve in Milwaukee. He posted a career-low OPS of .700 with the Brewers, and it appeared he didn't have much left in the tank.
But against all odds, McCutchen is in the middle of a comeback season with the Pirates this season. Now Pittsburgh's designated hitter, McCutchen's career has come full circle. He now finds himself teammates with the prospect he was traded for years ago in Bryan Reynolds, and he is thriving in his new role.
McCutchen's Bounce-Back Season
It feels foreign to use the term "bounce-back season" for a player in his 15th season, but that is exactly what this year has been for Andrew McCutchen. He is posting some of his best numbers since the late 2010's, and it appears McCutchen is putting together the perfect storybook ending to his career.
In his 226 plate appearances this season, McCutchen is slashing .269/.381/.435, while his OPS+ and wRC+ both sit at 123. He has eight home runs on the year to go with 23 RBIs and 29 runs scored. Additionally, he has swiped seven bases on the season already. McCutchen has not stolen more than eight bases since 2018, so it appears he his speed has not yet diminished.
McCutchen's approach at the plate in 2023 has exemplified that of a seasoned veteran. He has made strides of improvements in his patience at the plate in relation to his past couple of seasons, and it has translated to more efficient offensive success.
His walk rate of 14.9% is up over five percent from last season and is in the top seven percent of baseball. Additionally, McCutchen's strikeout rate has steadily declined since it peaked at 23% in 2021. That trend continues this season as he is posting a strikeout rate of 19.8%, which is the best since his 2017 season.
McCutchen's successful approach is fueled by him being one of the best in the sport at laying off pitches outside of the zone. His chase rate of 19.6% is in the 93rd percentile and greatly contributes to his successful offensive production.
Because of this, McCutchen is putting up his best batting average since 2017, along with his best on-base percentage and OPS since his shortened 2019 season.
Not only has McCutchen brought a disciplined approach to the top of Pittsburgh's lineup, but he is making some of the hardest contact of his career thus far in 2023.
McCutchen's High Quality of Contact
McCutchen is hitting the ball as hard as he ever has. His hard hit rate of 43.4% is up 3.4% from last season and is his best hard hit rate since 2015. Additionally, he is posting an above league-average exit velocity at 89.1 miles per hour, as well as a solid barrel rate of 8.4%.
One of the areas leading to McCutchen's impressive quality of contact has been his success versus the fastball, a pitch type he has pummeled this season. Against fastballs, McCutchen is hitting .349 to go with a slugging percentage of .560. He is also posting a .434 wOBA against fastballs with expected statistics that are equally as impressive across the board.
Smashing fastballs has been a main driver of McCutchen's success this season, especially when looking at his putaway rate. He has a superb putaway rate of just 11.9% against the fastball. Pitchers are struggling to get fastballs by McCutchen, and having that threat at the top of the lineup is a huge asset for the Pirates.
McCutchen appears to have refined his approach and swing this season, and it's translating to more production at the plate. He has evolved from a 2022 season in which he struggled, and it's good for the sport to see McCutchen bounce-back with the team he started his career with.
Last season, McCutchen was a league average hitter, posting a wRC+ of 98 to go with an fWAR of just 0.3 wins on the year. This season, however, he has already accumulated an fWAR of 1.0 through his first 53 games and has improved several areas of his game.
His strikeout numbers are improved, he is getting on base at a much higher clip, and he is hitting the ball as hard as he ever has. McCutchen's success has been infections to other batters, and he has set the hitters around him in the lineup up for success.
Unexpected Names Leading The Charge
McCutchen ranks fourth on the Pirates in fWAR. One of the names above him on the list is star-outfielder Bryan Reynolds- a name many are not surprised to see pacing the Pirates in fWAR. The other two names above McCutchen, however, are players whom Pirates fans might not have expected to be leading the charge for Pittsburgh.
Outfielders Jack Suwinski and Connor Joe are amongst the fWAR leaders for the Pirates so far this season. While it's surprising in-and-of itself to see Pittsburgh enter the division contender conversation, it's equally as surprising to see these two leading the charge in that success.
Jack Suwinski's Breakout
In his second year in the big leagues, Suwinski appears to be in the midst of a breakout season. The 24-year-old is third on the team with a 1.2 fWAR, and he has made immense strides in his presence at the plate this year, posing as a threat in the middle of Pittsburgh's lineup.
In 193 plate appearances on the year, Suwinski is slashing .230/.342/.478 for an OPS of .820 and a 122 wRC+. He's been a big power threat for the Pirates this season, smashing 11 home runs, which leads the team, and 30 RBIs to go with a fantastic ISO of .248. A lot of his success has stemmed from the long ball and generating impactful contact.
When he has made contact, Suwinski has consistently hit the ball hard. He is posting a solid hard hit rate of 44.0%, which is up 3.6% from last season. What has been even more impressive is his ability to keep the ball off the ground, which has contributed to his elite barrel rate this season.
Suwinski's ground ball rate sits at just 26.0%, which is significantly better than the MLB league-average of 44.8%. In turn, Suwinski has posted an incredible barrel rate of 16.0%, which is up four percent from last year and sits in the 94th percentile.
Similar to his teammate in Andrew McCutchen, Suwinski has also been one of the best in the sport at drawing free passes and laying off pitches out of the zone. He is in the 93rd percentile in walk rate at 14.5%, which is a 3.5% jump from last season's number. Relatedly, Suwinski's impressively low chase rate of 16.8% is in the top three percent in baseball.
Suwinski is posting an elite chase rate and is drawing walks at one of the more efficient rates in the league. However, the one hole in his game has been his susceptibility to the strikeout.
Suwinski's strikeout rate of 33.2% is in the bottom five percent. At times, there has been inconsistency with his production at the plate. These issues are fueled by some bat-to-ball issues in the early goings of the season.
He is posting a whiff rate of 30.9%, which is well-below league average. Suwinski has struggled to make contact with pitches thrown in the zone as well. His zone contact rate is at 74.6%, which is also well-below league average. While there have been bright spots in Suwinski's game, there are areas that still need to be ironed out.
With that being said, the strides Suwinski has made at the plate are encouraging for the Pirates at the age of 24. He had an opportunity to capture an everyday outfield role for the Pirates heading into the season, and it appears Suwinski has seized that opportunity through the first third of the season. Pittsburgh will hope the second-year lefty can make the most of this opportunity and continue his success as the year progresses.
Connor Joe's Impact
Another name that is a surprise to see at the top of the fWAR totals for the Pirates is outfielder and first baseman Connor Joe. Pittsburgh acquired Joe back in December from the Colorado Rockies, and he has played a valuable role for this Pirates team.
Joe leads the team with an fWAR of 1.4, which is already greater than his fWAR total from his past three seasons combined. Bringing positional versatility with a reliable bat to the lineup, Joe has settled in nicely in Pittsburgh.
Through 196 plate appearances on the season, he has a slash line of .251/.347/.474 with a wRC+of 126. He has been an extra-base hit machine this year, already racking up 23 including six home runs and three triples yielding an ISO of .222. For context, Joe had seven homers and four triples all of last season in his 111 games with the Rockies.
The common theme with the two previous hitters discussed was their elite plate discipline, and Joe has continued with that same story. He is in the 98th percentile in chase rate, which sits at an impressive 15.7% on the year. It's allowing him to produce efficient at bats, illustrated by his .360 wOBA, which is the best mark on the Pirates and well-above the league average wOBA number of .316.
As mentioned, his power has seen an uptick in part due to his ability to barrel up the ball this season. He has a barrel rate of 10.4%, which is a career high and a six percent increase from 2022. His hard hit rate of 43.5% is up 10% from last year and is a career high by a wide margin. Joe hasn't been a power threat in his young career, so if he managed to tap into a newfound power stroke, he becomes a much more valuable player for Pittsburgh.
Joe was brought in to specialize against left-handed pitching, and he has delivered on expectations thus far. Slashing .313/.421/.609 with 13 RBIs and four homers in 76 plate appearances versus lefties, Joe has been one of the best hitters in the league against left-handed pitching.
Something has clicked offensively for Connor Joe, and he may have played his way from a platoon bat to an everyday player. It was a trade that flew under the radar in the offseason for the Pirates, but it's one that seems to be yielding value in the early goings this season.
Thus far in 2023, it has been the unexpected names leading the charge for Pittsburgh. A big step forward offensively for Jack Suwinski and a newly-discovered power swing from Connor Joe are helping raise the floor of this Pittsburgh Pirates team. But perhaps the biggest surprise is the rejuvenation of Andrew McCutchen's presence at the plate.
In a season that was supposed to be a swan song for the veteran, McCutchen is putting together an impressive year with his familiar ball club. The NL Central is shaping up to be a race to the finish, and Pirates-legend Andrew 'Cutch' McCutchen is providing a spark for a Pirates team that appears to be on track to compete for a division title.