Analysis
Patrick Wisdom is Pulling the Cubs to a Surprising Start
Patrick Wisdom is off to a hot start in 2023, and the Chicago Cubs are reaping the rewards in their resurgent season so far.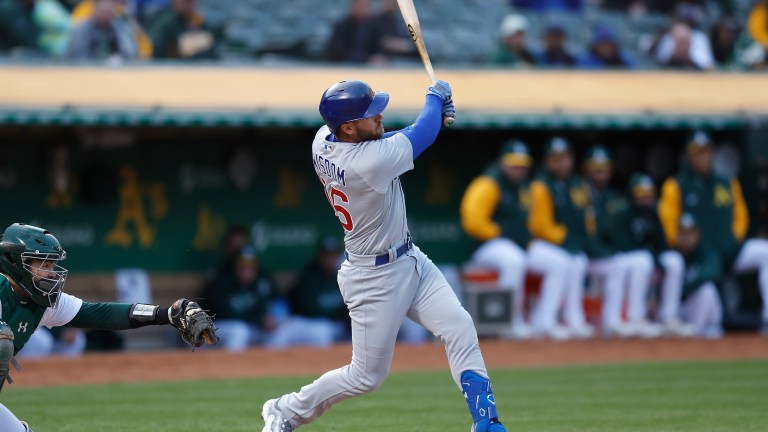 Sixteen games into the 2023 MLB season, the Chicago Cubs are second in the NL Central, sitting in a Wild Card spot and Patrick Wisdom is tied for the league lead in home runs with eight.
Just like we all predicted, right?
All joking aside, the Cubs and Wisdom's resurgence could throw a wrench into what was already a crowded National League playoff picture.
While the north siders are an interesting story themselves, as they look to expedite their rebuild process, let's dive into the team's current leader in fWAR and see how Wisdom has been a big part of Chicago's early success.
The 31-year-old burst onto the scene in 2021, taking advantage of a full-time role following the Kris Bryant and Anthony Rizzo trades to post a 117 wRC+ with 28 home runs for a Cubs team that finished 71-91 and was starting the process of moving from their 2016 World Series championship team to a new era.
While Wisdom looked like a player that could emerge as a part of that era, the 2022 season wasn't as kind to him.
In 28 more games and 159 more at-bats, the breakout star hit three fewer home runs and saw significant drops across his triple slash line, wRC+ and hard-hit rate.
However, he's come into the 2023 season on an impressive hot streak, already posting two multi-home run games and leaving the yard in four consecutive contests before being held inside the Oakland Coliseum last night — although he still went 1-for-5 with a 109.6 mph double.
His line to this point in the season? A .281/.339/.754 slash line, with a 183 wRC+. He's been one of the best hitters in baseball, thanks to his power surge.
And while, yes, a 15-game sample so far this year might not be completely indicative of what we'll see from Wisdom over the course of the next 146 games — he's sure looking more like the hitter we saw in 2021 than the one that showed up in 2022.
| | | | | | | | |
| --- | --- | --- | --- | --- | --- | --- | --- |
| | wOBA | xwOBA | HardHit% | K% | Pull% | Barrel% | wRC+ |
| 2021 | .346 | .321 | 51.9 | 40.8 | 53.0 | 16.2 | 117 |
| 2022 | .316 | .295 | 46.3 | 34.3 | 48.1 | 14.2 | 104 |
| 2023 | .454 | .426 | 62.2 | 30.6 | 50.0 | 23.9 | 183 |
Now most, if not all, of the stats in this table are going to be unsustainable for Wisdom over an entire season, but I included them to show how he's trending to his 2021 breakout and to show some areas of his game that may be improving.
Wisdom has already established that he's going to be a high-strikeout and below-average walk-drawing hitter. But an encouraging early-season trend is seeing his strikeout rate drop to a career-low 30.6%. This is more in line with some of the valuable sluggers we see across MLB today. In fact, the 2022 NL home run leader, Kyle Schwarber, finished last season with a 29.9% strikeout rate.
Another encouraging trend in the table above is Wisdom's pull rate returning to 50%. For a pure slugger who's shown the kind of raw power that the Cubs' star has, he should be pulling the ball as much as possible. And for a guy that's only hit four of his 65 career home runs to the opposite field, it makes sense that the more he pulls, the more likely he will be to add to that total.
So I think it's safe to say that he won't maintain a 23.9% barrel rate or a 183 wRC+, but some of the underlying approach stats show that he's taking steps forward after a tough 2022. He's returned to a process that has already produced excellent results, and he may have actually made significant strides in making contact — as can be seen in his improved strikeout and whiff totals.
All in all, Wisdom's hot start may prove to be more sustainable than you think. He's still making quality contact and hitting it in the right direction while putting the ball in the air at a career-best clip (39.5%).
Even considering the likely regression that comes with playing a full schedule, if Wisdom keeps up some of the processes he's established in 2023, he profiles as an above-average slugger that could be a middle-of-the-order contributor on a winning team. A good comparison might be the 2022 totals Eugenio Suarez put up for the Seattle Mariners.
If Wisdom can pop 31 homers, only strikeout 31.2% of the time and finish with a wRC+ around 130, he could play a key part in a Cubs run to the postseason for the first time in a full season since 2018.