News
Chicago Cubs Land Jeimer Candelario from Washington Nationals
One of the best rental bats is officially off the market, as the newfound buying Chicago Cubs have added switch-hitter Jeimer Candelario.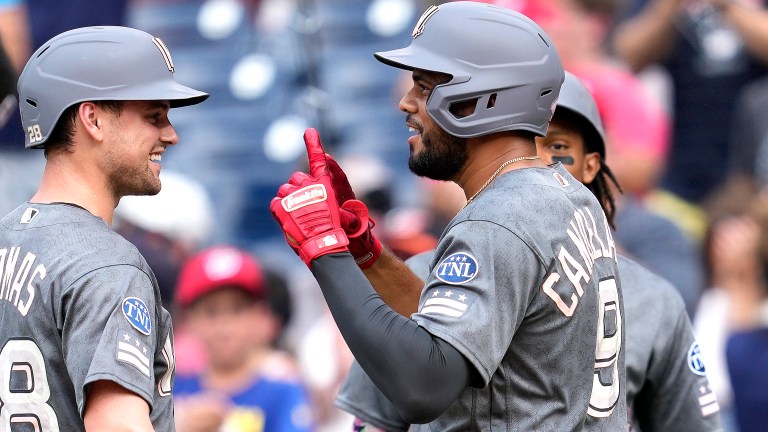 Perhaps the rental bat is now off the market. Former Chicago Cubs prospect, Jeimer Candelario, is headed back to Chicago.
Candelario showed some upside in Detriot before getting non-tendered after last season. Signing a one-year prove-it deal in Washington, which worked out well for the third baseman. He slashed .258/.342/.481 with 16 home runs across 99 games. Chicago wanted to beef up their lineup and adding the switch-hitter with some pop should do just that.
Patrick Wisdom and Trey Mancini could be in line for a decreased role. Candelario has graded out as one of the better defensive third baseman this year (93rd percentile in OAA), but you can also slide him to DH if Morel or Wisdom need to be in the lineup.
Seiya Suzuki has not provided the power the team hoped for, and a lineup with Nick Madrigal, Nico Hoerner, Yan Gomes, and Mike Tauchman needs some muscle.
Washington, who's in their second-straight prospect piling deadline, added 20-year-old shortstop Kevin Made and 22-year-old southpaw DJ Hertz. Made is a tooled up player who signed for $1.5 million out of the Dominican Republic in 2019. He's already in High-A but has a ways to go before reaching the big leagues. A lot of potential to dream on.
Hertz has pitched well at every level with good enough stuff to rack up strikeouts. A plus changeup will help him stick as a starter and keep him in the game against tough righties. Already in Double-A, Hertz is not too far off from a big league debut.
I love this deal for the Nationals. They turned a cheap one-year deal into a a lefty starter with plus stuff, and the perfect high upside "risky" prospect. A projectable player and a slight gamble. That's exactly what I like to see in a return. For the Cubs, they add a switch-hitter (their second with Happ) who will add much-needed power to the lineup. Surprised they are this interested in going for it, but good for them. I like Candelario, but I think this can't be the only move they make.