Analysis
One X-Factor Player for Each Team in the NL East
These five players from the NL East have the skills to make a huge difference in the division – this year and beyond.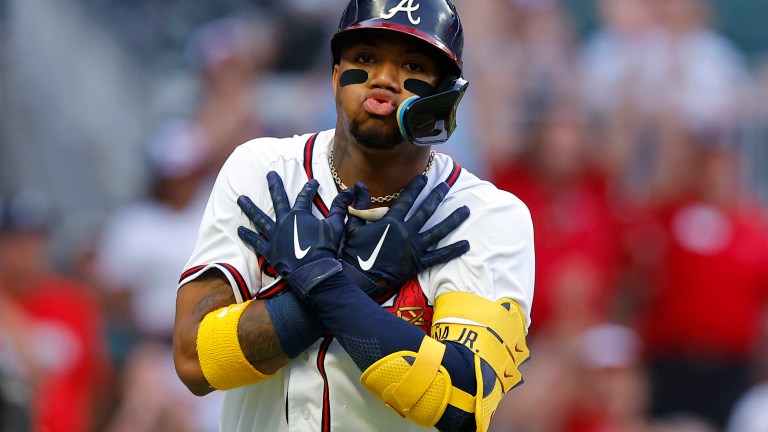 Weekend numero uno of the 2023 Major League Baseball season is now in the books.
We saw electric matchups throughout the league, and while you cannot really extrapolate much from the current sample sizes, you can now start to get an idea as to which players look to be the potential difference-makers for their teams as we progress throughout the year.
Frequently, we throw around the "X-factor" label for players who go on hot streaks in-season. Whether it's an established veteran or a rookie looking to make a name for themselves, there will be at least one player on each team who helps make a positive impact for their club as they look to make a postseason push.
In this article, I am going to highlight one X-factor player from each team in what looks to be the beginning of another exhilarating run in the NL (B)East.
Atlanta Braves – OF Ronald Acuña Jr.
Much has been made about Acuña's "fit" for the Braves going forward, since rumors started to swirl with Freddie Freeman's departure and the team's success without Acuña after he went down with a torn ACL the year they won the World Series.
From his very first AB of the season, we saw the elite traits that Acuña brings to a lineup on a daily basis.
He went on to have himself an electric beginning to a season in which many question marks surrounded him even before spring training. With so much additional firepower throughout this Braves roster, many wondered whether they even needed him in order to have continued success.
If Ronald Acuña Jr. returns to even half of the player he was prior to his injury, he is going to elevate this lineup to a level that no other team will be able to compete against.
Miami Marlins – OF (?) Jazz Chisholm Jr.
There is so much that went into this decision to label Jazz an X-factor for the Marlins. Some might consider this a chalky answer.
I initially thought so too, with how quickly his name came to mind when I thought about the Marlins. Then I thought about the reigning Cy Young Award winner and how – while he is above and beyond the best starter on this team, arguably in baseball – the Marlins have other talented young arms that have proven to be above-average big league starters.
Then came the reigning AL batting title champ, and how he just continues to carry over the success he had in 2022 and the WBC into the regular season with ease.
Lastly came the all-encompassing Jazz Chisholm Jr. and all that comes with him.
Between all the "antics" that many criticize him for, Jazz's electricity is going to be a difference-maker for this Marlins team. We know what he's going to provide to the lineup when he is out there. The difference will come with his defense at a new position he has never played before.
We saw this past weekend how hard it is to man centerfield in the big leagues, let alone spacious loanDepot Park. If he is able to play just average defense for them, the Marlins will be in a much better position to succeed this season.
New York Mets – 3B Brett Baty
"How are you going to say that Baty is the X-factor when he couldn't break camp with the team?"
That is in no way his fault.
Eduardo Escobar should not be taking at-bats in such a loaded New York Mets lineup. Even less so after his performance this past weekend compared to what Baty was doing in Triple-A.
Baty is treating Triple-A pitching like batting practice right now.
The Mets' big league roster is loaded throughout. Even with the injuries sustained to their starting rotation, they have capable arms to hold them over in the meantime. Outside of the hole at third base, their position players are all incredibly talented – arguably the most talented group in all of baseball.
Once Baty is promoted to Queens, he is going to make an already electric offense into something even better.
Philadelphia Phillies – OF Nick Castellanos
The Phillies are going through it right now with their offense. It seems as if they are running into an injury to one of their positions players each day. While they try to piece it together until Bryce Harper makes his return, Nick Castellanos is going to have to step up and provide the team with the boost they were hoping he'd bring when they signed him last season.
His patented right-center bat-flip approach is going to have to come a little more frequently if the Phillies want to protect their NL crown this year. The start of their season has been less than ideal.
The entire Phillies bullpen went well into consideration for this article, but I wanted to highlight just one player, and Castellanos was that player because of the results, or lack thereof, that he has been able to provide this team so far.
There have been reports of him taking reps at first base during practice lately. If he is able to transition over, allowing the Phillies to field a stronger defense in the outfield for their pitching staff, that could also be the reason that Castellanos becomes this team's X-factor going forward.
Washington Nationals – LHP MacKenzie Gore
The Nationals are going to need an X-factor performance from their front office to piece together a competitive ballclub this season.
I'm just kidding.
What's going to be a big-time factor for the Nationals going forward is the emergence of MacKenzie Gore now that he has made his debut for the team since being acquired in the package that shipped off Juan Soto to San Diego.
MacKenzie Gore looked great in his first start against an Atlanta Braves team that can be considered the best in baseball. He was able to effectively locate and execute each of his pitches when he needed to.
It did look as if Gore was showing flashes of the "top pitching prospect in all of baseball" kind of talent for the time he was ranked as such. If Gore is able to show he can lead this rotation going forward, it will provide the Nationals brass with confidence that he will be one of the leaders for the next winning Nationals roster.