Analysis
One X-Factor Player for Each Team in the NL West
The Padres need Blake Snell to pitch like an ace, while the Dodgers hope for a bounce back from Max Muncy. Here are some NL West X-Factors.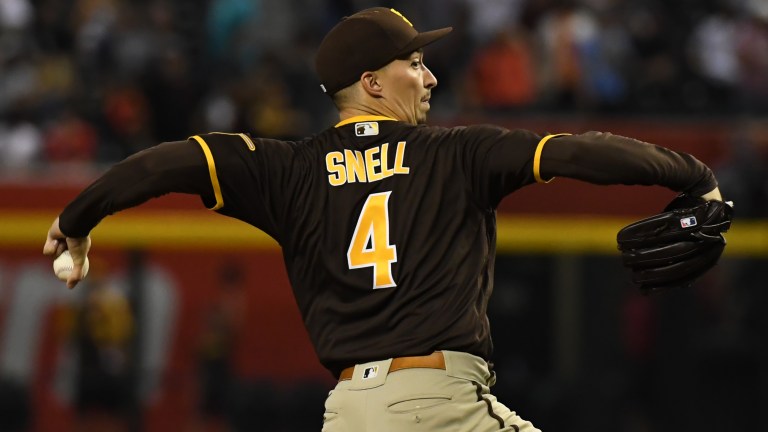 Every team has a goal, whether it's competing for a World Series title or developing a future dynasty. All 30 teams have a couple of players under the spotlight, either bringing fans to the park with their superstar talent, developing a future prospect with hopes of becoming an All-Star, or in some cases, a player trying to prove himself worthy of a 26-man roster spot.
There are many more categories you can break each player into however, some players have important 2023 seasons coming up making them the teams' X-Factor.
I'll break down each team's X-Factor and why their performance this year will play a pivotal role in the team's playoff hopes or future status. Here are each team's X-Factors for the National League West:
Los Angeles Dodgers – Max Muncy
One of the many nightmare hitters to face the Dodger lineup during the 2021 season, crushing 36 bombs and driving in 94, while finishing in the league's top 20 in OPS (.895) and Slugging (.527). Muncy was a monster in Dodger blue as a bat and a utility player in the field, which Dave Roberts enjoyed using him at third, second, and first base. The Dodgers had high expectations for Muncy after putting up a 139 wRC+, until he tore his UCL in game 162 of the 2021 season.
It seems as if Muncy has never truly returned to his 2021 self, failing to hit above .200 last season and hitting 15 fewer home runs in just eight less games. The swing never felt the same, as Muncy increased his strikeout rate by 5% in the 2022 season.
It's safe to say for the first time in what feels like a decade, the Dodgers don't have many All-Stars around the diamond, after losing Cody Bellinger, Trea Turner, and Justin Turner to free agency and Gavin Lux to a season-ending ACL tear in spring training. This builds pressure on Muncy to deliver at least signs of his 2021 dominant season, which would go a long way for a Dodger team who now seems to be playing catch-up with the Padres in the race for the NL West Title.
San Diego Padres – Blake Snell
Blake Snell was the ace of a Tampa Bay Rays squad that fought its way to an unexpected World Series appearance against the Dodgers back in 2020. Although it was a small sample size, Snell dominated on the bump with an 11.34 K/9 and 3.24 ERA.
Snell's transition to San Diego was rough, posting a 4.20 ERA and opponents increasing their barrel rate by 4%. However, Snell had Padres fans licking their lips after finishing the second half of the 2022 season with a 2.10 FIP, 2.40 ERA, and striking out 114 across 82.1 IP. A taste of prime Tampa Bay Ray's Blake Snell got San Diego excited only for him to underperform in his three postseason appearances, allowing seven runs in just 13.1 IP and walking nine.
A Padres team who has eyes on hoisting the World Series trophy for the first time in franchise history will need a deep starting rotation to do so. Adding Xander Bogarts in the offseason plus Juan Soto at last year's trade deadline and getting a healthy Fernando Tatis Jr. this year solve any and all offensive question marks. Snell will have to do his part of giving the Padres consistent strong starts against postseason opponents to add to Joe Musgrove and Yu Darvish's brilliant 2022 seasons.
Let's also not forget from a player perspective, Snell is in a contract year this season. So he will have every incentive to put up a big campaign.
San Francisco Giants – Joey Bart
The Giant's 2018 second-overall pick and future Hall of Famer, Buster Posey's replacement Joey Bart has Giants fans scratching their heads. In his first 370 at-bats, Bart has produced a .222/.294/.645 slash line with 11 HRs and 33 RBI. Not a promising start to the youngster's career, which has created such incredibly high expectations ever since Buster Posey's retirement after the 2021 season.
Bart's biggest enemy is the swing-and-misses, resulting in a 38% strikeout rate which is unacceptable as a hitter, especially since he's not walking either with just 29 walks in his career. He either needs to increase the walks or decrease the strikeout rate, otherwise his job behind the plate in San Francisco will be brief.
The Giants have already signed Robert Perez, who made the Opening Day start for them this season and just recently added former Yankees and Twins catcher, Gary Sanchez.
Assuming the Giants don't shock the world and win 107 games as they did in 2021, Bart needs to take a leap this year and present his talents in front of the Giant's front office to prove he's the future catcher for this organization. Not everyone figures it out in their early 20s, or better yet their first 408 plate appearances, but Bart hasn't done anything to get Giants fans out of their seats. Being the former second-overall pick, it's too early to throw in the towel on Bart, which is why he needs something to go his way this season.
Arizona Diamondbacks – Corbin Carroll
The Diamondback's number one prospect Corbin Carroll has the potential to have his jersey worn by fans filling the stands at Chase Field in the near future. The five-tool center fielder got a taste of the big leagues late last season making 32 starts. Already making an impression with a .260/.330/.830 slash line with four home runs in just over 100 at-bats.
Carroll shows signs of above-average speed, power, plate discipline, and defense making him a key building block for the Diamondback's future. His defensive glove and speed will be lethal in a large center field at Chase Field.
Unlike our other X-Factors in the NL West, Carroll has keys to the Porsche being the future of this club, which doesn't plan on competing with the Dodgers or Padres for the division, at least not yet. In Triple-A last year, Carroll put up an impressive .287/.408/.535 slash line before being promoted to the majors. He began the 2022 season in Double-A and quickly proved he was big-league-ready by late September. All Diamondback fans should be excited for Carroll's future with the team along with a handful of other young stars itching to join him at the big league level.
Colorado Rockies – Ezequiel Tovar
The Rockies' got a taste of their number two overall prospect, Ezequiel Tovar, a young promising shortstop for Colorado. Tovar appeared in just nine games for Colorado going 7-for-33 with a home run in his stint with the Rockies. Tovar's glove is the first element of his game that pops out, which will be crucial at Coors Field keeping balls in the infield and preventing hits.
The 21-year-old shortstop is a disciplined hitter who can spray the ball to all fields and is willing to get deep into the count and wait for his pitch resulting in walks. This goes a long way with his six-foot 162-pound athletic frame. Being one of the younger players in the league, Tovar's hope for the year is to give a non-threatening Rockies team their first future building block in their rebuild process.
Starting the 2022 season in Double-A and getting the call to the majors in late September is evidence of his strong performance in the minors last year. He hit .318 with a .931 OPS while swiping 17 bags in 20 attempts in Double-A. If Tovar can display his talents and present a promising picture as advertised, the Rockies will have a young star to look forward to in seasons to come.