One X-Factor Player for Each Team in the AL Central
The AL Central is full of question marks, and the performances of a few individual players could alter the entire division race.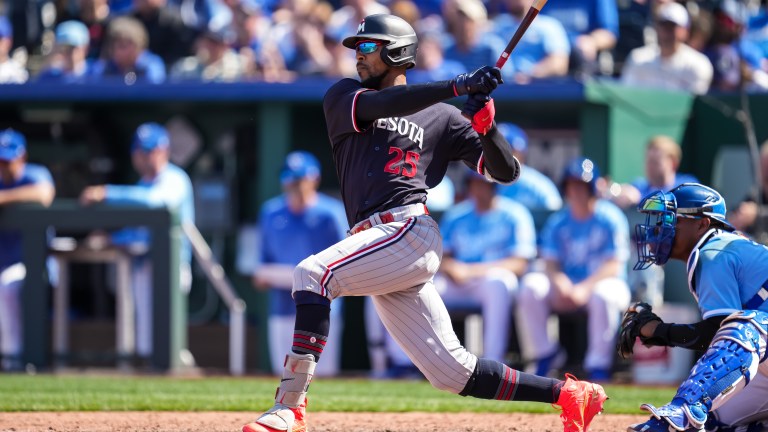 There are always a few players who seem pivotal to the success of their team in a given season. These players aren't typically the best players on the roster, but rather those whose production and/or health can completely change the team's outlook.
Many players that struggle with injuries become "X-factors" because of the impact they make when they're on the field. There are also prospects who have the ability to change how their team plays, as well as veterans who simply need to bounce back for their teams to succeed.
The AL Central appears to be set for another very interesting season, with many teams that have plenty of question marks. The performance of a few players could entirely alter this division, so it's worth examining which players that could be for each team.
Cleveland Guardians – SP Aaron Civale
The Guardians are in a good position to defend their crown in this division from last season. Their offense looks as strong as ever and their bullpen remains one of the best in baseball, but the back end of their rotation has some questions right now, especially with Triston McKenzie set to miss up to two months.
Shane Bieber will lead the rotation as the ace, and the consistent Cal Quantrill will follow, but Cleveland's outlook beyond those two is a potential weakness. Veterans Aaron Civale and Zach Plesac will follow, but neither is a surefire consistent starter. Civale is the first name that comes to mind as someone who has been an effective starter at times for Cleveland but has failed to stay healthy and is coming off his worst full season.
Civale pitched in just 20 games last season and finished with a 4.92 ERA on the year. He pitched to a 3.84 ERA in 2021 but was unable to remain healthy that entire season as well. Civale staying in the rotation all season and reaching his 2021 performance level would be a huge boost to this rotation.
Civale looked better than he has in a long time in his first start of the season against Seattle. He worked seven shutout innings while only allowing two hits against a very solid Mariners lineup.
Cleveland has ample pitching depth close to reaching the major leagues, but they'll need some solid contributions from Civale and/or Plesac in order to avoid having their rotation be a weakness early in the season.
Chicago White Sox – SP Michael Kopech
There are at least five players that qualify as an X-factor for a White Sox team that dealt with constant injury and underperformance last season. The lineup needs health from its stars such as Tim Anderson, Eloy Jiménez, Luis Robert Jr., and Yoán Moncada. Furthermore, Robert and Moncada didn't perform to the fullest of their abilities at the plate last season and will need to show more.
There are a number of questions in the bullpen with two key members out right now, but ultimately it comes down to two starting pitchers for me. Lucas Giolito and Michael Kopech have the ability to define the season for Chicago. Giolito is coming off a huge down year following three seasons as the team's ace, but the potential impact of Kopech could be higher than anyone else on the roster.
Kopech is a former top prospect coming off his first full season as a starting pitcher. He was one of the best swingman-type arms in 2021, showing the ability to be an elite MLB arm. The 2022 season was a mixed bag for Kopech, who showed serious promise but had command issues and didn't have the chance to break out fully due to his innings restriction.
There is no denying the talent Kopech possesses, but his velocity has decreased over the past two seasons and his command continues to cause him trouble. The White Sox will need him to remain healthy and take another step forward in his progression in order for this rotation to reach its potential in any capacity.
Minnesota Twins – CF Byron Buxton
The one feels boring, but it's just the reality of the situation. The Twins have done a lot to adjust their roster this offseason, with the biggest move being the surprising retention of Carlos Correa. The rotation looks formidable across the board with the addition of Pablo López, while the bullpen has some question marks.
Regardless of all the winter moves, there is no bigger question mark and X-factor in Minnesota than Buxton once again. He's shown signs of being a perennial All-Star caliber player but has failed to stay healthy every season and wasn't always the best version of himself when healthy last year. Buxton still hit the ball as hard as anyone while hitting 28 home runs in under 100 games, but his strikeout rate was incredibly high.
There is no real reason to doubt his talent though, and the Twins bolstered their outfield depth in order to allow him to DH more than he ever has. While he loses some of his value if he's not playing his usual excellent outfield, his bat is simply too important to risk.
Minnesota's lineup will depend on Buxton being in it and being the absolute force he's proven to be when he's on the field. He's been one of the biggest "what-ifs" in baseball for years, and he will remain the X-factor of this squad until something changes.
Detroit Tigers – 1B Spencer Torkelson
The Tigers are set to embark on another rebuilding season in which the focus is on the young talent and continuing to grow internally. The biggest disappointment of last season for Detroit was the rookie season of top prospect Spencer Torkelson.
He struggled out of the gate and was never able to get comfortable in the big leagues. He was even sent down to Triple-A for a portion of the season before returning to Detroit late in the year.
Even following a season in which he barely had a .600 OPS and struggled in every way, the talent is there and will come through. There's no reason to believe that Torkelson can't bounce back and become a productive player, and that would be one of the best possible outcomes of the season for Detroit.
The Tigers lineup has the ability to be very solid this year with the return of Austin Meadows and contributions from numerous rising young hitters such as Torkelson. The Tigers aren't competing, so the best outcome would be showing signs of internal improvement, and Torkelson likely has the most potential of all.
Kansas City Royals – INF Michael Massey
The Royals are another team in a similar situation to the Tigers. They're in the midst of a rebuild and likely will not compete seriously this year, but they have some exciting internal hitters to watch.
While there's a case to be made that some of the veterans are this team's biggest X-factor because of their trade value, I'm choosing to focus on a lesser-known young talent that could elevate the offense. While the best performers in the lineup will likely be young stars Bobby Witt Jr. and Vinnie Pasquantino, the Royals will look for a breakout season from Michael Massey.
The young infielder showed some potential last season, but he can reach another level this year. The Royals need more talented players to emerge and prove they can be future mainstays on the roster, and Massey could be the next to add his name to that list. His expected metrics in his short rookie season suggest that he's due for more home runs and power in the future.
The Royals' season will be defined by the young players on the roster, and Massey will look to break out as another key hitter this season.