Analysis
Oakland Athletics Offseason Outlook
Heading into year two of a rebuild, the Oakland Athletics have a long road ahead of them before they can realistically contend again.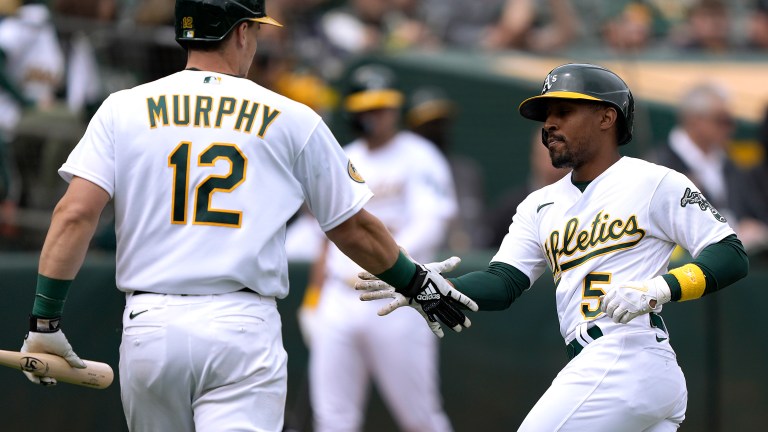 The Oakland Athletics, under first year manager Mark Kotsay, finished 2022 with a 60-102 record, good for the second-worst record in the league. Year one of the rebuild was highlighted by Paul Blackburn's surprise All-Star appearance although his 5.13 and 7.35 ERA in June and July clouded his magnificent start to the season. A frustrating product on the field was amplified by the rumors swirling, once again, of a move to another city.
Unfortunately for the A's, 2022 was not a year of youth and development. Out of the position players to appear in 100 or more games, Nick Allen was the only one under 27 years old. Not usually the course for a team building towards the future. The 2023 lineup will include younger players with more intrigue and upside. Although Oakland is unlikely to add former All-Stars, a couple major subtractions could be in play this winter.
The offseason started off with some breaking news as it was announced that Billy Beane would take a new role as the Senior Advisor to the Managing Partner. What that really means? Time will tell. But business must go on and the Athletics have a couple of trade chips they need to make decisions on.
Trading the Established Talent
I do not need to explain this process to A's fans. They have seen this many times before. Honestly, they have had some success in trading away talent before they become expensive. Maybe Seth Brown, Tony Kemp, and Paul Blackburn could bring back some pieces but I want to focus on three names that could return legit prospects.
Let's start with Sean Murphy. The 27 year-old catcher posted a .250/.322/.426 slash line with 18 home runs good for a 122 wRC+. In addition to being a plus bat, Murphy graded out in the 86th percentile for framing and 96 percentile in pop time showing the glove can play too.
Murphy will not hit free agency until 2026, making him perhaps the most attractive catcher on the trade market. Oakland needs to capitalize on the opportunity to trade him, continue to build the farm, and open at-bats for Shea Langeliers.
The A's recently added Lawrence Butler and Brent Rooker to the 40-man roster giving them seven outfielders. While Ramon Laureano might not have the defense he once had, he's still a player many teams will be interested in.
In 2022, Laureano slashed .211/.287/.376 with a career-low 96 wRC+. Teams would happily target him as a bounce back candidate who's numbers could go up in a more hitter's friendly ballpark. Trading low on Laureano might be risky, however.
Lastly, starting pitcher Cole Irvin could bring back a return that might shock some people.
A 28-year-old lefty with several years of control at a low cost should help the return. Irvin will not strike many out but is a solid back of the rotation option that could eat some innings and post an ERA around four. Pitchers of that caliber are typically in the $6-$10 million dollar range so an acquiring team would get a hell of a discount. With lefties JP Sears and Ken Waldichuk set to join the rotation, it makes sense to move Irvin at probably his highest value.
Add an Infielder
No, I am not talking about Carlos Correa. But an upgrade from the Ernie Clement and Vimael Machin's of the world would be nice. Nick Allen and Kevin Smith will get plenty of run but adding a more established player with a better track record would allow Oakland to be patient with other prospects.
The A's likely sees Zack Gelof, a top-100 prospect, as the future at third base. There's little to no chance he is there on Opening Day and at-bats could be available for a veteran looking for a bounce back opportunity. If Kemp is moved, second becomes a position of need.
The non-tender deadline has passed and some experienced players are available. Signing one to a one-year deal would allow the A's to get through this season or, if all goes right, give them another piece for the deadline to move.
Of course Oakland could look to fill a spot for now and the future. The current infield prospects are either years away or come with a limited ceiling. While it would be wise to sign a multi-year deal and lock down a position for the future, it seems unlikely considering how this organization typically operates.
Prepare for the Rotation Growing Pains
Depending on what the Athletics do with more established rotation arms such as Cole Irvin, Paul Blackburn, and James Kaprielian, rotation innings will be available. Oakland has shown their need for young starting pitching by acquiring JP Sears, Adam Oller, Ken Waldichuk, Luis Medina and several other prospects over the past year or so. Most of the players they targeted were either MLB-ready or close to it.
The 2023 season should be focused of growth and development in the rotation. Of the options currently on the 40-man roster, several are projected to have high upside. Regardless, the Athletics need to find out what they have in these players and see if they fit into the future. If not, moving on from them mid-season would allow the A's to focus on the next wave of prospects who started the year in the minors.
JP Sears and Ken Waldichuk are the two young lefties that will command the most innings of the prospects. Sears has 70 innings while Waldichuk has less than 35 making 2023 an important development year. If Oakland can get them to 140-150 innings this year, that would go a long way in building up the rotation for the future.
The Athletics don't have a clear path to contention right now, but considering the track record of this franchise, we cannot count them out from finding a road to winning ways sooner rather than later.