List
NLWCS: 7 Immaculate Grid Answers for Diamondbacks vs. Brewers
Here are seven players who suited up for both the Brewers and D-backs, the two teams facing off in the NL Wild Card Series today at 7:00 PM ET.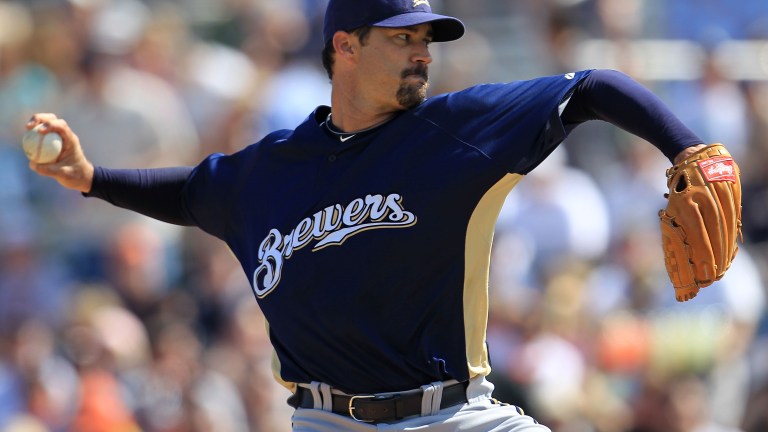 The NL Central Champion Milwaukee Brewers are hosting the Arizona Diamondbacks in a best-of-three Wild Card Series to be played exclusively at American Family Field. The winner of the series will advance to the NLDS, where they will face the Los Angeles Dodgers.
A matchup between these two NL teams may lead those who have become addicted to Immaculate Grid to ponder possible answers if the Diamondbacks and Brewers ever match up in the daily game.
Zack Greinke, Jean Segura, Richie Sexson and Craig Counsell are fairly obvious answers, but here are seven more names that played for both franchises and could help to increase your rarity score.
Liván Hernández
Hernández won the 1997 World Series MVP while pitching for the Florida Marlins and also spent seven seasons with the Montreal Expos/Washington Nationals franchise. But when you log over 3,100 in the majors, you're bound to have some less-than-memorable outings.
In parts of two seasons with the Diamondbacks in 2006 and 2007, Hernández went 15-16 with a 4.64 ERA. He finished his career with the Brewers in the second half of the 2012 season, going 3-0 with an unsightly 7.68 ERA across 26 relief appearances.
Lyle Overbay
An 18th-round pick by the Diamondbacks in the 1998 MLB Draft, Overbay posted a .774 OPS over 404 at-bats in parts of five seasons with the Diamondbacks, which spanned two stints. Overbay also had two stints with the Brewers (2004-2005; 2014), including leading baseball with 53 doubles in 2004.
Takashi Saito
Saito didn't come to MLB until his age-36 season, so we'll never know how good of a career he might have had. He saved 81 games for the Dodgers between 2006 and 2008, making an NL All-Star team in 2007.
At the age of 41, Saito posted a 2.03 ERA in 30 games for the 2011 Brewers. He finished his MLB career in unceremonious fashion with the Diamondbacks a season later, posting a 6.75 ERA in 16 appearances.
Royce Clayton
The well-traveled shortstop played for 11 teams during his 17-year career, peaking with an All-Star Game nod in 1997 while playing for the St. Louis Cardinals. Clayton homered 11 times and drove in 39 runs for the Brewers in 2003. He then posted a .670 OPS in 143 games for the 2005 Diamondbacks.
Joakim Soria
Soria spent half of his 14-season big league career with the Kansas City Royals, being selected as an All-Star in 2008 and 2010.
Soria pitched to a 4.09 ERA in 26 games for the Brewers in 2018 after being acquired from the Chicago White Sox. He recorded six of his 229 career saves with the Diamondbacks in 2021, his final MLB season.
Jorge Julio
If you had a bullpen during the 2000s, there's a decent chance Julio was part of it at some point. Julio spent the second half of the 2006 season with the Diamondbacks, recording 15 saves and posting a 3.83 ERA in 44 games.
Julio wrapped up his MLB career in 2009 with the Brewers, posting a 7.79 ERA in 15 games.
Jeff Suppan
Suppan pitched in the majors for 17 seasons, winning the 2006 NLCS MVP and World Series with the Cardinals. He spent part of the Diamondbacks' inaugural season of 1998 with the team, struggling mightily with a 1-7 record and 6.68 ERA. He was an innings eater for the Brewers between 2007 and 2010, posting a 5.08 ERA over 577 innings pitched.