List
NLDS: 7 Immaculate Grid Answers for Phillies vs. Braves
Here are seven players who suited up for both the Phillies and Braves, the two teams facing off in the NLDS starting Saturday at 6:07 PM ET.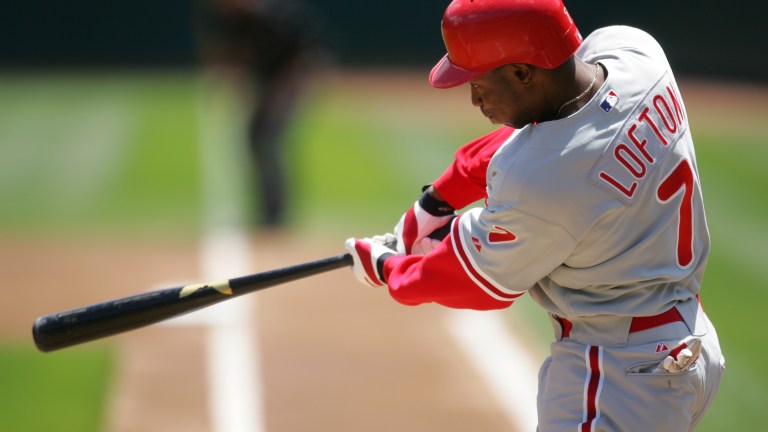 After the Philadelphia Phillies swept the Miami Marlins in the NLWCS, they will meet with the six-time defending NL East champion Atlanta Braves in a best-of-five NLDS, slated to begin Saturday at Truist Park.
This will mark the second consecutive season that these two teams have met in the NLDS, as the Phillies upset the Braves in four games a season ago. Still, likely NL MVP Ronald Acuña Jr. and the Braves will be favored in this series, thanks to a historic offense that powered Atlanta to 104 regular season wins.
If you're a fan of Immaculate Grid, there are a few players currently employed by these historic NL franchises who have played for both clubs, such as Craig Kimbrel and Charlie Morton. However, here are seven deeper cuts who played for both franchises and will help to increase your rarity score if you play the popular daily game.
José Bautista
"Joey Bats" was a six-time All-Star who hit 288 home runs in his decade playing for the Toronto Blue Jays. But during his final season of 2018, Bautista spent time with three different NL East franchises. While the largest chunk of 2018 was spent with the New York Mets, Bautista did hit four of his 344 career home runs between his stints with the Braves and Phillies.
Tito Francona
Before his son Terry was a Hall of Fame-caliber manager, the elder Tito had a 15-year MLB career, which included making an All-Star team while with Cleveland in 1961.
Francona split the 1967 season with the Phillies and Braves, hitting six home runs, driving in 28 runs and posting a .615 OPS.
Billy Hamilton
Not to be confused with the speedy, light-hitting outfielder of the 2010s who shares his name, Hamilton won the 1893 batting title by hitting .380 for a Phillies team that went 72-57-4.
After spending six seasons with the Phillies, Hamilton played the final six years of his career with the Boston Braves, hitting .339 with an .868 OPS.
Roberto Hernández
Hernández had a 17-year big league career, making All-Star Game appearances as a member of the Chicago White Sox (1996) and Tampa Bay Devil Rays (1999).
Late in his career, Hernández had stints with both the Braves and Phillies. He struggled in 66 games for Bobby Cox's Braves in 2003, posting a 4.35 ERA and an unsightly 6.00 FIP. Things didn't get much better in 2004, when Hernández posted a 4.76 ERA and 5.15 FIP in 63 games for Larry Bowa's Phillies.
Roberto Hernández
This isn't a typo, there are just multiple players with this name to have played for both the Phillies and Braves. This Hernández went by the name Fausto Carmona from 2006-2011, finishing fourth in AL Cy Young voting while pitching for Cleveland in 2007.
Hernández would spend the first half of the 2014 season with the Phillies, going 6-8 with a 3.87 ERA and 4.61 FIP across 121 innings before being traded to the Los Angeles Dodgers. Hernández finished his 11-year MLB career with the Braves in 2016, posting an ERA of 8.00 in just two starts.
Kenny Lofton
If you're ever struggling to fill out a grid, use Lofton and there's a decent chance you'll be right. The speedy center fielder played for 11 teams in his career, including the Braves and Phillies. Lofton was an All-Star for the Braves in 1997, the lone season he spent in Atlanta between his first and second stints in Cleveland.
Lofton hit .335 and stole 22 bases in 110 games for the 2005 Phillies.
Bob Uecker
One of the greatest announcers and overall personalities in baseball history, Uecker was a catcher for parts of six MLB seasons. He began his career with the Milwaukee Braves in 1962. His final MLB season of 1967 saw him hit just .150 in 80 games between the Phillies and Braves.