Analysis
New York Mets Are Officially Sellers With David Robertson Trade
The New York Mets are announcing themselves as sellers, hoping to take advantage of a seller's market at the trade deadline in a lost season.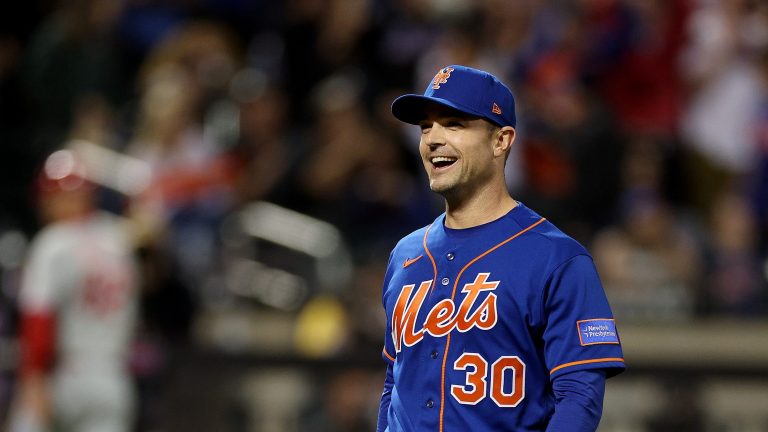 The New York Mets are open for business at the 2023 MLB Trade Deadline.
A team that came into the season as one of the World Series favorites, ceremonially waved the white flag last night when they traded their closer to the Miami Marlins. A team in their division who is ahead of them in the NL Wild Card race.
In doing so, the Mets announced themselves as sellers for the first time since the 2018 season, when GM Sandy Alderson stepped down midseason and the leftover front office sold off the remaining parts of a team that went to the World Series a few years prior.
A few short months later, the Mets had a player agent turned GM running the show who once again went into aggressive buyer mode, trading one of the best prospects in baseball in a exchange for Edwin Diaz and Robinson Cano. Interestingly enough, it is the man filling Diaz's shoes who has marked the first time the Mets will be sellers in the five years since.
The Right Time to Sell
This is a very interesting trade market to try to analyze because there are so many teams that are in the Wild Card mix. The Angels were on the fringe between buyer and seller and have clearly chosen buyer. The Cubs have won six in a row and eight of their last nine and are suddenly in the thick of the Wild Card race again, which might have them hold Cody Bellinger and Marcus Stroman.
There aren't enough teams that are willing to sell right now, which could lead to a real seller's market at the deadline. The Mets would have to play near .700 baseball down the stretch to really get back into this race and they have shown nothing over the first 100+ games of the season to indicate they are capable of making such a push.
To double-down and buy more would have been foolish and to stand pat would have been a wasted opportunity. The Mets aren't going into some lengthy rebuild, but they have a chance now to stock the cupboards for postseason runs in the future where the odds are more in their favor.
David Robertson is a 38-year-old reliever on a one-year contract. If they kept him, Robertson maybe pitches 20 more innings and saves 10-15 more games in a season that likely doesn't amount to anything, before becoming a free agent in the winter.
While Robertson was a great fit in New York, the chances of him pitching on the Mets in 2024 did not decrease at all with this trade. All they have to do is give him the best offer in free agency.
In return for dealing him now, the Mets got two prospects who have the potential to be a big part of their future, or at least can be trade assets used in deals in the future.
The Return for David Robertson
Let's talk about the teenagers. Fans are all the same, nobody cares about 18-year-olds they have never heard of before.
There are Marlins fans who have no idea who Marco Vargas was that are thrilled today because Robertson is a household name who will be closing games in their best chance to make the playoffs in a full season in who knows how long.
Meanwhile Mets fans are frustrated that the best trade chip they had is gone and no one will see anything from the return for as many as three-to-five years.
Personally, I had no idea who Vargas was before 11:45 p.m. last night, but from what I have read, this is a great trade for the New York Mets.
Those who cover prospects for a living and have seen Vargas play baseball are pretty shocked he was dealt for only a rental reliever. The word "helium prospect" has been attached to Vargas, who could even be featured in some top 100 lists heading into next season.
In 33 games at the Florida Complex League this year, Vargas is hitting .283/.457/.442, with a 144 wRC+. Already regarded for his plate discipline and high exit velocities at the level, Vargas is walking at a 23.5% clip and is only striking out 13.6% of the time.
The Mets could have uncovered their second baseman of the future in this deal, fans will just have to be patient while he develops. One thing that will ease their minds however is the fact that Vargas is going to slot into the Mets updated top 10 and could even find himself in their top five.
Vargas was the headliner of this trade, but catcher Ronald Hernandez is no throw-in. A 19-year-old who was also playing exceedingly well in the complex league, Hernandez figures to be a top 30 prospect in the Mets system, if not top 20.
For an organization that has been fleeced in trades lately, giving up an eventual top 100 prospect in Endy Rodriguez in exchange for depth starter Joey Lucchesi and another "helium prospect" in Hector Rodriguez for Tyler Naquin just last offseason, this is exactly the type of trade the Mets have been on the wrong side of.
Will it work? Well these are still teenagers we are talking about, so only time will tell, but these are prospects worth taking a chance on. Especially when the cost is only a rental reliever, albeit, a very good one.
What's Next for the Mets
If you read my trade deadline guide on the Mets, I did have David Robertson getting moved at this deadline. Not necessarily in division to the Marlins, but a trade was expected.
Any rental the Mets have should be moved at this stage, which is why Tommy Pham and Mark Canha are likely the next veterans who will be sent packing for prospects.
Along with those obvious trade candidates, the Mets will still listen on their other performing relief arms in Brooks Raley and Adam Ottavino, although I suspect they'd prefer to keep a few arms in the stable to avoid completely falling apart down the stretch.
The real question is if the Mets will move anyone from their starting rotation.
Max Scherzer has likely pitched himself off the market, having given up 22 home runs and just over 100 innings pitched this season, but the same can't be said for Justin Verlander.
Despite a few bad starts, Verlander is sitting with a 3.24 ERA over his 15 starts this season. The 40-year-old missed the beginning of the season due to injury, but has made up for lost time as of late. Over his last seven starts, Verlander has pitched to a 2.05 ERA, including pitching eight innings of one-run ball against the White Sox and then six scoreless against the Yankees in his last two starts.
Verlander has been linked to the Rangers, Astros and even to shockingly enough, to the Reds with deadline rumors swirling right now. Verlander is still owed $43.3 million next season and has a $35 million vesting option for 2025, making any deal complicated.
But with few real aces available on this trade market, the Mets could potentially receive a haul for Verlander, particularly if they ate down that salary a bit.
Jose Quintana and Carlos Carrasco a few other veterans who could be floated on the market, but who knows how much interest will be there for one guy who has been hurt almost all year and the other who hasn't pitched well at all.
We will see what is the next domino to fall for the New York Mets, but one thing is for clear. They are sellers at this deadline and will look very different come next week.