Analysis
Who Will Take Advantage of Seller's Market at the Trade Deadline
With the amount of teams still looking to contend, this is shaping up to be a seller's market at the trade deadline. Here are sellers to watch.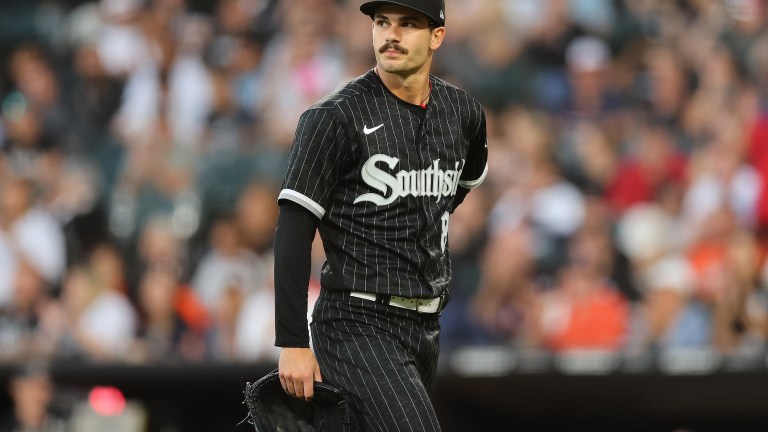 With the beginning of the second half officially underway, we are barreling very rapidly toward the MLB Trading Deadline, where contenders will look to reshape their rosters for a playoff push.
This year, it certainly appears like we are heading towards a seller's market, with so many teams being in the mix to make the playoffs. In the American League, 11 of the 15 teams entered the second half within five games of a playoff spot.
Meanwhile in the National League, there are teams who have come out of nowhere, like the Arizona Diamondbacks, Cincinnati Reds and the Miami Marlins, while playoff teams from last year like the San Diego Padres, St. Louis Cardinals and New York Mets have fallen off completelty.
This all sets up the deadline, where teams who entered the season with World Series aspirations may consider selling, and teams in the midst of lengthy rebuilds may suddenly buy.
Which teams stand to most take advantage of this seller's market, where they can flip some of their pieces for 125 cents on the dollar? Here are some teams best suited to sell now.
Who is Not Selling
For the purpose of this exercise, we are going to eliminate any team that is within a game of a playoff spot entering the second half. This comes with a caveat as it relates to two teams however.
The Cleveland Guardians entered the second half sitting at .500 and were in first place in the AL Central. After getting swept by the Rangers this weekend, they have now fallen out of first place, and out of the playoff picture entirely (no one is making a Wild Card in the AL Central).
Still, the Guardians can win this division without buying anything and now that their top trade asset (Shane Bieber) has hit the IL, they are best-suited simply standing pat.
The other team we will reserve some judgement on is the Milwaukee Brewers, because they are always in play to make a move. Last year, they surprised us all when they flipped Josh Hader. Could they rock the boat again this year and move ace Corbin Burnes or closer Devin Williams?
Currently sitting in first place over an upstart Cincinnati Reds, you would hope not.
The San Francisco Giants have far-exceeded expectations up to this point in the season and could absolutely make a push for a playoff spot. They have pieces to sell if they fall out of the race over the next two weeks, but certainly seems more like either a buyer or a team that will stand pat.
One underrated element of contending for the Giants is the fact that they are seen as a top landing spot for Shohei Ohtani this offseason. Winning now could make their pitch to Ohtani better as far as being able to build a winner around him in the future.
The same could be said about the Seattle Mariners, who are already began their Ohtani plea with their fans over the All-Star break.
The Mariners don't have many veterans on expiring deals to sell anyway and are too all-in on this team to fold their cards now. Add in the Ohtani element, and it feels like they are going to do the best they can to make Seattle the most attractive landing spot possible come the offseason.
Speaking of Ohtani, the Angels are a very interesting team to watch at this deadline cause they could blow the whole thing up, or they could look to be the most aggressive of buyers to win now with Ohtani. Based on their aggressive strategy all season, it just doesn't feel like they are going nuclear, but we'll see.
Teams That Should But Won't Sell
We are going to open this category up with the team that stands to gain the most by being sellers at the trade deadline, the San Diego Padres.
If they wanted to, the Padres could have the best bat, best starter and the best closer on the market this year. Two of those three players were acquired at last year's deadline with Juan Soto and Josh Hader and the third is Blake Snell, who will be a free agent this offseason.
The decision to trade Snell and Hader will come easier, with both being on expiring deals. Soto is harder to trade, after giving up the farm to acquire him just a calendar year ago. With Soto, they would have to be so sure they aren't going to extend him, that selling him now 75 cents on the dollar from what they gave up last year is worth it.
Even if they decide to keep Soto, Snell and Hader, the Padres could move guys like Ha-seong Kim, Michael Wacha or Seth Lugo, as guys who are playing great and could be sold at an all-time high when it comes to their value.
The Padres probably stay close enough to this race that they don't make many moves, or just make a few, but if they went all in on being a seller, they could rebuild their barren farm system overnight.
Next we move onto the Boston Red Sox, who are very much in the race right now, just two games out of a playoff spot and four games over .500.
Selling is not typically the mode of operation for the Red Sox, who always hope to remain at least in the playoff mix. Yet right now they have an opportunity to cash in pretty nice returns for veteran bats who likely aren't part of their long-term plans.
Justin Turner is having a nice season, posting a 125 wRC+ with 13 home runs, while also staying healthy. Any team could talk themselves into bringing on versatile veterans with playoff experience such as Adam Duvall, or Kike Hernandez.
In the bullpen, Kenley Jansen and Chris Martin are both relievers who could fetch them a pretty penny and James Paxton has been good enough that teams might bite on trading for the aging starter. The Red Sox should consider getting as much back as they can for these players, but at the same time, you can make an argument that none of them are good enough to get a haul back.
As previously mentioned, the Los Angeles Angels belong in this class, as they hold the best rental in MLB history if they chose to dangle Ohtani. This weekend, MLB Network's Jon Morosi said that the Angels are in "listening mode" on Ohtani. It would take an absolute haul to land him.
Currently sitting six games out of a playoff spot, if the Angels really fall out of the race, they may be resigned to fact that Ohtani is gone in the offseason anyway and they are best-suited getting a package of prospects now than a comp pick in a few months.
If the Angels became sellers, they could move more pieces beyond just Ohtani, such as Brandon Drury, who provides a big bat with defensive versatility, or their closer, Carlos Estevez. We will see what they ultimately decide to do.
St. Louis Cardinals
Trade Candidates: LHP Jordan Montgomery, RHP Jack Flaherty, RHP Jordan Hicks, OF Tyler O'Neill, SS Paul DeJong, UTIL Tommy Edman, OF Dylan Carlson
Alright now it's time to look at the sellers on the market that are best suited to receive a haul of prospects at the deadline. No better to place to start than the first team who openly admitted that they will be selling.
St. Louis Cardinals GM, John Mozeliak, already told the media that the Cardinals will be trading people and rightfully so. This team is currently sitting 13 games under .500, 11.5 games out of the Wild Card race.
Above the listed trade candidates are the guys who are most likely to move, based on their limited team control. The three pitchers mentioned will all be free agents this year.
Jack Flaherty is in the midst of his first healthy season since 2019, and has pitched to a 4.29 ERA over 18 starts and 98 2/3 innings pitched. Over his last seven starts, he has pitched to a 3.54 ERA.
No one expects Flaherty to be an ace, or even to be part of a playoff rotation, but he could offer teams with injured arms a nice depth starter. Jordan Montgomery on the other hand, is a guy that most teams could slot into the back part of a playoff rotation.
The left-handed starter has been excellent since coming to St. Louis in a trade last deadline, where he was sent from the Yankees in exchange for Harrison Bader. Montgomery has pitched to a 3.23 ERA across 18 starts this season, racking up 103 innings pitched.
Last among the pitchers is Jordan Hicks, who any team would love to add with his fastball that touches 102 MPH. Hicks has pitched to a 3.96 ERA this season, but his 13.03 K/9 will have teams dreaming of being able to tap into more down the stretch.
Pitching is where the Cardinals are thin as a team, but trading guys who will be free agents this offseason is an obvious move. Beyond that, the Cardinals have to figure out what their core is moving forward, with plenty of position players who could be dealt, or built around.
Tyler O'Neill feels like the most-likely to be moved, considering he is entering his last year of arbitration and was at odds with his manager earlier in the season. With that said, the Cardinals might not get much value for him, since he is hitting just .228/.283/.337 on the season.
Dylan Carlson hasn't fared too much better, .237/.343/.367, but with three years of arbitration left, teams might still send a pretty nice haul to get him.
Tommy Edman has come back to earth after a career year in 2022, but still has two years of control and would be a great utility man on any winning team. Paul DeJong has been solid this year and has two club options beyond this season, which can either be picked up or bought out by a new team that acquires him at the deadline.
Trading Nolan Arenado or Paul Goldschmidt would bring back an absolute haul of prospects for the Cardinals, but if they are still building with 2024 in mind, they probably should keep their best two players.
Chicago Cubs
Trade Candidates: RHP Marcus Stroman, RHP Kyle Hendricks, LHP Drew Smyly, RHP Michael Fulmer OF Cody Bellinger, C Yan Gomes
The Chicago Cubs could feel that their division is winnable enough to stand pat at the deadline, but that would be a mistake. With Marcus Stroman and Cody Bellinger, the Cubs have two of the most attractive trade chips on the market, who could net the franchise a pretty great return.
Stroman has been sensational this year, pitching to a 2.88 ERA over 20 starts and 118 1/3 innings. He has a player option for next season, which he is almost guaranteed to opt-out of, making him a free agent at 32 years old.
The Cubs could keep Stro if they believe he will re-sign in the offseason, something he would probably do if the price was right. If they aren't planning on giving him a significant offer on a four-or-five year deal, the Cubs have to move Stroman. Especially since he has already played on a qualifying offer in the past and is not eligible to receive one.
Speaking of qualifying offers, the Cubs will surely extend one to Cody Bellinger if he hits free agency this offseason. Any trade now would have to be of more value to the Cubs than the pick they could get back. Considering the fact that Bellinger plays a great center field and would be one of the best bats on the market, the Cubs likely could net something far better if they trade him now.
Chicago White Sox
Trade Candidates: RHP Lucas Giolito, RHP Lance Lynn, RHP Dylan Cease, RHP Kendall Graveman, RHP Joe Kelly
For the Chicago White Sox, pitching is what they have to sell at the deadline and they have a whole lot of it.
Lucas Giolito is one of the top rental arms on the market, as he is in the midst of a bounce back season perfectly timed before he hits free agency. Across 19 starts, Giolio has pitched to a 3.45 ERA and has racked up 112 1/3 innings pitched.
Lance Lynn has put up some pretty rough numbers on the season, but has pitched better as of late, and has a track record that teams might take a chance at acquiring him if they need a depth arm.
Really though, all eyes are on White Sox ace Dylan Cease. Last year's runner-up in the AL Cy Young race, Cease has struggled to a 4.18 ERA this year, but still has the stuff that would have any team enamored to add him to their playoff rotation. When you factor in the two years of additional team control, Cease becomes the top starting pitcher on the market, assuming he is actual dangled at all.
Like most selling teams, the White Sox should listen on all of their relievers, with veterans Kendall Graveman and Joe Kelly being the most likely to be moved.
New York Mets
Trade Candidates: RHP Max Scherzer, RHP David Robertson, OF Tommy Pham, OF Mark Canha
The New York Mets look to be in the midst of a lost season, where they probably should get as much value back as possible at the deadline. With that said, there isn't much to deal.
Tommy Pham has been great this year, having taken Mark Canha spot in the everyday lineup. Pham is hitting .271/.347/.476, with nine home runs and a 128 wRC+. The 35-year-old is on a one-year contract, which the Mets will likely eat down the money on to get the best prospect return.
Teams who don't believe in Pham's hot start could look to Canha track record, as he isn't having the best year, yet remains a consistent on-base threat with a .344 OBP. Canha's 111 wRC+ is both solid and his lowest mark since the 2018 season.
Canha is on the second-year of a two-year contract, with a $11.5 million club option for next season. Like Pham, the Mets would likely eat down the contract this year to prioritize a better return and to also offset the $2 million buyout he has on that club option.
Regardless, the Mets have two veteran outfielders who are quality bats that have registered innings at all three outfield positions. Any contending team could use a better fourth outfielder, especially one with upside to start. This is where the Mets hold most of their value at the trade deadline.
Don't expect both to be moved, although not out of the question.
Instead, expect the Mets to shop for the best package on one of them and probably hold onto the other to start for the remainder of the season in hopes that this team can get hot at some point.
Last year, David Robertson was in this exact situation and got sent to the Philadelphia Phillies for Ben Brown, a pitcher that was ranked 26th in their farm system. While Robertson will be shopped, the return might not be worth it in a market that is saturated by relievers.
This leaves us with Max Scherzer.
Scherzer is the one piece the Mets have that could fetch a decent return, but there are some major hurdles in the way of that happening. The first is the obvious one. Scherzer hasn't been that great this season. His 3.99 ERA is his worst mark since the 2011 season.
This year, Scherzer has allowed five more home runs (18) than he allowed all of last year, and he will turn 39 years old a few days before the deadline on July 27th. Scherzer has a full no-trade clause and is owed a $43.33 million player option for next season. Any trade would have to be approved by Scherzer and the prospective team would have to be willing to have him on the books next season, regardless of the amount of money Cohen buys down the contract this year.
Scherzer could very well be the biggest name moved at the deadline and there is also every chance the Mets hold mostly pat and try to make a run at it this year with their high-priced roster.