Analysis
Nathaniel Lowe Is Breaking Out at the Perfect Time for the Rangers
The Texas Rangers first baseman has enjoyed a breakout 2022 campaign that has him set to be the first baseman of the future in Arlington.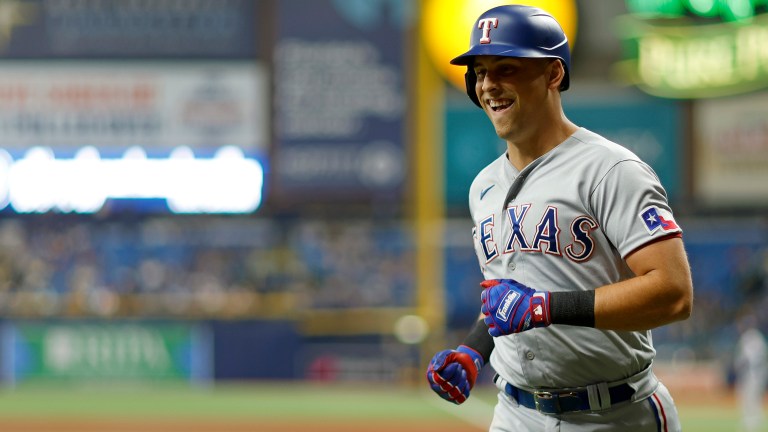 When we looked at the outlook of the Texas Rangers before the 2022 season, it was easy to project who their top performers would be.
After bringing in Corey Seager and Marcus Semien on monster contracts in the offseason, surely it would be one of those two, right? Adolis Garcia had a promising campaign that would surely lead into a solid sophomore year, while Mitch Garver was just brought in from Minnesota. Yet none of these players ultimately takes the title of being the Rangers top player as the season is about to come to a close.
After spending a combined $500 million on Semien and Seager, it isn't them. Garcia has provided a solid second year with 25 homers, but he hasn't been their best player. And for Garver, he's taken a backseat to the young Jonah Heim, who was snubbed from an All-Star nod this summer.
Instead, Texas has seen a burst of offensive production from their 27-year-old first baseman, Nathaniel Lowe. Lowe had a solid 2021 producing a 114 wRC+ and 18 home runs, but no one could've expected this type of outburst at the plate.
In a lineup filled with high-priced superstars and loads of budding young talent, Lowe has stood head and shoulders above the rest. Nathaniel Lowe has been the best hitter for the Texas Rangers. And surprisingly enough, he's been one of the best first basemen in baseball during the 2022 MLB season. A bold statement, but its true.
All stats taken prior to play on September 27th.
A Career Year
Lowe has spent just four full years in the big leagues. He spent his first two seasons as a Tampa Bay Ray, seen as an average first baseman with decent offensive potential. The former prospect posted a wRC+ total above 100 during both seasons, but he didn't necessarily impress as a Ray. Lowe was traded to Texas after the shortened 2020 season for a prospect return, as Tampa Bay didn't see him as a long-term fit.
Lowe's first season in Texas was his best yet, posting a 114 wRC+, while getting on base at an impressive .357 clip. Through 157 games he mashed 18 home runs and drove in 72 runs. His slugging took a dip last season as compared to his first in the bigs, down 40 points to .415. His ISO of .151 showed an extreme dip in power from his .190 ISO in 2020. However, the batting average remained the same, hovering around the .260 mark.
He was able to reach base at an elite clip without a ton of power and an underwhelming batting average. This is in credit to his walk rate of 12.5%. That's better than names like Mookie Betts, Aaron Judge and Vladimir Guerrero Jr. in 2021. This was a sign of things to come, as Lowe has exploded in 2022.
Lowe's wRC+ of 143 trumps his career best by about 30 points. He's transformed into an elite contact bat, with an average of .304. That's good for the seventh-highest mark in the entire sport. His slugging percentage has also taken a massive jump up this year to .494, along with the isolated power up to .190 once more.
His current total of 25 home runs and 73 runs batted in are career-highs, with nine games left in the season. He's still getting on base at an elite rate with a .359 OBP, with the BB% seeing a bit of a dip. His walk rate is down about 5% from last year, but the massive leap in batting average has helped retain this incredible status. Lowe is currently posting a career-high in BABIP at .366 as well as a career-high in wOBA at .366.
The Lone Ranger
The Rangers as a whole, have been a below average offensive team. Their team wRC+ of 99 ranks as the 13th-worst in MLB. The aforementioned pair of both Seager and Semien have had good starts to their Ranger careers, but nothing incredible. Adolis Garcia is the only other player on this roster who has been an above average hitter, posting a 112 wRC+. The best of this bunch? Nathaniel Lowe.
Lowe dominates a majority of this teams hitting statistics. Batting average, OBP, slugging, wRC+, wOBA, and BABIP are all led by the first baseman. He is second in home runs behind Corey Seager's 32, and third in WAR behind Seager, Semien and Garcia. Lowe has added the most offensive value to this Rangers team at 26.2, 11 points ahead of both Seager and Semien. He's been their best hitter this season. The three-headed monster of Seager, Semien and Lowe will be a force in the coming seasons.
Looking towards the future, the team now has a clear-cut starting first baseman. Lowe's been an incredible fit in Texas. As the young core continues to grow and their talent at the big-league level continues to produce, this team has a solid foundation.
Marcus Semien has had a solid second half resurgence in a complete turn of events. Corey Seager has stayed healthy on the way to another 30-homer season. But Nathaniel Lowe has stood above the rest with an impressive campaign. Not only has he been a force for this team, but he's also one of the best hitters in the entire sport. Let's give Lowe his flowers, as he's one of the best first basemen in the game.
A Top 5 First Baseman?
First basemen have dominated the headlines this season. Paul Goldschmidt seems well on his way towards an MVP award, and possibly a Triple Crown. Freddie Freeman is enjoying a career-year in his first season as a Dodger. Even Anthony Rizzo has mashed a career-high 32 home runs this season. But not enough is being said about our guy Nathaniel Lowe, who has quietly been one of the best at his position this season.
Lowe's ranks amongst first basemen will shock you. These are some of the best hitters in the game, and he's matched up. Lowe's wRC+ of 143 is the third-highest in his position, over guys like Pete Alonso, Guerrero Jr., and Rizzo. He's slugging .494, on par with Rizzo and ahead of Guerrero Jr. and Christian Walker.
His .366 BABIP tops the position. He has the fourth-highest batting average at .304, tied with Jose Abreu. And his OBP clip of .359 is higher than DJ LeMahieu and Alonso. Choosing contact over power, his 25 home runs are only the 10th-most at first base. But the wRC+ total suggests that he's been incredible this season.
To say that Lowe is better than guys like Guerrero Jr., Alonso and Rizzo might seem ridiculous, but the stats speak for themselves. I can't project where he'll be down the road. But what I can say, is he's been incredible. Matching up with some of the best bats in the game is an impressive feat that none of us saw coming from the 27-year-old. Is it fair to say that he could be a top-five first baseman in the game? It's not outlandish.
Nathaniel Lowe has provided at an incredible rate for the Texas Rangers this season. He might be one of the games most underrated players. Only time will tell whether this will continue, but this is a man to watch out for in the next couple of seasons. Don't sleep on Nathaniel Lowe!